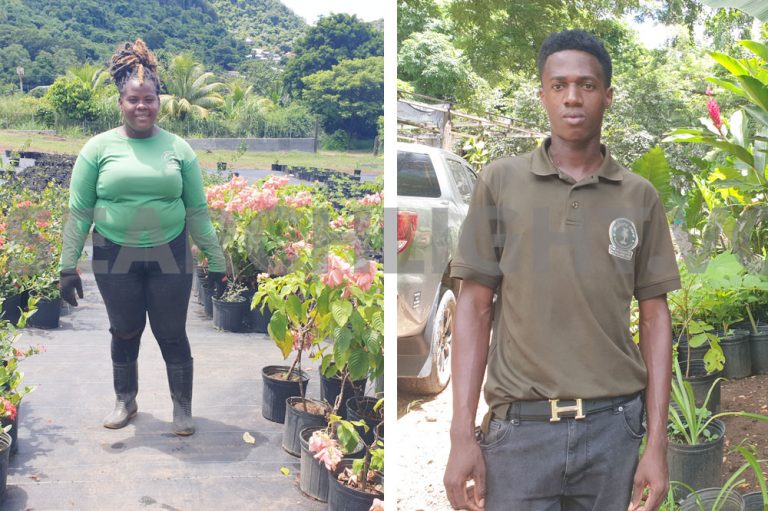 Features
September 29, 2023
Supervisors happy to play a role in Nature Care's success
A supervisor at Nature Care SVG for one year and five months, Ancelia Exeter says what she enjoys most about her job is propagation.
"I like producing plants like Bougainvillea and Asparagus Ferns because they have a very beautiful garden presence," said the Barrouallie resident, who is originally from Greiggs.
"I feel good being a part of Nature Care as you can see, we produced a lot of plants in 20 years and we have all different kinds of plants and more variety than anywhere else, nicer, healthier.
"I encourage persons to always come and shop at Nature Care," Exeter said.
Zeemorl Ashton is another of Nature Care's employees who works at the nursery in an area of Layou known as Cemetery.
A supervisor, Ashton has been on the job for two years and nine months and has received in-service training.
"I feel good to work here as I have liked plants since I was small and worked in the garden and go bush with my parents," Zeemorl told SEARCHLIGHT while adding that he supervises about six workers and
feels good to see the company reach the 20-year mark.
He says that Nature Care's employees are very knowledgeable about plants and he plans to learn as much as he can from his job.
"I will stay with them as long as possible and I want to be involved in agriculture and architecture. Sometimes it's hard work but it's good and honest work and close to my home town of Barrouallie," Zeemorl commented.