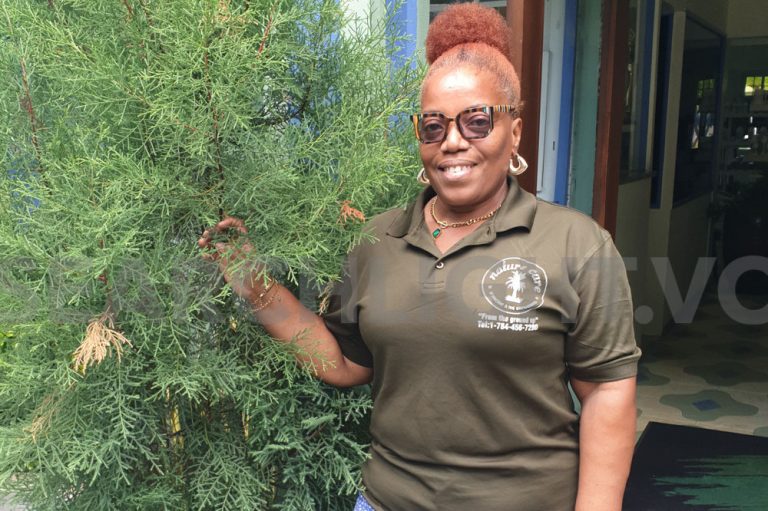 Features
September 29, 2023
Caring for plants is like therapy, says office manager
Lorneth Nash is a 15-year veteran of Nature Care SVG and while she started out in the plant centre, she is now the office manager.
She says her day-to-day job sees here preparing invoices and making sure they are sent out and paid.
"It has been great here. It's like home because you spend most of your time here and sometimes you have to work late and it's a commitment. I like to work here.
"I would encourage persons to work here. It's worker friendly," Lorneth said.
The plant lover told SEARCHLIGHT she started working in the plant shop and one of her favourite jobs was watering the plants.
"Me and my co-worker, we use to wet down one another with the hose and I learnt about agriculture and how to have a back yard garden.
"… And you love your plants and it's like a therapy. Sometimes you stressed so you just go out in the garden and take care of the plants," Lorneth said.
Nature Care SVG produces a wide variety of plants and produces every ornamental that will grow in the Caribbean. Plants not grown there can also be bought as Nature Care imports different plants for special occasion like Valentines, Mother's Day, Father's Day, Independence and Christmas.
They also stock special fertilizers and plant nutrients and pesticides while boasting of doing landscaping work at places including Victoria Park, the National Insurance Services (NIS) compound in Kingstown, sites operated by National Parks and numerous houses on Mustique.