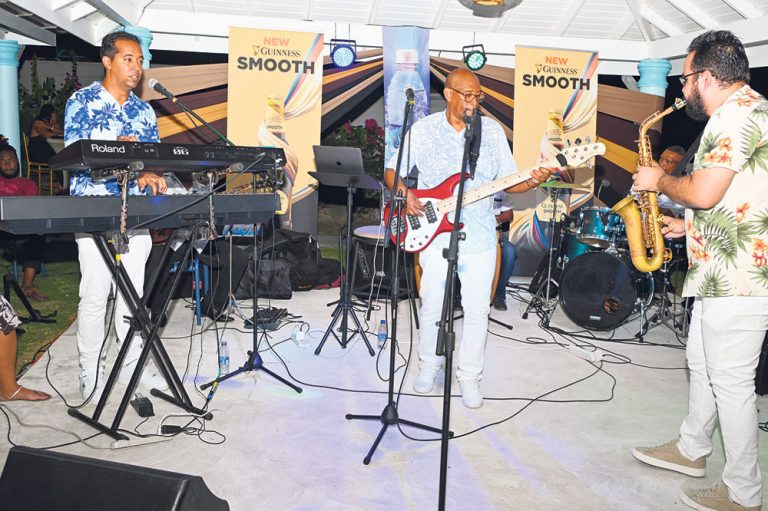 A review by Maralyn Ballantyne
Weeks before Sunday, 7th May when posters were flying around everywhere, bombarding social media, announcing that a show branded JAZZ @SUNSET would be presented by Jazz Tropical Project, I told friends that it was going to be an intimate musical affair of love, the perfect way to be grooving on a Sunday afternoon. Those who attended the event became true witnesses to innate musical talent, skill, discipline and dedication, and would agree that my prediction proved accurate.
Dexter Rose and his musical counterparts had to their advantage a prime location, opposite Young Island, Basil at Villa; I soaked up gentle ocean waves as back drop and viewed the golden sunset to the tantalizing guitar string work in 'That's What Friends Are For', which reminded of the beauty of friendship and moreover the poet Derek Walcott, who tells us that the sea unites us all as one Caribbean people.
The Jazz Tropical Project team comprises Dexter, bass guitarist and Manager; Juan Carlos Cepeda, keyboards; Bryan Ortiz, saxophonist and musical director; with Yordis Depeche, congas, and the seasoned Zan George on guitar, while drummer Calvin 'Flour' Hadaway keeps brisk rhythm.
JAZZ @SUNSET featured some notable guest artistes: the talented mellow-voiced Azariah Gibson, super performer Bomani, and veteran Cultural Ambassador Ken Isles on vocals and tenor pan. There was a bonus too, Cuban singer, Yahe, on vacation in St. Vincent, delighted the audience with her interpretation of the popular Cuban standards Besame Mucho and Guantanamera.
The sheer genius of Vincentian musicians is no surprise, after all, older folks will have you know that Slummates/Gratitude, Latinaires Orchestra, Affetuosos, Envoys, Asterisks, Touch, Clymax, Mastermind, Intense Heat and other groups, consistently thrilled them when they were dating many moons ago. Recall the active Vincy music scene of the 60's and 70's.
That the JAZZ Tropical Project band put in great effort, hard work and thought while preparing and executing the show, hardly needs mention. One must also remember that Dexter Rose, the Black Orpheus teenager, is getting back onstage after 40 years elsewhere!
The jazz evening opened with various popular pieces, all producing excellent tonality and textured pitches, perfection in melody and rhythm. With such an excellent saxophonist, the anticipated jam session quickly evolved, at points erupting into a mini carnival, as attendees accompanied Cuban guest singer, Yahe, while she seductively swayed to hot Latin rhythms.
The surprise appearance of Ken Isles on stage with a few oldies was a delicious treat. Hello Dolly never sounded so good…well done, Ken. That Ken retains verve is clear and his pan skills fascinated the audience.
Azariah Gibson, a vocalist with superb stage presence, poured Sweet Love in her rendition of the songs, Sweet Love and Bob Marley's Turn Your Lights Down Low. This Vincentian songbird set the place ablaze with romantic melody…. I actually imagined Bob asking Cindy to pull the window curtain at 56 Hope Road and of course not long after Damian was born.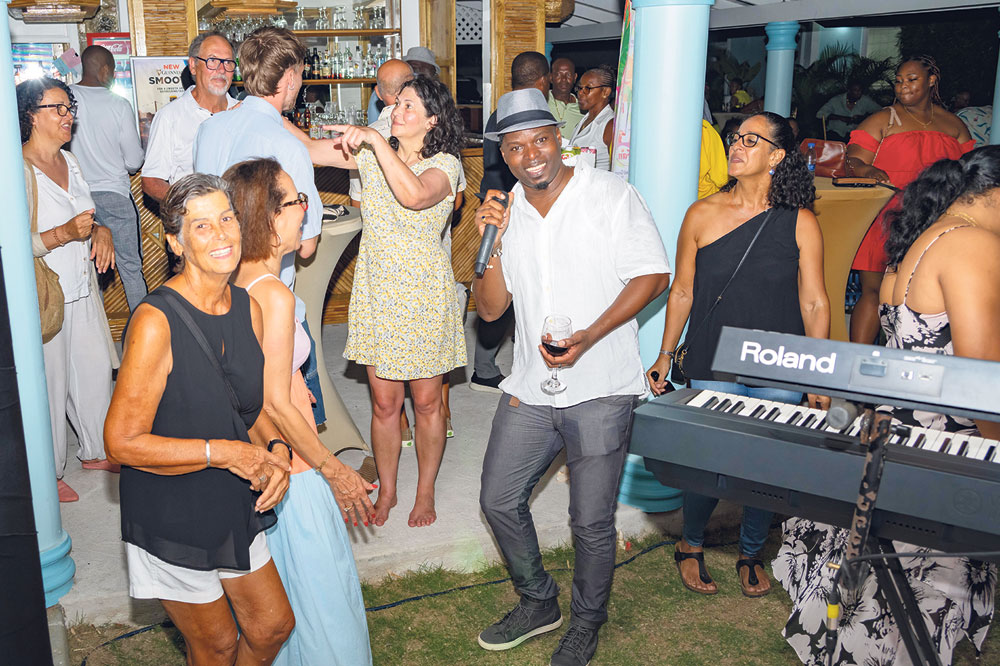 Whatever your taste and preference, attend a Jazz Tropical Project event and never will you be disappointed. Did I mention John Legend? His song, All Of Me, was presented; Ken Isles aced it with much pride!
That Jazz Tropical Project chose to include a tribute to Harry Bellafonte should not come as a surprise, given Dexter's deep appreciation of rights and justice. The audience expressed much satisfaction as Bomani effortlessly climbed for the high note in Day O, the Banana song.
The show united all age groups and the ambience was definitely one of community love and our PM would be pleased to know, that in evidence was a brilliant display of spontaneous social solidarity.
The wide range of the musical repertoire of the Jazz Tropical Project is promising. The show threw out a varied playlist which included Gospel, Smooth Jazz, Jazz standards, Jazz Reggae, Kaiso, Pop and, Latin Jazz.
Community concerts are envisaged as the Jazz Tropical Project focuses on future performances throughout St. Vincent and the Grenadines.
Thanks to Island Sipz Water and Guinness Smooth for seeing the wisdom of sponsorship.
Other private sector entities may wish to be supportive and follow their gesture, as each show offers a win-win situation.