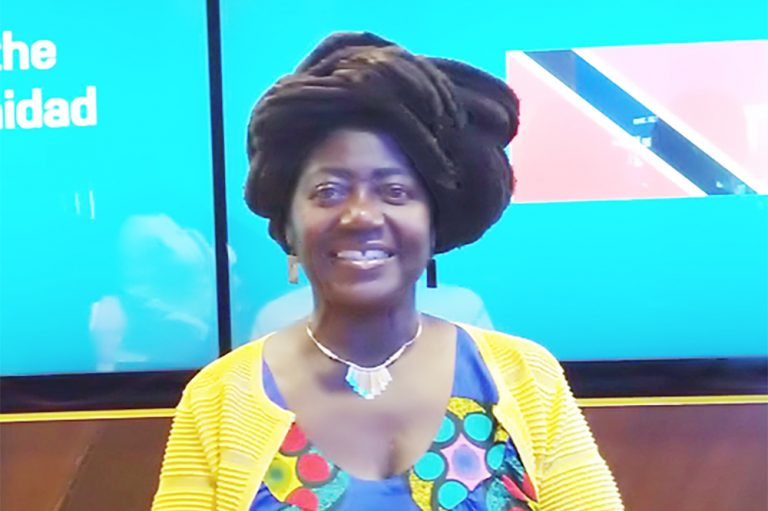 Features
February 21, 2023
Celebrating Chief Chatoyer's Black Carib Heritage in our 'Trinbago' family
by Dr. Hatshepsut Nolene Kisa-Davidson (T&T).
I now understand why she ran in hot pursuit after a thief in Morvant, who was brazen enough to be caught stealing her fowl cock. She did so with several of her small grandchildren following her trail all the way into Mon Repos, where she retrieved her cock. My Vincentian mother Ivy, with that Black Carib blood running through her veins, did not wait for the intervention of my strong, muscular father who was a 'behind de bridge' POS pan man. He along with the agitated crowd, had once put a sound lickin' on two bad police officers named Laidlow and the other
Lashley, for beating up pan men, back in the day. Her Black Carib blood was 'boiling'! She was the one who brought that fierceness into our leg of the distinguished Gordon-Davidson family who hailed from Tobago.
These were not the yellow Carib or Kalinago, whose long black shiny hair fell on their backs, and whose skin looked golden-brown under the Caribbean sun. These were the Black Caribs, or the Garifuna of St. Vincent and the Grenadines, also known as 'the cassava eating people' who were among the fiercest indigenous peoples of the Caribbean. They were never forced into any treaty with Europeans. A ship carrying free West Africans, had shipwrecked between Bequia and mainland St. Vincent. Luckily, they were rescued by the indigenous yellow Caribs from the island.
Inter-marriage with these free Africans was inevitable, which gave their progeny the name Black Caribs or Garifuna. So, St. Vincent had yellow Caribs, Arawaks, Carib-Arawaks, African slaves, free Africans, Europeans, and Black Caribs or Garifuna.
The Essence of Caribbean Life is Mobility (Colin Palmer).
My maternal great grandmother, Darita, was a Black Carib who lived in the bush. Her people were subjected to much physical and emotional brutality from the Europeans. Yet, Darita married the white Scotsman, Thomas John Palmer, Sr., a shipwright, and shop keeper. They had one son who was Thomas Augustus Palmer (Pappie), then she returned to the bush. Pappie, himself a shipwright and shop keeper, who travelled a lot to Panama, Curacao, and Cuba, married a young woman from St. Lucia, Clara Slater Palmer, whose father was the British Charles Slater from a family of slavers. Pappie had about twenty (20) children in all with his legal wife and two concubines, 'Mams' and Etta. Clara's St. Lucian mother, Maude Layne (Slater) a very black Yoruba doctoress was my maternal great grandmother. She, much like Trinidad's Meriken Papa 'Neezer and Tobago's Sipey Gordon (de Les Couteaux Jumbie) healed the sick free of charge, with Bush Medicine, prayers, and rituals. A Layne-Slater-Garifuna-Palmer clan developed on Main Street, Bottom Town, Kingstown, St Vincent. Then some went to Barbados, Trinidad, Guyana, Venezuela, Canada, and the USA.
Indeed, according to Jamaica's Colin Palmer (maybe a relative) "the essence of Caribbean life is mobility." Clara's daughter, Ivy, left St. Vincent for Barbados. She then married in British Guyana, visited French Guiana, Dutch Guiana, and Brazil, finally migrating to Trinidad and Tobago in the very early 50s, where with the death of her Guyanese husband, she married my 'Trini' father, Noel Gordon Davidson, still with hopes of getting to Harlem, USA.
After losing the last Carib war against the Europeans some Garifuna escaped to the bushes where they remained to this day. The polygamous Chief Joseph Chatoyer their fearless leader, bravely fought the British in 1795, but died three days after battle. He is St. Vincent's national hero. Without doubt this is the source of my 1970 Black Power revolutionary spirit. It's in my blood. This month I celebrate Chief Joseph Chatoyer, my great grandma Darita, and those Garifuna whose rich culture brings distinctiveness to St. Vincent, Belize, Costa Rica, and the USA.