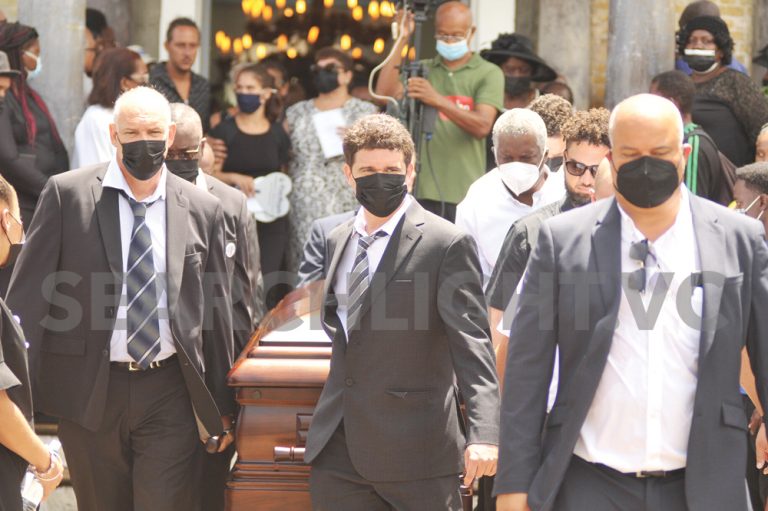 Friends, family shed tears as Nigel Greaves is laid to rest
Tears rolled silently from the eyes of several persons present at the Kingstown Cemetery on Tuesday, where Nigel Greaves was laid in his final resting place and blanketed with rows and rows of colourful wreaths and bouquets.
Greaves died suddenly at his Indian Bay home on July 17 and his funeral service was held on July 26 at the St George's Cathedral, Kingstown.
The prominent businessman served at the helm of his family's businesses for approximately 41 years, having taken over the reins of the companies, along with his mother Leila, and siblings Ken, Debra, Valerie and Neville after the death of his father, Cecil Kenrick Greaves in 1996.
Reuben John, partner at BDO Eastern Caribbean delivered Greaves's eulogy, in which he was remembered for his outstanding business acumen.
John, who has had a professional relationship with the Greaves family spanning three decades, said the 63-year-old "had a remarkable understanding of business operations, not just limited to the supermarket industry but business operations as a whole. His capacity to process, analyze data, and interpret business ideas and information was amazing. He had the ability to recognize bad business ideas at an early stage, as a result he was able to avoid pitfalls and significantly reduce the risk of making bad business decisions".
He also noted Greaves's commitment to the CK Greaves Group of Companies, where he worked along with other directors and staff to ensure customers were satisfied and had proper access to goods at all times.
Though Greaves sat at the helm of his family businesses, John said he was also generous with his time, some of which was spent assisting students with school based assessments (SBA) and in some cases, financial assistance.
"Many young entrepreneurs benefited from his advice and business experience as he shared numerous business insights with them. He was a team player in the business community and possessed a wealth of knowledge that he shared with others," John said of Greaves, who served on the boards of the National Commercial Bank (1996 – 2001) and the St Hill Insurance Company Limited up to the time of his passing.
Greaves was also lauded for his patriotism and commitment to the well-being of the people of St Vincent and the Grenadines, which could be seen through his support of service clubs like the Rotary Club of St Vincent and the Lions Club, and donations following many natural disasters, including the most recent volcanic eruption.
Tuesday's funeral service was attended by many family members, CK Greaves Group of Companies staff, friends, members of the business community, well wishers and several politicians including Prime Minister Dr Ralph Gonsalves and Opposition Leader, Dr Godwin Friday.
Dean of the St George's Cathedral Reverend Otis Samuel Nichols delivered the homily, in which he spoke briefly of the shock waves felt locally when news broke of Greaves's passing.
"It is within this context, when we find our systems such that our minds are finding it difficult to process our own frailty and mortality, that we hear of God's unconditional love," Nichols said.
He noted that scriptures do not point to God loving just a few but rather, the entire world.
"God's love is not based on our spiritual condition or moral predisposition. It is not based on our behaviour or attitude towards him.
Rather, we see here that God's love for humanity is universal and unconditional," Nichols said, adding that God's unending love for everyone is what sets him apart from other gods "held up by frail humanity and other religions".
Following the funeral service on Tuesday morning, there was a procession to the Kingstown cemetery, where Greaves was lowered into his tomb as many of his staff, along with others present gave him a lively send-off through song.