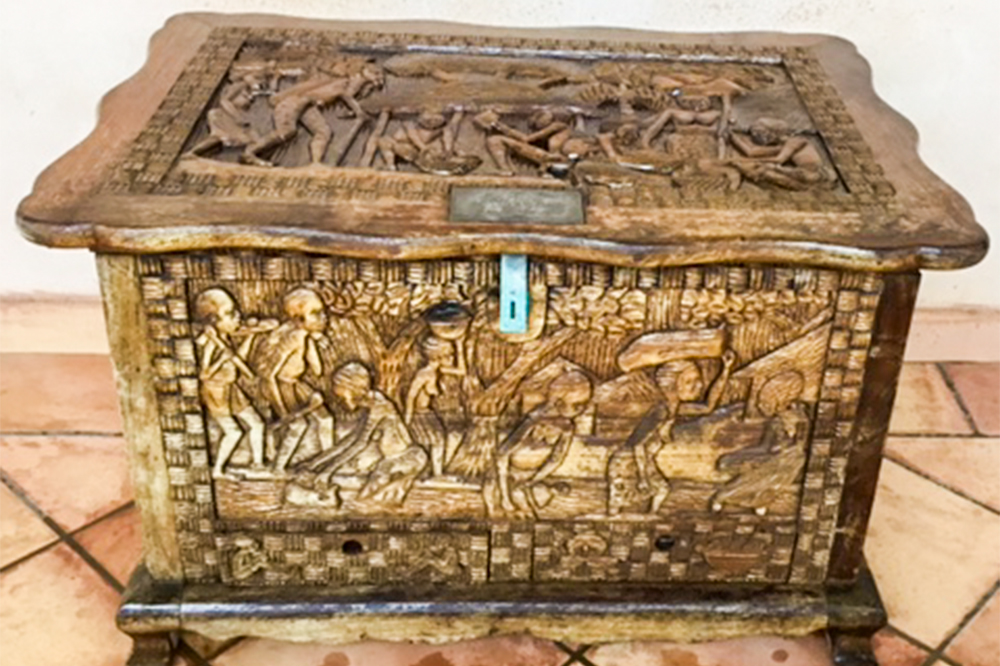 Tribute to Kenneth Kaunda
The iconic president Kenneth Kaunda of Zambia made a state visit to St Vincent and the Grenadines from 29 to 31 May 1989 and is the first African president to do so. He spent two days including addressing public meetings in Victoria Park and under the almond tree in Port Elizabeth, Bequia.
We need to celebrate his visit and his battles for Independence from Britain that included two jail terms. This did not diminish his declared affection for the Queen and Commonwealth in its early stages.
The story of his day in Bequia is beautifully recorded on Judy Simmons social media page https:// islandlifestories.com kenneth-kaunda-visits-Bequia.
In my own autobiography "Beyond the Islands" published by Macmillan in London, there are more references to our time together. Our first contact was in the Bahamas in 1985 at the Commonwealth Heads of Government Conference, the first at which SVG was represented after Independence in 1979. Before then, we were only an associate member of the Commonwealth.
Minister Eddie Griffith accompanied me.
At that Bahamas meeting the hot topic was freedom for South Africa from apartheid. 'KK' as he was affectionately called was Chairman of the Front Line States in that struggle and the ANC headquarters was based in Zambia.
Prime Minister Thatcher made a spirited defense of her resistance to sanctions against South Africa. At the end of that morning session, while we adjourned for coffee, no one was sitting at her table and I decided to join her and introduce myself as the new kid on the block and one who admired her privatization policy. I sought her agreement that the conference should end with a single statement on South Africa and not two. She agreed, welcoming my offer to pass on the message. I took the message to Rajiv Gandhi of India and 'KK'.
As a result, the meeting set up the Eminent Persons Group to visit and report on apartheid activity under the lead by Olusegun Obasanjo of Nigeria, now Co-Chair of our InterAction Council. Dame Nita Barrow represented the Caribbean. She went with the team to Robben Island but is better known for her disguise in African costume which allowed her to go to Sharpville unnoticed. At the opening of the new South Africa parliament Nelson Mandela greeted her warmly.
At the next Commonwealth conference in Vancouver, KK and I were opening speakers. My ovation attracted KK and he commented "You come from such a small island and you make such a big speech". My reply: "Mr President, when you don't have size on your side you have to present quality."
When he learned that I had never been to Africa, he invited me to address his next United National Independence Party convention at Mulungushi, right in the heart of a forest in Zambia where his struggle was planned, deemed 'Mulungushi The Rock'.
The name struck a chord with me for my constituency label of Paget Farm was 'The Rock Gibraltar'.
I'm not aware of any Caribbean colleague PM addressing an an African political convention. I took along Parnel Campbell and Jonathan Peters. We were able to meet with all the participating leaders of Independent Africa and those not yet independent. Namibia, Mozambique, South Africa's Oliver Tambo and Yasser Arafat of Palestine.
On this visit, two Vincentians came to see me. Dr Carl Regisford, working in Zambia to save lives in the armed struggle, and Macaulay Peters at the Zimbabwe University in education sponsored by USAID. Both were invited to return home. They did.
My address to the Congress is recorded in my first book of speeches, "Caribbean Crusade" 1988, under the title, "Zambia: Courage,Sacrifice and Challenges."
A more comprehensive view of my time with KK is described in my autobiography "Beyond the Islands". I will never forget the glorious early morning chanting of those thousands of African women making breakfast for all the delegates.
KK had a special mind. He fought against Britain for Independence, twice going to prison in the the battle for the two Rhodesias, now Zambia and Zimbabwe, but always expressed his care and affection for The Queen as Head of the Commonwealth.
KK set up multiparty elections, lost, and unlike too many African leaders, he graciously accepted the people's verdict.
For all that, his successor tried to cancel his Zambia Rhodesia origin and citizenship, so as to ensure he could not be a candidate again, but failed in the courts. He then concerned himself in the AIDS challenge after his son died.
Many of us will not forget the arrival of the first African president and his delegation at Arnos Vale in the big jet, similar in size to what now lands at Argyle.
His signature brand was a white handkerchief which he waved to Vincentians. He stayed at Government House and enjoyed his tours in the countryside, making comment about the quality of our housing.
His gift to me in our Gingerbread restaurant of a large beautifully carved wooden chest with nameplate, like other momentous, await a suitable place in a museum for all to enjoy. May this icon of the 20th century Rest In Peace
[UPDATED with additional information at the request of Sir James on June 23, 2021]