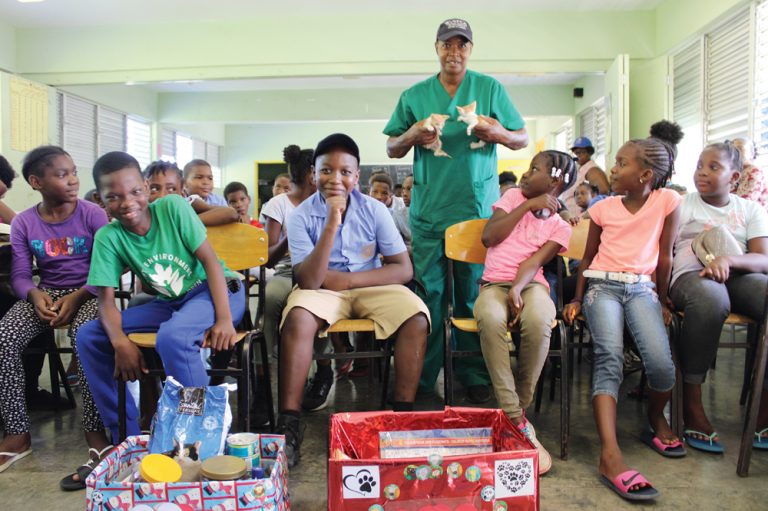 Features
December 11, 2020
Grade 6 boy rewarded for exemplary service to animals
by Katherine Renton
An 11-year-old boy has been recognized for exemplary service to animals after rescuing and caring for two very young kittens that were starving after having been separated from their mother.
Ti-Juando Jacobs, a grade six pupil of the Pamelus Burke Government School, rescued the first kitten after seeing that it was being troubled by other children, who were picking it up by its tail.
"When we were doing tests in class, I was in the front row, so I could see down by the garbage bin," recalled Jacobs, who was visited by the Vincentian Society for Prevention to Cruelty to Animals (VSPCA) at his school on Wednesday.
"When I look closely, I see something moving down there. Miss, when I watch closely it was a kitten, and they were down there troubling the kitten," the young boy said.
At break time, he ran to the garbage bin to discover the kitten, who he now calls "Coco", who was hungry, "bony and skinny".
Soon after, during the lunch break, his friend Shad DaSouza, a 10-year-old student, found the second kitten, "Milo".
"Milo was behind the kitchen in a lot of wood, so I have to take up a lot of wood to get him," DaSouza remembered.
While young DaSouza already has something like "100" cats at home, his friend Jacobs took the decision to carry the baby animals to his home.
When asked why he decided to do this, the student replied, "Firstly they were hungry" and "I was sorry for them so I carry them home and feed them".
It is not the first time that he has cared for animals, and has had many in the past, with some of them being poisoned.
Describing how his mother felt when he suddenly took home the kittens, Jacobs replied "a little angry and sorry for them at the same time."
The student, who wants to be "an astronaut, a vet, and I want to be a firefighter and a dancer and a singer" when he grows up, stated decidedly "I'm gonna care for them (kittens) forever."
Jhanice Nelson, who heads the Humane Education and Community Outreach programs of the VSPCA, launched a surprise visit to the Primary School, with a few employees/volunteers of the Association on December 9.
She explained to a group of eager young students that they were visiting the school because "I was very, very moved" by what Ti-Juando did.
"…These kittens were in danger and needed a home and the VSPCA we are very, very touched by that," she told the well-behaved students.
"Ti-Juando had a lot of compassion and love where he went to seek help from the teachers, and this young boy (DaSouza) who helped him, to give these kittens a chance, because they could have been dead by now if he didn't do that," Nelson also said.
The class had a very interactive session speaking about the five freedoms in the lives of animals, namely: freedom from hunger and thirst, freedom from discomfort, freedom from pain, injury and disease, freedom to express normal behaviour, and freedom from fear and distress.
After this session, Jacobs received a certificate of appreciation from the VSPCA, wherein it states he is "hereby recognized for exemplary service to the Vincentian Society for Prevention of cruelty to animals."
The VSPCA came equipped with two surprise boxes of goodies for Jacobs. The first was filled with a VSPCA hat and t-shirt, games, a story book, colouring books, crayons, stationery and other items.
The second was intended to kit Jacobs out with all the necessities for caring for the kittens, including food, litter, litter boxes, feeding bowls, flea shampoo, medication and other items.
Jacobs appeared gleeful at the gifts, and the other students curious.
The kittens appeared to be very small and approximately five weeks old, and therefore needed special attention.
They will be fostered by another until they are strong enough to return to Jacobs' family.