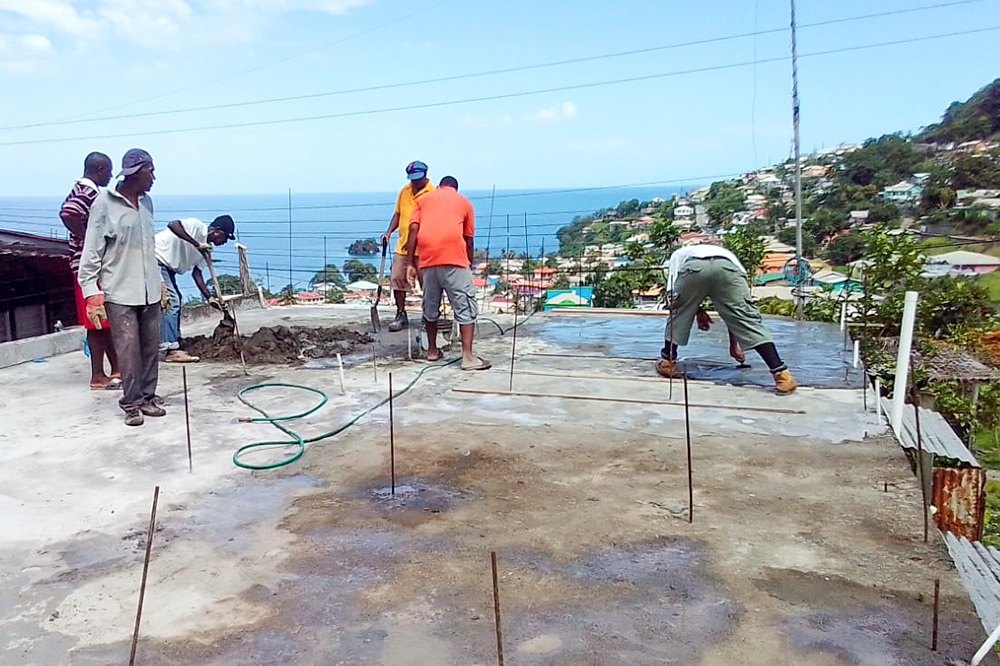 Youlou Radio Movement assists member with house repairs
Water is one of the most useful elements on this planet, but it can also be one of the most destructive forces in the form of floods, tsunamis or torrential rains. In this case, a leaky roof, especially over a bed, table or work area can be a source of discomfort, and this is where the YRM came to assist one of its members.
Two Youlou Radio Movement (YRM) members following the funeral of the late Walter Richards – J88DH/SK kindly consented to take Marilyn Morgan – J88NEE home following the funeral and while assisting her with the re-orienting of an antenna noticed, that the wall roof of her house was discoloured by fungus, cracked and leaking in several areas.
This situation was brought to the attention of the leadership of the YRM and it was decided that immediate action was necessary as one of the areas where the rain water leaked through was in the bedroom.
An assessment of the damage was done by building contractors who are members and several options were presented; the short term solution was to resurface the entire wall roof, with the long term project being a galvanize roof to prevent the water from settling and causing discomfort for the occupants.
Efforts to seek assistance from the government proved futile at that time and it was decided that since the situation was an emergency, that members should contribute financially and otherwise to resurface the roof, as we are well into the rainy season. As soon as the appeal was made via our Whatsapp chat, funds started to 'roll in', just sufficient to complete phase one of the repair work. The project began in earnest on the public holiday on August 3 and was completed on Saturday, August 15.
With the heavy rains that poured over the weekend and all day Monday, August 17, Marilyn reported that no water came in and therefore hailed the repair work as a success. Director of the YRM, Donald De Riggs – J88CD, joined with Marilyn and her husband Meth in thanking all the volunteers who contributed financially and otherwise to the success of Phase 1 of the repair work. Special mention must be made of Peter –J8C391 and Ronald – J88EA who first reported the emergency and Leslie – J88LE who spearheaded the actual repair work. Thanks was also expressed to those who contributed financially to purchase and transport cement and sand, those who resurfaced the roof and others who provided and prepared food for the volunteers, including men and women from Barrouallie.
The next phase will be to place a galvanize structure over the wall roof to ensure that water does not enter the living area. It is hoped that assistance from the government will be forthcoming to ensure that an underprivileged family can rest peacefully whenever it rains. (Report submitted by: Donald De Riggs)