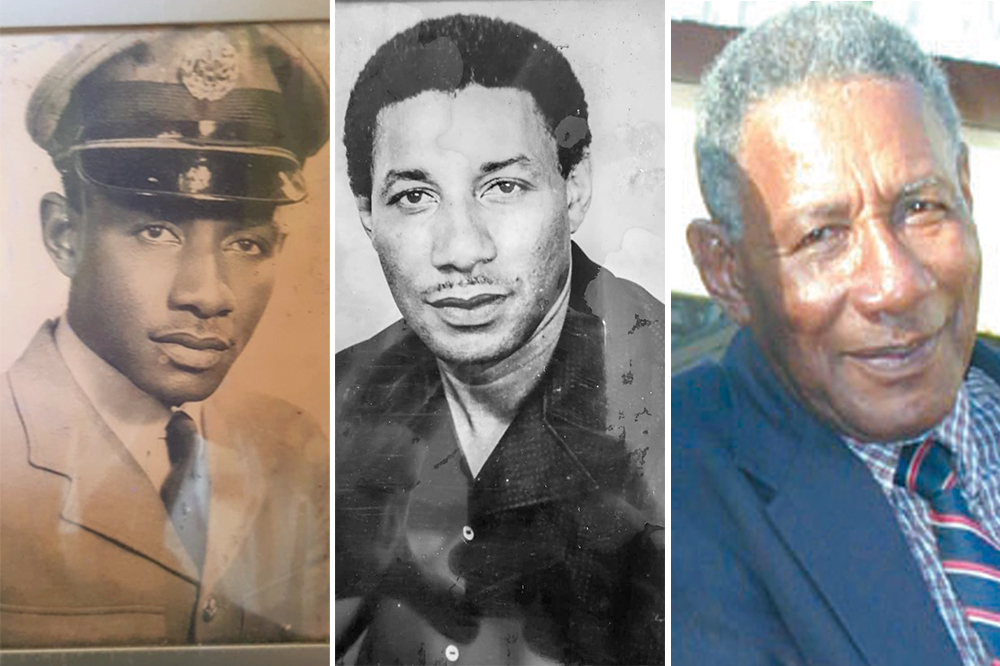 Vincent Ian Beache in the headlines
AN ASSET TO ST. VINCENT: Vincent Beache – A very practical and intelligent young man; would be an asset to St Vincent in any government; was clearly impressed while studying abroad by the "image" which Labour's propaganda machine has managed to project overseas. Not likely to take North Central Windward, but will come within 100 votes of doing so. Ken John, The Vincentian, 1972
APPLICATION: Vincent Beache, Electronic Technician applied for a Liquor Licence on behalf of the Aquatic Club – Government Gazette, September 18, 1973
APPOINTMENT: Consequent on the absence from duty of the Hon. E. T. Joshua, Minister of Trade and Agriculture, the Hon. V. I. Beache, Parliamentary Secretary / Ministry of Trade and Agriculture has been appointed to act as Minister of Trade and Agriculture in conjunction with his substantive duties with effect from January 22, 1976 and until further notice. – T. M. Velox, Permanent Secretary, Premier's Office, Government Gazette, Friday, January 23, 1976.
TRADERS TURNOVER TAX: Trade Minister Vincent Beache has alleged that Vincentian businessmen are objecting to the Gross Turn-over Traders Tax mainly because they feared it would enable the Government to monitor their transactions more closely and thus prevent tax evasion on their part – SUNDAY ADVOCATE NEWS 1982
OECS POLITICAL UNION: Opposition Leader Vincent Beache has commended Prime Minister James Mitchell on putting forward the idea of OECS political union, but feels that Mitchell's modus operandi smacks of dictatorship. Mr. Beache was speaking at the annual convention of the St. Vincent and the Grenadines Labour Party. He also called on Mitchell to retract his "infamous" 1980 Declaration which laid out why Mitchell wanted the Grenadines separated from St. Vincent. "How can we be assured of his sincerity for political union when on one hand he is seeking union and on the other hand he is fragmanting," Beache said. – Maralyn Ballantyne, The Vincentian, September 25, 1987.
CABINET RESHUFFLE: Opposition Leader Vincent Beache says this week's Cabinet reshuffle by Prime Minister Sir James Mitchell amounts to an act of desperation.
And, he tells SEARCHLIGHT that no amount of reshuffle can make inefficient Ministers perform. The Prime Minister Monday announced a shake-up of Ministers in five Ministries in a move he says is intended to keep Ministers on their toes. But, Mr Beache contends such window-dressing does not fool him, and he is confident the public would also not be taken in. "You're not telling me that you had a Minister of Agriculture for eight years who has done nothing and you wait until one year before election is due to have a reshuffle- that is telling me something and I think it will tell the public something that (is) the government has lost its way…" – SEARCHLIGHT – January 9, 1998
CAMPBELL GRANDSTANDING: Opposition Leader Vincent Beache has dismissed the latest call by Central Kingstown Parliamentary representative Parnel Campbell for constitutional reform as grandstanding. Beache, who was among a large cross-section of Vincentians who watched the May 5 televised political statement of the former attorney-general, says there was no new information and, if anything, Campbell padded the broadcast with liberal extracts from his presentation during debate on the 1998 budget last December. "I don't know what it has proven, except to say [that] Campbell doesn't seem to know what he is doing or where he wants to go". SEARCHLIGHT, May 8, 1998
DIAMOND HOUSING PROJECT: The Opposition Unity Labour Party-ULP – has promised to take its supporters to Diamond if needs be to stop the 45 million EC dollar housing project that's being established there. Party Leader, Vincent Beache made that abundantly clear as he addressed cheering party supporters at a protest rally at 'Unity Square' last week Wednesday. It was the Second time that the Party was staging a protest to force the Government to halt the Diamond housing project and conduct a review. – SEARCHLIGHT, May 8, 1998
ULTIMATUM: THERE IS a political crisis in St. Vincent with the two main parties on a collision course. The opposition Unity Labour Party of Vincent Beache has refused to concede victory to the ruling New Democratic Party of Sir James Mitchell, alleging electoral fraud. Beache had given Mitchell until noon yesterday to announce fresh polls, or face action to force him from office. He said going to Court was too long-winded an option. – SEARCHLIGHT, June 19, 1998
UNGOVERNABLE: One Day after the elections, the party declared that it was not conceding defeat, and called for fresh elections within six months. Sir James has responded by saying that his party won the government fairly and squarely and the ULP must now accept defeat so that they could get on with the business of developing the country. We want progress in this country, Beache told party supports at the rally, but this is something that Sir James has demonstrated he cannot deliver. "So, we are willing to discuss with him a period mutually agreeable to us", in which a date for fresh elections and the machinery under which the elections will take place will be decided. The opposition would do nothing within this time to "humbug the operations of government," Beache said. "But, if he is not prepared to do that, then we will make his life hell in parliament and also outside of parliament, and he cannot govern this country effectively," Beache declared. – SEARCHLIGHT, June 26, 1998
BANANA BATTLE WITH THE US: Opposition Leader Vincent Beache has called for more Windward Islands support for the European Union which is battling the United States on the banana issue. "They are fighting our fight and we are not doing enough to help," Beache said Thursday on local radio, suggesting that the Windward Islands governments use the Shiprider Agreement as leverage in the existing banana war. "I know the Americans need the Shiprider Agreement [which] makes provision that you give notice and after you can get out of it. "You can't have your cake and eat it, you can't be stomping me down and then still expect me to go and feed you and I think we have to do something about this, we can't just sit back passively and let these things happen and let the European Union or the people in Brussels to fight our fight unless we are going to give them the support that they need." The US has threatened to impose full tariffs amounting to about US$520 million on a range of EU products from next month unless the EU further modifies its banana regime which offers some protection for traditional banana suppliers including those in the Caribbean. The volatile banana situation heads the agenda of a meeting of Heads of Government of the Organisation of East Caribbean States in Dominica. Kingston Gleaner – January 30, 1999
A PROFOUND DECISION: Sir Vincent Beache, original leader of the Unity Labour Party (ULP) has described his decision in 1998 to hand over the reins of leadership of the party to Dr. Ralph Gonsalves as "a profound decision." Speaking at Biabou on Sunday evening, the senior statesman said that his decision to vacate
the leadership position of the party and to support Dr. Gonsalves as leader, "is benefiting all of us … and will continue to benefit all of us in St. Vincent and the Grenadines."
The youthful looking politician said that although the time for him to "quit the stage" was the next elections, he would not be bowing out completely, because "I helped to give birth to the Unity Labour Party, and as such, I will continue all the time to be either its father, godfather or whatever father it is, so I will be around and if my services are needed, then I am willing to serve the people of St. Vincent and the Grenadines."
Sir Vincent noted that he was leaving office with a clear conscience stating, "I stand here unashamed of anything that I have done, and I call on any man to come forward and say that Vincent Beache has been dishonest or has used his office to enhance his riches that I don't have."
Sir Vincent spent much of the evening on stage showing up the younger members of the platform party with dance moves that belied his age. He was at Biabou in support of his son's candidacy for the South Windward seat which he, Sir Vincent currently holds. – SEARCHLIGHT, October 21, 2005
Compiled with the kind assistance of Dr Cleve Scott and Shenee Farrell