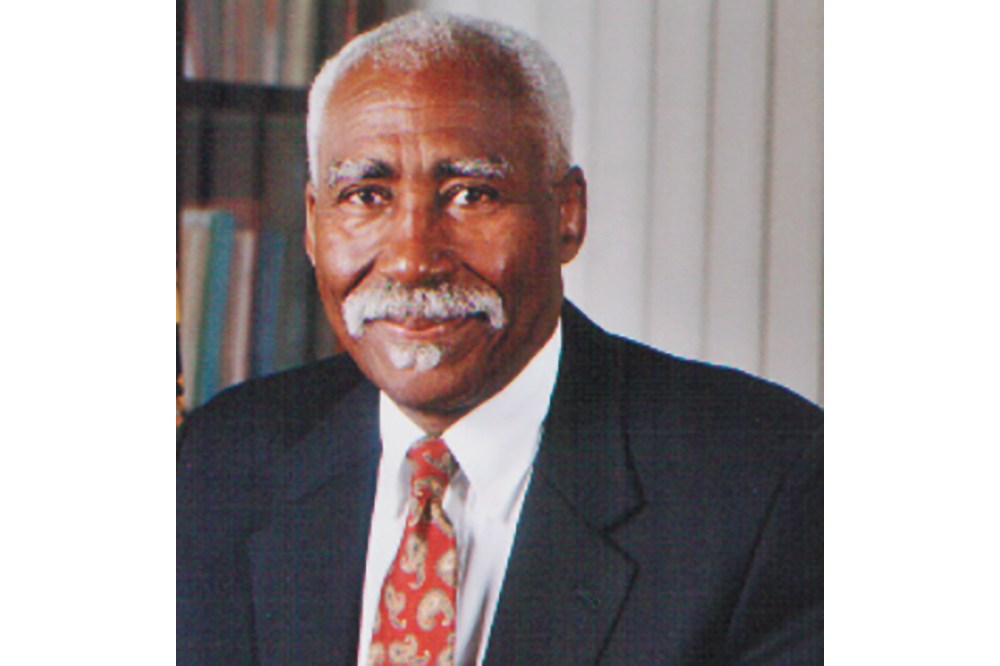 Sir Frederick Ballantyne reflects on fallen friend
With the death of Sir Vincent Ian Beache, St Vincent and the Grenadines has lost a great human being.
This is the view of former Governor General Sir Frederick Ballantyne, who, during a recent interview with SEARCHLIGHT, reflected on his friendship of almost 50 years with the former politician who died on August 5 at the age of 88 years.
The former Governor General said on Sir Vincent's retirement from active politics prior to the 2005 General Elections, Sir Vincent asked that he pay tribute to him at a function.
"I suggested a politician do it and he said 'No', he wanted me, and I was very honoured, and we remained close friends from that time," Sir Frederick said.
"I said then and I still believe now that he has always been an honest politician and he loves St Vincent and was helpful to all of the people in the island regardless of political affiliation.
"If you go throughout the countryside you always find people who will say Sir Vincent helped them in some way, large or small."
Sir Frederick said he, Sir Vincent and Ken Boyea were involved in business together when Beache returned from the United States in the early 70s.
And it was through that interaction that he gained great respect for him.
In the 1989 elections, Beache, running on a St Vincent Labour Party ticket and Ralph Gonsalves as leader of the Movement for National Unity (MNU) both contested the North Central Windward Seat against Jonathan Peters of the New Democratic Party (NDP). The result was a split opposition vote in which Beache received 1263 votes and Gonsalves 889; the NDP's Peters won the seat with 1359 votes – 39% of the valid votes cast.
So by 1994, the MNU and the Labour Party had learned their lesson and decided to contest the general elections on a unified ticket in an attempt to defeat the ruling NDP.
Beache gave up the safe North Central Windward seat, leaving it to Gonsalves, and instead contested the South Windward seat.
Sir Frederick described this decision by Sir Vincent as "extremely gracious".
"He thought it was the best thing for the country even though he was exposing himself to a new seat and I reminded him that a number of the Prime Ministers who have moved from one constituency to another had lost in the constituency where they moved but we was prepared to do that," said Sir Frederick.
In the end, both Beache and Gonsalves won their seats and together with Louis Straker, who had won the Central Leeward seat on a Labour party ticket, they made up the Opposition in Parliament against the NDP, which had won the 12 other seats.
"You could always depend on him, in my opinion, to do the right thing. He always did," reflected, Sir Frederick.
The former Governor General said that many people did not know Sir Vincent's true nature, because he was a quiet, humble man who never blew his own trumpet or bragged about what he did or what he accomplished.
"Very few knew him as a bright scholar in English, History and English Literature and he will ever be quoting things from philosophers and poets and many people who knew him never knew that side of him.
"I have lost a very dear friend and I was happy that I spent two hours with him the day before he died," said Sir Frederick.
He said during that last visit, Sir Vincent did not speak much, but he smiled and squeezed Sir Frederick's hand.
"I don't know how we would overcome that loss, only time will tell, and history would tell of his contributions, his unselfish contributions to this country," said Sir Frederick of Sir Vincent who was also an accomplished electrician and electronics technician.
A State Funeral will be held for Sir Vincent Beache on Monday, August 19 at the Kingstown Methodist Church, commencing at 2 p.m. Interment will be at the Kingstown Cemetery.
A release from the Office of the Prime Minister said official viewing of the body will also be held on Monday, August 19 at the House of Assembly from 9 a.m. to 1 p.m. Officials will be invited to the viewing from 9 a.m. to 9:30 am, and the general public from 9:45 a.m. to 1 p.m.
As a mark of respect, all flags throughout the State will be flown at half mast on Monday, August 19.
The release said the family of Sir Vincent has requested that there should be no taking of photographs of the body during the official viewing period. There also will be no viewing of the body at the church nor open tributes.