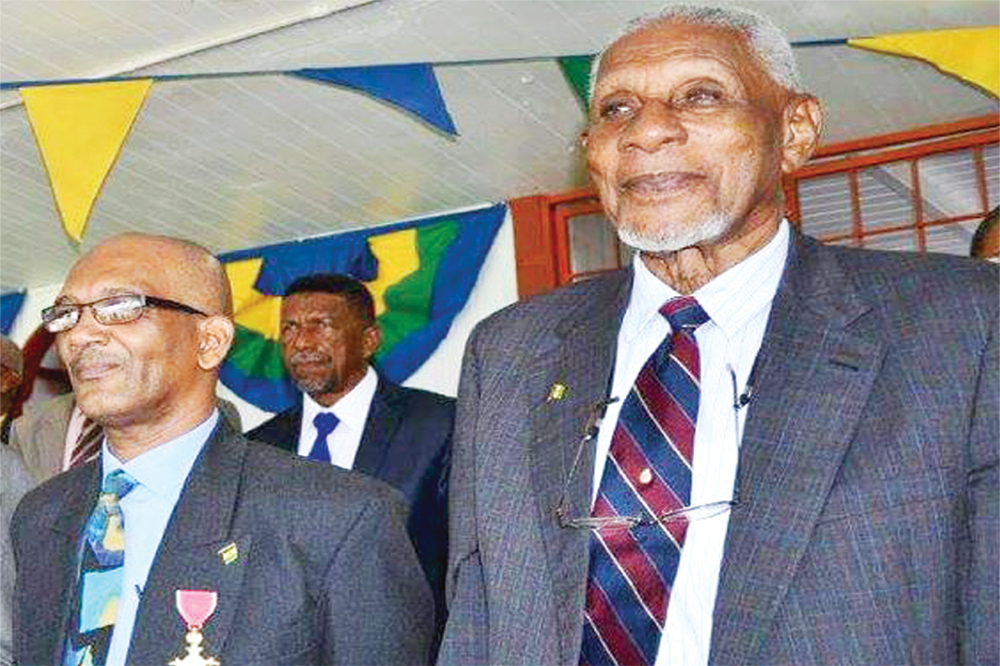 Reflections on the life and work of an Inspirational leader and friend
by Godfred 'Toffee' Pompey
In the late 1970s, I was introduced to one Vincent I Beache by my adopted mother Lucy Miguel when the Labour Party played their regular cricket "fete matches" in the Valley.
From the onset, I observed that Vincent I Beache was loved by the people due to the nature of his interaction with the common man. This character trait he carried through his life. He was a humble human being.
As a Public Servant, my admiration for Sir Vincent grew when I became Director of Training, when we teamed up with the late Gordon Draper to deliver training to all levels of public servants including Parliamentarians, Cabinet members and senior Public Servants. He believed in the development of people.
Our relationship blossomed when he recommended me to serve as his Permanent Secretary in the Ministry of National Security. It was under his tutelage that I bloomed as a public servant. He was a stickler for time, a trait that rubbed off on me. Undoubtedly, Sir Vincent will be numbered among our many Nation Builders. He was a pioneer, innovator and reformer.
As an Innovator, Sir Vincent as Minister of National Security and Security Advisor has left his indelible footprints. Worthy of note are the Durrant Study, overseeing the Pan Against Crime Programme and the introduction of Police Youth Clubs, all in an attempt to tackle crime and violence in our society. We are now reaping the "fruits of his labour" in that we have the lowest crime rate in the Region.
The Durrant Report which he piloted resulted in the restructuring of the Royal St. Vincent and the Grenadines Police Force and the de-linking of the Immigration Department. This resulted in the introduction of Machine Readable and e-Passports, making us the second country in CARICOM to attain this standard.
Sir Vincent was a believer in development for the people. This was demonstrated with his belief and work on the construction of the Argyle International Airport with much support from the late C.I.
Martin. Sir Vincent motivated our Leader, the Hon. Prime Minister especially when things got tough. He never lost hope. He was no quitter. The Argyle International Airport was dear to his heart.
As a Reformer, Sir Vincent was instrumental in restructuring and expanding the St Vincent Cadet Corps – now touching almost all secondary schools throughout St Vincent and the Grenadines, moulding the minds of our youths. His work as Chairman of the National Commission on Crime Prevention is also noteworthy. Sir Vincent was central in developing the first Operational Plan for the Commission to guide the work of the Unit. The SVG Port Authority benefited from Sir Vincent through the initiation and implementation of the Hippolite Study and Report.
He was the Chairman of the Port Modernisation Committee. The Port Authority has moved from a deficit position to that of enjoying a healthy surplus. They are now moving to another level, the development of a Modern Port.
Sir Vincent was a repository of information. He was an Archivist. Our research in the Ministry was made much easier since he was always willing to share as we tapped into his vast knowledge while indicating that he has a diary of material on Loan. Elson please take note.
I am indebted to Sir Vincent for allowing me to serve with him for over 15 years and believing in me as his Permanent Secretary both as a Minister and Advisor. He moulded me into the individual I've become. Sir Vincent was a friend and a confidant. I recall many of our early morning meetings with our Prime Minister. These conversations were enlightening and enriching as we strategized, although in the end, I had to take my leave when the discussion took on a political tone, since this was "above my pay grade".
I will always cherish and miss his words of wisdom and guidance. Sir Vincent was a counsellor and moulder of character, a true friend. Our relationship extended beyond the office and work. We enjoyed a healthy social life. I will not forget our many Pedro games as his partner. Burgin and Elson will continue to lick their wounds from the many blows we inflicted. We were an unbeatable pair at our social gatherings at our homes where our thirsts were quenched with a pepsi.
My younger daughter, Toni, like so many others, was particularly attracted to his dance "mash dem down, can't lose". The 2020 Election campaign would not be the same without Sir Vincent.
Farewell my friend and leader. May God grant grace and strength to his wife, Lady Vida and children. I will be forever grateful to his family for allowing me to spend so much time with him.
Rest in peace my Minister, Advisor and Friend.