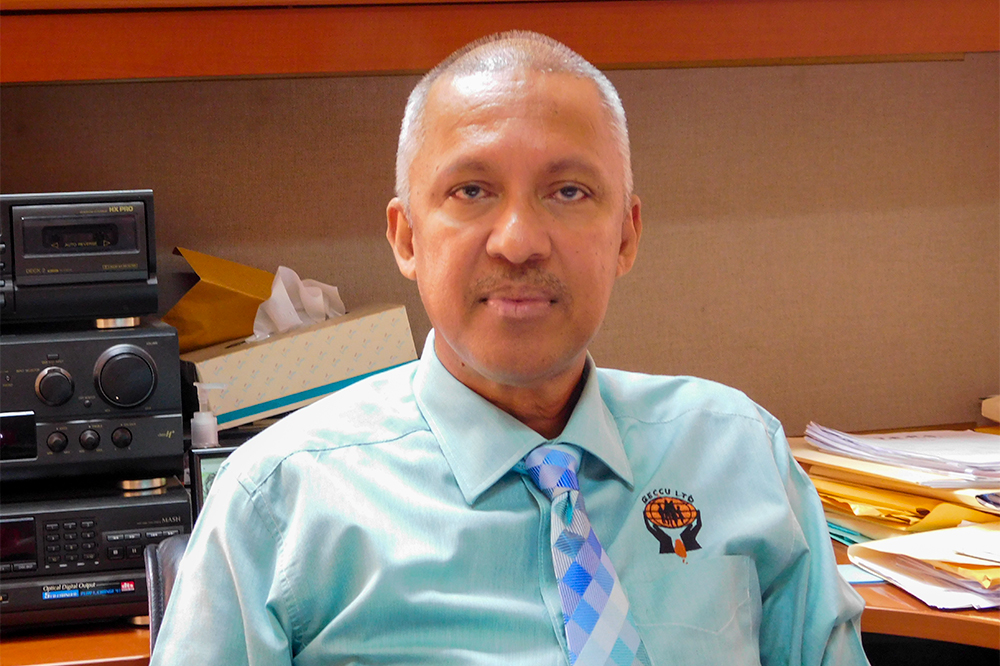 At 55, GECCU has 44,500 members, six branches and an asset base of $270 million
From the green peaks of La Soufriere to the pristine shores of the Grenadines; it's all GECCU country.
This is the philosophy that has and continues to drive the services offered by the General Employees' Cooperative Credit Union, which celebrated its 55th anniversary on July 14.
The institution, having been in existence for more than half a century boasts six branches across the country in Georgetown, South Rivers, Kingstown, Bequia, Canouan and Union Island.
And it is the intention to open a seventh branch within the next year at the Troumaca/Rose Hall junction.
"We are extremely community engaged," Lennox Bowman, the chief executive officer (CEO) told SEARCHLIGHT in a recent interview. "We say SVG is GECCU country because we have six branches, going for seven branches, but it's not just in terms of putting offices. We make a great effort to interact with our communities, to spend a lot of money on engaging the social and cultural and sporting development of our country as much as we can afford so community engagement is very big for us."
Bowman has been employed with the institution for 25 years, 20 of which were spent at the helm as CEO and he spoke of how much it has grown in that space of time.
"When I came here, we had about close to 10,000 members; we had an asset base of about $38 million and we had a staff of about 35. And today, 25 years on, we have an asset base of $270 million, a staff of about 52 and we operate from six branches now, so from a single branch when I came, we now have six branches operating," the CEO said.
Currently, the credit union boasts approximately 44,500 members and continues to grow each year by at least 2000 members.
Bowman expressed pleasure in GECCU being able to grow and maintain its position as one of the leading financial institutions in the country.
He also attributes this success to the institution's focus on financial prosperity of its members and the services that have been tailored with the needs of members in mind.
"We pride ourselves on trying to get quality products. We don't just launch a product for a product sake and every product which we launch is a product which is more or less a response to our members," the CEO said.
Some of these products include the 'Learn While you Earn', 'Weathering the Storm' as well as tank, security and carnival loans.
Using the carnival loan as an example, Bowman explained how GECCU has been able to use its services to promote a growing cultural activity while providing capital for small businesses.
"…A lot of people have been saying, how come you could give a carnival loan? You giving people loan to jump up…and what a lot of people don't know is that over 80 per cent of the monies we lend on a carnival loan is lent to people with ice boxes and little businesses, who are trying to make money to send their children to school to do the little things…" he said.
He added that the institution also offers financial counselling to its members thereby reinforcing the family-like structure of the credit union.
If anyone was wondering what makes GECCU different from a banking institution, Bowman advises a look at the credit union's structure.
He said that its more than 40,000 members are all owners of the institution because of the shares they own. And this isn't something that is necessarily offered by a bank.
The CEO said that going forward, GECCU will continue to preserve and enhance its brand by keeping up with the financial technology that is craved by its members.
He said that people are encouraged by the idea that they can carry out financial transactions online without having to leave the comfort of their homes.
"The processes we employ are important to us and we need to make sure too that our technology, the technology that we use to drive customer excellence enhances our digital customer experience," Bowman said. "We are mindful of these things and we are focused now on ensuring that these things happen so the two areas that we are looking at now are to make sure that our brand is preserved and enhanced and that the financial technology as affordable as we can make it for our members."
In its yearlong celebration of the 55th anniversary, GECCU has already held 55 days of giveaways, a 55th anniversary dinner and an anniversary church service. It has also produced an anniversary newsletter and recognised stalwarts and longstanding volunteers of the institution.
The awarding of 11 university bursaries, a Members' Appreciation Day, Sports Fun Day and production of a 2020 calendar are on the list of events to come in the last quarter of this year.