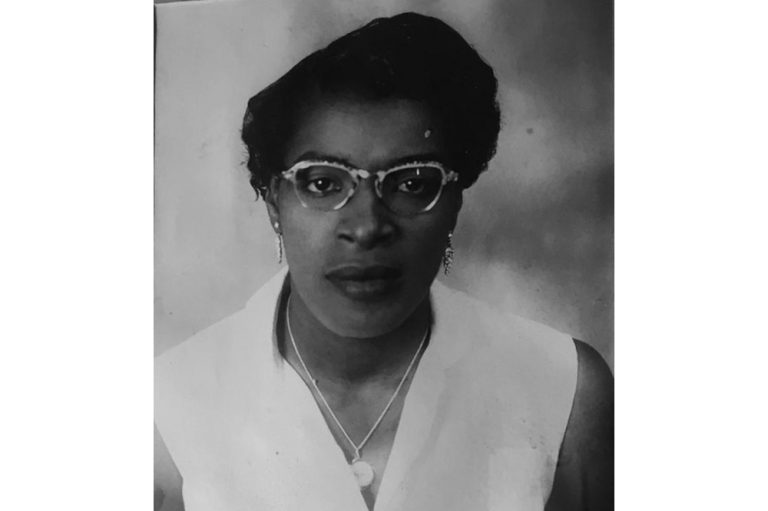 Credit Union Stalwart to be buried tomorrow
Vincentians will tomorrow pay final respects to a nation builder and a stalwart of the credit union movement.
Viola John, who died on Sunday, March 10 at her home at Dorsetshire Hill, will be laid to rest on Saturday, March 16. The funeral service will take place at the Kingstown Methodist Church, with tributes beginning at 1 pm, and the funeral service at 2 pm.
Although Mrs John may be best known among the younger generation for her work at GECCU, it is as a teacher and community worker that she spent the earlier years of her working life, and the area in which she first distinguished herself as a nation builder.
Born on October 4, 1922 at Dickson village to Duncan Daisley and Myrah Mercury, young Viola attended the Georgetown Methodist primary school, after which she received a secondary education at the St Vincent Girls' High School.
Immediately upon leaving the Girls' High School, Viola began her teaching career at the Dickson Methodist School. She also taught at the Wesley Hall Methodist School (which later became the Kingstown Methodist School) and was headteacher at the primary schools at Gomea, Vermont and South Rivers. She studied Early Childhood Education at Bank Street College in New York.
After decades as an educator, Mrs John was transferred to the community development department as a field officer, and it is from there that she retired from the Government service.
On retirement, Mrs John was recruited by the late Beryl Baptiste to join the then Government Employees Cooperative Credit Union (GECCU). By 1977, she had started assisting in the credit union's office and on January 1, 1982, she was formally appointed (General) Manager of GECCU.
In the GECCU 50th anniversary lecture delivered by Rene Baptiste in 2014, Mrs John was described as "a woman of tremendous social and cultural substance, with a background in Education, teaching and managing people."
She was active in the YWCA, the SVG Cricket Association, the SVG Netball Association, and the Methodist church.
"She put on her battle-garb and soldiered on for GECCU in every part of our multi-island State. She nurtured her staff like they were her children.
She was their mother, mother confessor and confidante and best friend; yet not afraid to put the firm hand of discipline whenever and wherever it was required. She was … deeply shovelled in the Credit Union philosophy; personally recruited hundreds of young people for GECCU….
"She would have personally registered the 1000th member, and signed off in February 1983 when GECCU reached $1million in shares milestone," Baptiste said at the lecture.
Mrs John oversaw a period of rapid membership growth for GECCU.
The Education Committee was expanded under her guidance and she was also central to GECCU's thrust with the schools' co -operatives.
In 1986, when GECCU purchased Halifax House, Mrs John took charge of the move to Corporate Headquarters with a modest staff of 10.
Because of GECCU's interest in education, in 1980 they began to grant full scholarships to secondary school, supervised for many years by Mrs John.
She was in the manager's office when the Death Benefit was introduced in 1994 andagain when the operations were computerized in 1995. She retired from the post in1998.
However, Mrs John was elected to serve the Board in 2002, and again gave yeoman source. GECCU benefitted from her wisdom and vast experience in human resource development.
Mrs. John is survived by her daughter La Fleur John, granddaughter Kezi Francis, adopted children Gilbert Massell and Barbara Mercury/John, many other close relatives and friends. May she rest in peace.