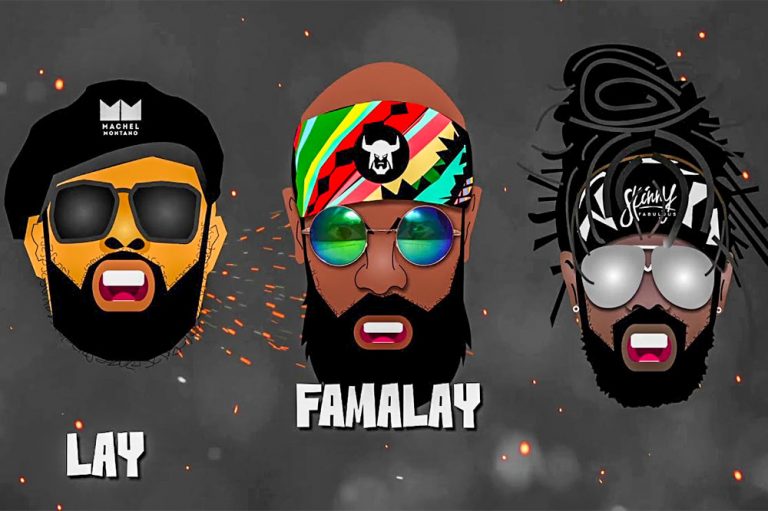 Features
January 15, 2019
'Famalay' jumps to top of iTunes most downloaded reggae song list
Soca collaboration
A collaboration between three Soca mega stars, Skinny Fabulous, Machel Montano and Bunji Garlin, moved reggae sensation Bob Marley and the Wailers from the top of the iTunes most downloaded reggae songs last week.

The Song, "Famalay", was released on January 4, 2019 and in less than 24 hours became a hit and jumped to the top of the iTunes most downloaded reggae songs list.
The song asks that persons embrace one another no matter, skin colour, nationality or race and come together for good.
A check yesterday showed that Famalay had dropped back to second place on the iTunes reggae chart, with 'Three Little Birds' by Bob Marley & the Wailers back in first place, but according to Gamal 'Skinny Fabulous' Doyle, the song being so high on the iTunes downloaded list is a great achievement for all involved.
"This is significant because if you look at the chart, it's Bob Marley who always dominate that chart because worldwide, he always held the most downloads at any given time for the last couple years…so you have in the space of six days, we put out a song that Soca lovers and Caribbean people took a strong liking to and they related to the song in a way that encouraged them to buy it in a legitimate manner.
"Not to just go and rip it from YouTube or ask their friend for it, they supported the song in a way that could be quantified by an organization like Apple and this is the way that we should be supporting the artform and the artistes," Skinny told SEARCHLIGHT in a Friday January 11 interview, minutes before leaving St Vincent for an international performance.
The origin of the song is steeped in Caribbean culture and involves persons from three countries — Dominica, St Vincent and the Grenadines (SVG) and Trinidad and Tobago (T&T). It embraces Dominica's Bouyon, SVG's energetic power Soca flavour and Trinidad's unique style.
Explaining how the hit made it into the homes of thousands, Skinny said that the beat/riddim, made by Dominican music producer Krishna 'Dada' Lawrence, was sent to Soca disc jockey Stephen 'DJ Stephen' Phillip and the disc jockey passed it on to him.
"I listen to it with no concept or person in mind and I went to the studio to vibes it and I came up with Famalay with no faces or characters in mind, just to lay it down as a demo.
"After listening back to the demo I then realized the message of the song will be better told by different people as opposed to one man trying to sell the idea of family, and I thought to myself, the best person to help send the message or to carry the message was Machel Montano or the likes of a Bunji Garlin, considering that they are on top in their field and considering they also have had the opportunity to set good examples of coming together and working together," Skinny explained via a WhatsApp call.
The "good examples of coming together" spoken about by Skinny is in relation to a song called "Buss Head", a collaboration between Machel and Bunji in 2017.
The collab was significant as the duo had for years, been bitter rivals in the competitive T&T Soca arena.
"I wanted to retell that story and wanted it to be the story that three persons known in their own rights in their own field in their own island as being top tier artistes could come together and do one song that has a good message," Skinny further explained.
He said the song, while it is known to Caribbean people as Soca, is still refereed to internationally as Reggae, hence the reason it is listed on iTunes in that genre.
"Soca music in general by iTunes and international standards gets grouped in Reggae because we as Soca artistes, that Genre has yet to be recognized as an official genre so when you release a song, if you are from the Caribbean or it sounds close enough to Reggae or whatever they just group it into reggae.
"I am very, very, very happy to be part of that type of history in this short amount of time. We are talking about in the space of a week, we were able to enter a chart and be above persons like Shaggy and Bob Marley and these persons," Skinny stressed.
The song also gained the attention of popular USA based comedian "Maja Hype" who did a skit in which he depicted the song as being so powerful that it stopped persons from fighting in a bar.
"The song is viral," boasted Skinny, "it dropped today and by tomorrow it was everywhere," he added.
Famalay was mastered by Parry Jack, while Skinny's portion was recorded in New York, Machel's in Los Angeles and Bunji's portion recorded in Trinidad.
The song costs US$1.29 on iTunes. It may also be bought on Amazon. Persons may also listen to the song on YouTube (animated video done by Vincentian Junior Lee of preciseleefilms).
As the song continues to gain momentum, Skinny, who has himself has had intense rivalry with the likes of Delroy "Fireman Hooper"  is calling on persons to embrace the message of the song and move beyond controversy and fighting and jump with "Famalay lay lay lay lay lay lay lay."