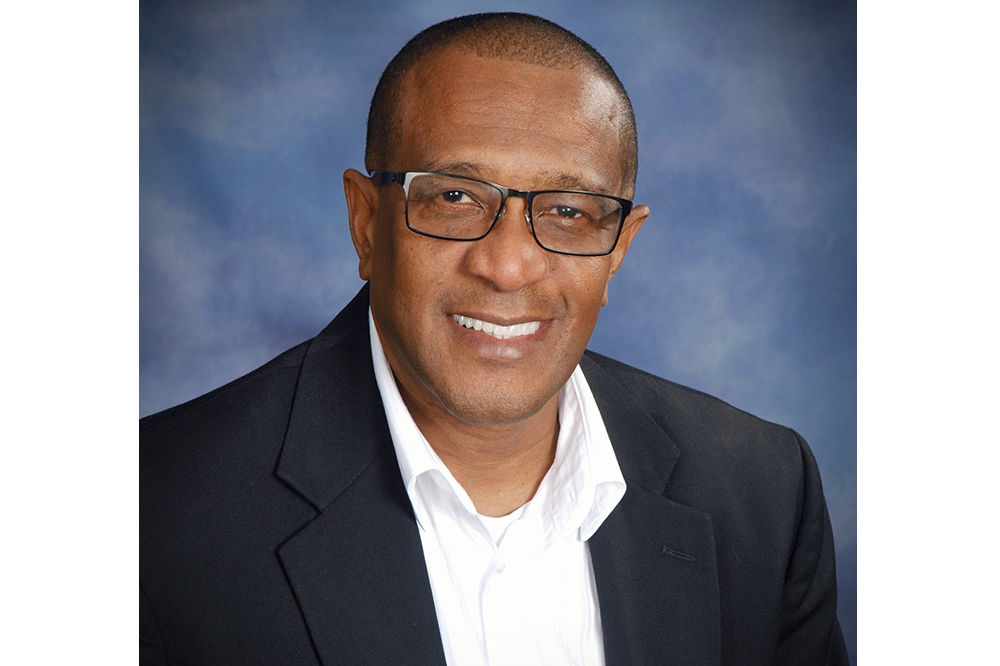 Dr Ray Carr refuses to be defeated by failure
From plodding through near constant academic failure, to finding himself at the peak of academic achievement, Reverend Doctor Ray Carr has always lacked faith in himself, but those around him did not.
The North Carolina-based pastor of the Baptist Center Church, reminisced on his beginnings as a young Vincentian school boy struggling with grades, during an interview with SEARCHLIGHT on Tuesday.
"The result of the CPEA (Caribbean Primary Exit Assessment) is going to be released in the next month or so I guess, and not every child will be successful…I sat Common Entrance the first time, I failed, and I had to return to school, and I tried a second time, and I was successful at that time and went to the St Vincent Grammar School," he began.
Carr admitted that the core of his trouble in academics seemed to be that he was a slow learner, "some people are slow learners, and I put myself in that category, I would admit, I am a slow learner.
I cannot think on my feet, I have to process everything, it takes a while for me to really get my thoughts together."This caused Carr to enter form one, fail form one, pass it the second time, enter form two, and fail form two.
All could have ended there for the pastor, who said, "In Grammar School, and I do not know if this is still the situation there, but if you fail twice, you're kicked out. Fortunately for me, I got what, I don't know if they still use it, it's called character promotion, so I was promoted based on my character."
Carr went on to receive three more promotions based on his character, to forms three, four and five. "It's very important that students understand that you have to have manners and behaviour. As old people say, manners and behaviour carry you through the world, you have to know how to behave and conduct yourself when you are in school," he mused.
When it came time for Carr to sit the exam to leave Secondary School, he had to sit his subjects at the basic proficiency level instead of general, and "I think five was the minimum you were allowed to write… I couldn't write five, they allowed me to write four, but here is the interesting part of it, when the results came back, I failed all four."
At this particularly low point Carr believed, "I just told myself, to be honest, I didn't have what it takes…I didn't have what it takes.
I'm just not gifted academically and so I thought honestly it was the end of school for me."But the people around the future church leader did not give up on him, and he did evening classes, where he was able to complete three subjects.
Following this, his aunt Dr. Patricia 'Kitty' Israel got him a teaching job, and Carr taught at three schools, namely the Kingstown Anglican School, the Kingstown Government School and the Clare Valley Government School.
"I came to know the Lord Jesus as my personal Lord and Saviour, and that was gonna be a turning point, at life, that was a game changer now," he indicated, stating that he became a pastor in 1991.Yet again, he was encouraged by those around him, this being the missionary of the Kingstown Baptist Church.
He then travelled to Barbados, with his wife, to complete an associate degree in Theology at the Baptist College there.There he became President of the Student Government Association, and graduated as Valedictorian.
Moving further, both figuratively and literally, Dr Carr said that in "2001 we (him and his wife) migrated to the United States for me to pursue my undergrad at the Baptist College of Florida, and while at the Baptist College of Florida (a predominantly white school), I became President of the Student Government Association."
He graduated from this school magna cum laude (with great distinction)."Now that was a big, you know, shocker… you're talking about the student who left the Grammar School with no subjects graduating undergrad magna cum laude."Along came another motivator in the person of the President of the College who secured a scholarship for Carr to complete his Masters of Theology.
Therefore, he went to North Carolina to the Southeastern Baptist Theological Seminary, where he completed his Masters degree and received another scholarship to pursue his Doctor of Ministry.
He graduated in 2015, and is now the pastor of the 146-year-old Baptist Center Church in North Carolina, and serves as the chaplain of the guard and police department of his area.
"The truth is up to this day I look back and I still can't believe that I am where I am," the pastor indicated, but stated that he is grateful that God put people in his life to encourage him.He says his wife Deborah has been a tower of strength for him for 26 years, his children also encouraging him, and his aunts Dr Kitty Israel, Cora Cambridge and Celia Ross.
Therefore, the pastor is urging that parents should, "not give up on their children, when they do not succeed or do not meet their expectation," and that children "should not allow their present circumstances to determine their future, should not give up on a whole, that's basically my message."