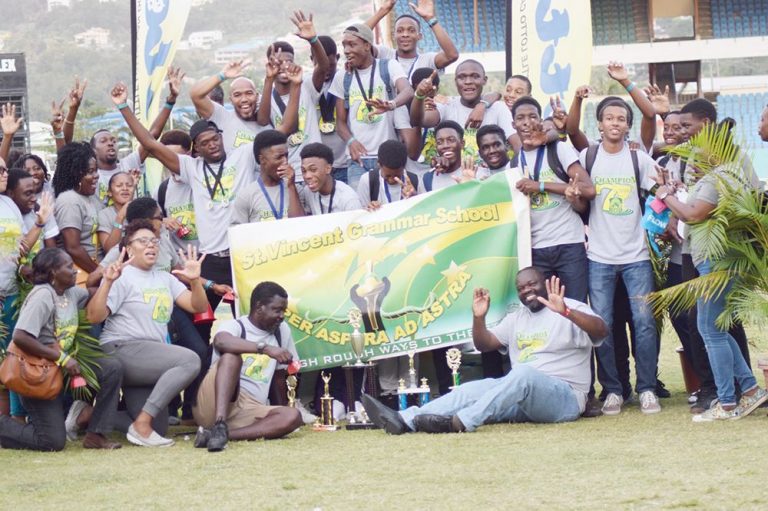 St Vincent Grammar School Up Like Seven At ISSAC
The St Vincent Grammar School, for the seventh straight year, has been crowned Male Division bosses of the annual National Lotteries Authority Inter-Secondary Schools' Athletics Championships (ISSAC).
With a head start of 122 points going into the Arnos Vale Playing Field last Thursday, the perennial winners added another 188, to finish on 310.
Such was the confidence of the St Vincent Grammar School, that they had already printed jerseys with the inscription "Champion 7", which were used in their celebration of yet another Male Division title.
The Grammar School's win was another proud moment for that institution's headmaster Curtis King, who is set to retire at the end of this school year.
King spared no emotion last Thursday, as he celebrated with his athletes, other students, teachers and parents.
Sharing in King's euphoria was long-standing physical education teacher and track and field coach Rawlson Morgan.
An out of character Morgan danced out his joy, complementing his out-of-timing moves with the ringing of a bell.
Morgan said his unusual type of celebration was in response to the vilification that one of his athletes had to endure over a much publicized and vented incident, which occurred at the heats.
Second to the St Vincent Grammar School were St Martin's Secondary, on 212 points. Thomas Saunders Secondary were third on 163, Central Leeward, fourth with 150 points and Bethel High School were fifth, putting together 138 points.
Individual Awards
There was a tie for the junior male champion, as this title was shared by St Martin's Secondary's Andrew Mapp and Bethel High School's Omario Warren. Mapp and Warren both had 33 points.
St Vincent Grammar School's Jevonie Lavia scored 47 points, to be crowned intermediate male champion and the victor ludorum.
And, in the seniors, Georgetown Secondary's Desroy Jordan was the male awardee. Jordan's tally of points was 27.