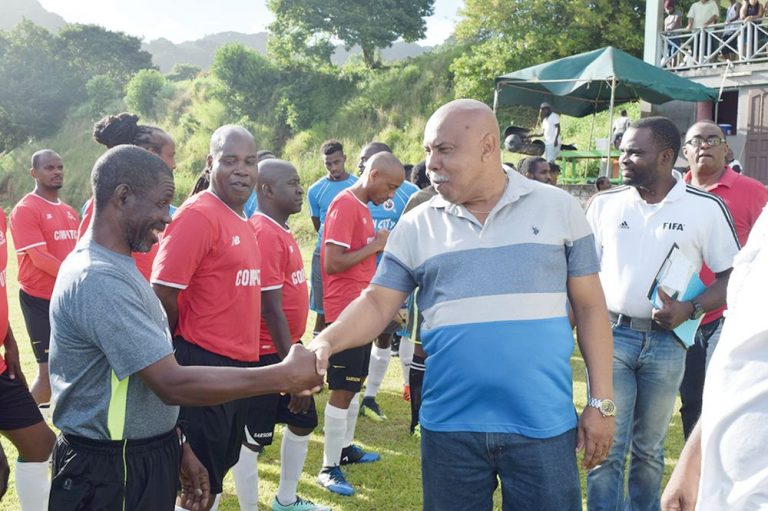 Features
February 16, 2018
Football comes to Dauphine Playing Field
After establishing what is now known as the oldest softball cricket competition in St Vincent and the Grenadines (SVG), the Top Belair Progressive Organization (TBPO) has launched its first ever football competition.
The Nine-A-Side format, sponsored by Coreas Distribution and COMSPORTS, got going in earnest last Saturday afternoon at the Dauphine Playing Field.
Opening up as a contender to cash in on the first place prize of $1,500 were Groove Street Ballers Catalans, who swamped Computec Older Boys in the tournament's first match.
Najima Burgin found the net thrice; Jowan Sawyers – twice and Dan Laborde – once, as Catalans routed their opponents 6-1. Tyrone Prince scored the consolation for Computec Older Boys.
But Catalans and Computec Older Boys had shared the spoils of two cases of beverages which were at stake for the best dressed team, as they were adjudged joint recipients.
Meanwhile, matches in the competition were played on Sunday and Monday.
Juma Jilkes scored a brace and Shaun Durham – one, as 1998 Hillside Rollers had a 3-1 win over Roma on Sunday. Ashwin Richards netted for Roma.
And, on Monday, Street Kickers beat Dream 3-2. Scorers for Street Kickers were Adamo Johnson, Kevin Audain and Shane Jackson. Roma's two goals were converted by Joborn Cunningham.
Completing the 10 teams in the competition are Coreas Distribution Older Boys, Royal Roots, Sentry Insurance Champions and Shooting Stars.
The 10 teams will play in a round robin, from which the first four places head to the semi-finals, third place play-off and final.
Second place is set to earn $1,000 and the third place – $500.(RT)