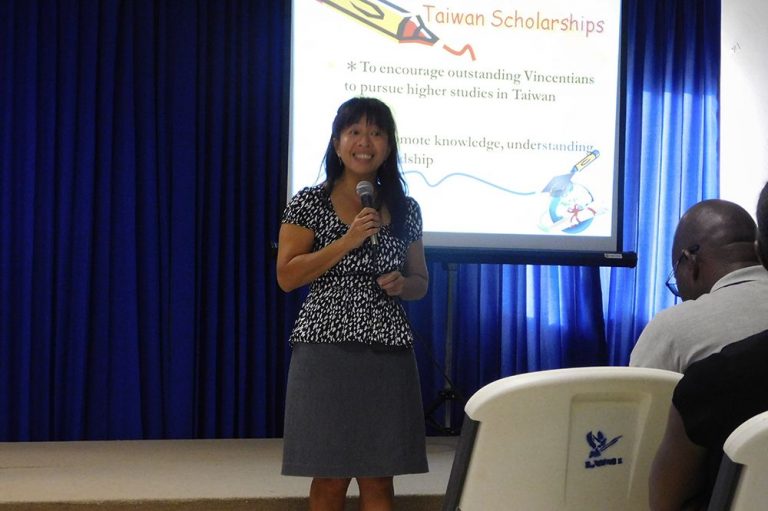 Features
January 26, 2018
Vincentians briefed on Taiwan scholarship application process
Persons interested in studying in the Republic of China (Taiwan) were briefed about the scholarship application process at a meeting on Tuesday.
The session was held at a Frenches House, where members of the Taiwan alumni, Taiwan Technical Mission and the Taiwan Embassy answered questions and explained the benefits of being a Taiwan scholarship recipient.
The group explained that there are two types of scholarships: those from the Ministry of Foreign Affairs of Taiwan (MOFA) and others from the Taiwan International Co-operation and Development Fund (ICDF).
It was explained that when applying to the Embassy for either scholarship, it must be done simultaneously with an application to the school of choice.
The Embassy's third secretary explained that applicants for scholarships must be Vincentian.
Required documents are: a completed application form (downloaded from either Taiwan ICDF or MOFA websites); a photocopy of a valid passport; authenticated copies of high school diploma, for undergraduate studies; or authenticated diploma of undergraduate degree if applying for a Master's degree; or authenticated diploma of Master's degree when applying for a Doctorate, as well as the transcripts of which a good academic performance is necessary; two letters from references and admission application reference. Beginning this year, a medical report is no longer required.
Undergraduate programmes are for a four-year consecutive period, while the Master's and Doctorate programmes are pursued consecutively for two years and four years respectively.
MOFA scholarship recipients have the option to choose to do a one-year Mandarin Language Enrichment Programme (LEP) before beginning their actual degree.
During the question and answer segment, it was explained that if a MOFA recipient does poorly, their stipend is suspended for one month. If poor grades continue for two consecutive months, recipients stand to lose the scholarship. The alumni member clarified that most schools provide summer courses.
The MOFA scholarship provides 200 degree options taught in English, while the ICDF offers 31.
The ICDF scholarship entitles recipients to a round-trip air ticket, monthly allowances, housing (students must reside in the dormitory), tuition fees, credit fees, insurance and textbooks. Persons may only submit one application to the list of schools.
The third secretary explained that the MOFA scholarships cover roundtrip air tickets and a monthly stipend of EC$3,000 and/or EC$2,500 for one year of LEP.
Scholarship recipients are now allowed to work while studying.
The group explained that words in Vincentian dialect happen to be similar in meaning to the Mandarin language, which is therefore easy to learn.
The deadline for the MOFA scholarship application is March 31, 2018 and that of the ICDF is on March 16, 2018. Recipients are usually informed about the success of their application by the end of June.
For more information, applicants may contact Greta Rawlins at 456-2431.(CB)