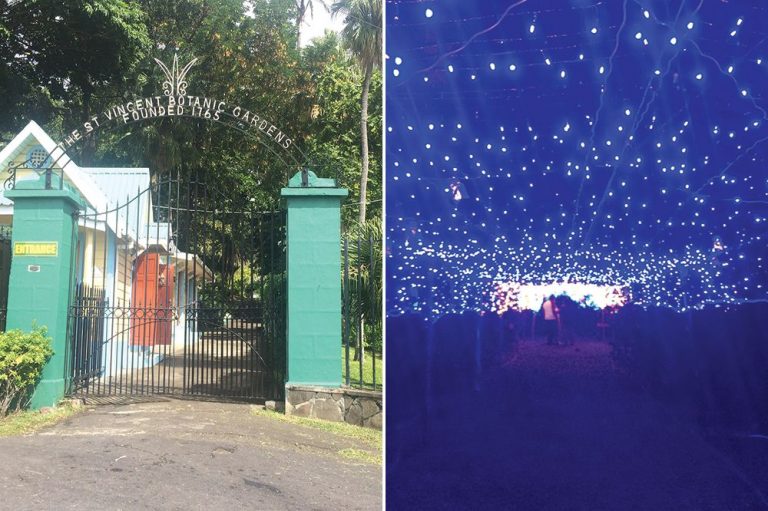 Features
December 29, 2017
Botanic Gardens – Best Tourist Site of SVG, Best Lit Garden
With 20 sprawling acres of majestic trees and beautiful flowers, along with its historic significance in the Western Hemisphere, there is little wonder that the Botanic Gardens should be named Best Tourist Site of St Vincent and the Grenadines (SVG).
However, for the past three years, the popular scenic spot has taken on a special charm on December nights, with the introduction of Nine Nights of Lights, which has also brought it recognition as the Best Lit Garden in the National Nine Mornings and Lighting Competition.
SEARCHLIGHT spoke with curator Gordon Shallow, who emphasized that there is more to the gardens than what is commonly known or meets the eye.
Q: What's special about the Botanical Gardens?
A: The gardens is really what helped to establish St Vincent early on as a viable colony. It was one of the institutions that played that part. The gardens facilitated many plants that came from all over the world, especially plants for food were brought to the gardens, where they were introduced, established, propagated and then disseminated, not only within St Vincent and the Grenadines. but also throughout the rest of the region. Many Vincentians today have very fond memories of the gardens growing up, running around, and building fond childhood memories; so, the gardens is a very special place to a lot of Vincentians.
Q: What do tourists find most appealing about the gardens?
A: Most tourists, when they come in here, they come for a nice, tranquil walk. It's a place where they can come, sit back, relax, take a guided tour, and learn more about St Vincent and its flora. The very few tourists that I interact with from time to time would often hasten to pinpoint to me what a wonderful job we're doing and how the place looks very beautiful.
Q: How can persons visiting the gardens get the most from the experience?
A: I'd like to encourage persons, when they come to the gardens, especially locals, take a guided tour. It's only $10 per person. I emphasize locals, because sometimes, we come here, we think that we've seen it, it's the same basic road going around, it's the same trees, but there are a lot of unique secrets about these trees, their uses, for example and the stories of how they were brought here and why they are planted where they are that persons might not be aware of. A case in point is the breadfruit tree. Most people have the general idea that the breadfruit came via Tahiti with Captain Bligh. But what they may not know is that more than one variety came and that the breadfruit tree that we have in the gardens is a third generation sucker and that there are simple indicators that they can use to differentiate different species.
Q: What's the idea behind Nine Nights of Lights?
A: Nine Nights of Lights started in 2015, when we were celebrating our 250th anniversary. We were thinking of something out of the box and we came up with the idea of having a big event every month and in December, our biggest cultural event is Nine Mornings. It is a very ambitious programme. We have received a lot of comments from the general public. We know that we have improved a lot, but they will still like to see a lot more.
Q: How does the Botanic Gardens family feel about the Best of SVG award?
A: When the staff here at the gardens heard that we won the best of SVG award for best tourist site, they were very elated. For me, it was somewhat of a complete circle, in that all of the hard work that staff here put out on a day-to-day basis, to see that they were recognized for that work. I think it was something beyond any other accolade that we could give them; to know that their work is appreciated and it's not going unnoticed.