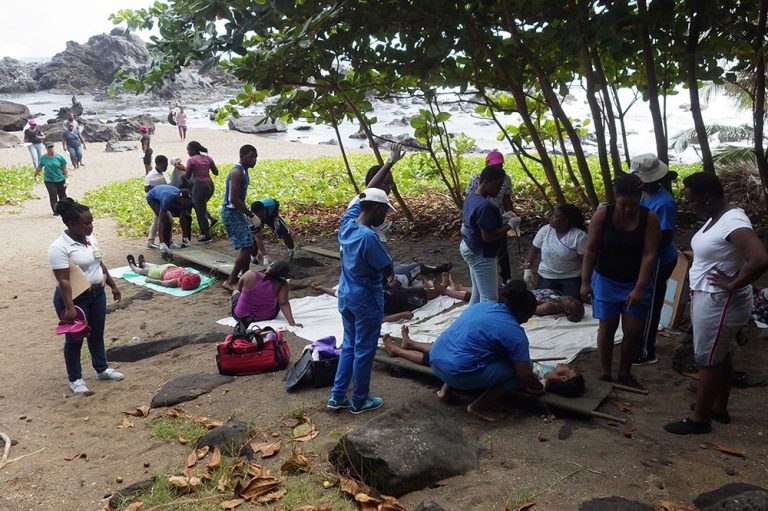 Features
December 19, 2017
Student nurses stage 'Operation lifeguard'
The Owia Salt Pond recreational park was a hive of activity on Friday, December 15, 2017, when 50 final year student nurses staged a mass casualty management (MCM) simulation dubbed 'Operation Lifeguard', an activity used to train nurses how to manage a drowning and near drowning incident.
According to Division of Nursing Education (DNE) lecturer Raphael John, coordinator of the MCM simulation, the training activity was designed to allow student nurses to respond to and apply nursing techniques of CPR, First Aid, triage, including MCM incident management, emergency mobilization, facilitated by emergency communications, using two-way radio.
Immediately after the exercise, the evaluating team, comprising DNE lecturers, NEMO staff and a communications, specialist, met to discuss the outcome of the training activity, before meeting with the entire group for a group evaluation, guided by the SWOT analysis method.
"Professor" John went on to say that overall the field exercise was a success and that despite a late start due to a miscommunication on the departure time, once started, the exercise flowed.
There were one or two areas requiring improvement and fine-tuning, but generally the attitude towards the training activity was a healthy one. He went on to thank all stakeholders, including the SSU for providing security, National Parks for the use of the Owia National Park, the bus drivers for the safe transport of the students, GNE lecturers who served as evaluators, as well as guest lecturers Mousa Mohammed (NEMO) and Donald De Riggs (RRL Inc).
De Riggs conducted a lecture on communications basics and provided logistical support for this training exercise and 'run up' activities.
The DNE boasts of training some of the best nurses in the Caribbean and their graduates work in almost every hospital in the Caribbean, including the Virgin Islands.(Report and photos by Donald DeRiggs)