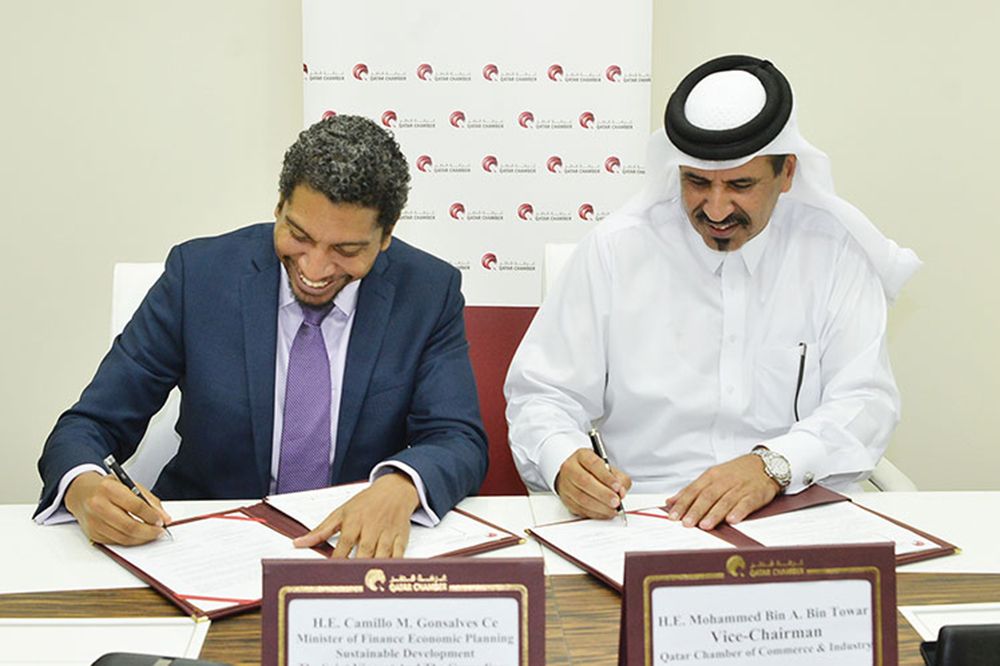 Features
December 1, 2017
SVG, Qatar to embark on cultural exchanges soon
Cultural exchanges will soon take place between St Vincent and the Grenadines (SVG) and Quatar, which will see people moving between both countries.
Minister of Finance Camillo Gonsalves, during a recent visit to Qatar, signed an agreement with the Ministry of Culture and Sports in that country.
"We had a really excellent meeting with the minister (Salah bin Ghanem bin Nasser al-Ali), who is interested in cooperation of culture, histories, learning from each other,"said Gonsalves.
The Finance Minister said the agreement will see young people from Qatar coming to SVG to learn about our culture, around Carnival time, and young people from SVG going to Qatar around the times of their national festivals to learn about Qatari culture.
"We both believe that people to people links are very important, educating each other about our respective cultures.
"Sometimes, people of the Muslim faith in SVG get a bad rap because of what we see on western media and the best way for the truth to come out about the peaceful nature and friendly nature of people on that side of the world is to go there and see it with your own eyes," said Gonsalves.
He added that similarly, people in those countries have a view of the west and of Caribbean people and the best way to bridge those gaps and misunderstandings is to interact with one another.
Minister Gonsalves added also that Qatar has issued an invitation to Vincentian authors to take part in the Doha International Book Fair.
"We are working out the modalities of logistics and payments and these sorts of issues, but we want to have a small presence there and grow going forward," said the finance minister.
Gonsalves said that during his visit to Qatar, he explained the history of SVG, as it relates to our struggle against colonialism and the story of the Garifuna people and about the artefacts that were unearthed during the construction of the Argyle International Airport (AIA).
He said that Minister bin Nasser al-Ali has offered to have Qatari experts (in excavation, archelogy and preservation of historical treasures) partner with the Government and hopefully collaborate in the construction of a facility to display these artefacts in SVG.
"He also inquired if we had sufficient artefacts to loan to the Qatari museum to do a display on Amerindian pottery from this part of the world," revealed Gonsalves.
Gonsalves also reported that the entity that is building the World Cup stadiums in Qatar has a mandate to construct facilities in other parts of the world as part of the legacy of the World Cup. Stadiums have already been built in some Muslim countries in North Africa and the possibility exists of having one built here. Qatar will host the World Cup in 2022.
"We had a very fruitful discussion about the possibility of them doing something similar in SVG. That will be followed up by the Minister of Sports," said Gonsalves, who said that the facility, if built, will be for athletics and football.
He said that Qatar has many of the challenges of small countries, even though they are wealthy and as a result, they understand many of the challenges that SVG faces.(LC)