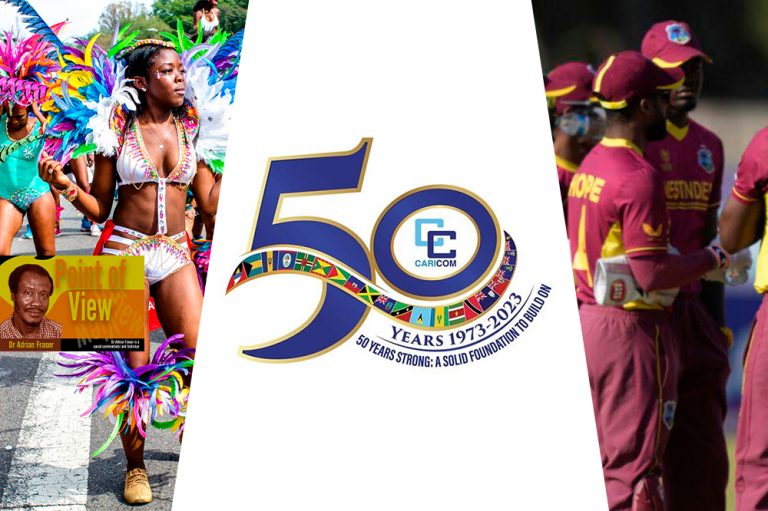 Dr. Fraser- Point of View
July 7, 2023
Carnival and Cricket as CARICOM celebrates its 50th anniversary
Among the many issues/matters being talked about at this carnival time is one that has resurfaced and was carried in the midweek issue of the SEARCHLIGHT. In responding to a letter, "We should consider moving Vincy Mas to a less inhospitable time of year," Searchlight's editorial posed a question "Too Much rain for Carnival?" It states that despite its benefits to agriculture and water supply it is an inconvenience to carnival lovers. It went on to say that cancellations, delays, and postponement had not been unusual over the 46 years since the shift of carnival dates, but that extremes of weather seem to be getting worse. The issue of the weather had been raised since the discussion of the original change of date, but we have not been unduly inconvenienced over the years.
The dates selected coincided with the start of the hurricane season but this year's weather, a tropical storm and tropical waves, have been to some extent unusual at this time. Have they been so disruptive that after 46 years we should be thinking of changing them? The editorial feels that at least it should be discussed. But how much do we at this moment know about climate change? In the past persons who were building homes were told to start digging their foundations in January, when the Dry season was supposed to start. As far as I can recall we were getting quite a lot of rain up to March this year. Let us leave it as it is and hope for the best.
The new dates affected in other ways. The new period coincided with dates of both internal and regional examinations for students. Students participating this year mentioned the difficulties they had in practising either for pan or for calypso and soca since they were at that time writing examinations. We can't even dream of changing the dates of the exams since other countries will be affected. We must find ways of working around exams and the expected stormy weather. Holiday sessions for pan and for the calypso and soca singers could be put in place but it means planning earlier. I am suggesting as I have done before that more work be done in schools, particularly during the vacation period to develop pan music and to encourage the writing and singing of calypso and soca, and even of designing costumes. These students are the future masqueraders but art by itself has tremendous potential for income generation and developing careers. On the question that was posed, changing the season will mean having it before June/July where it will seriously affect students and visitors who would want to bring their children with them. Having it later will take it into the heart of the hurricane season.
Cricket
The talking point in the region over the past two weeks was the failure of the West Indian senior men's team to make it into the finals of the 50 Over Cricketing World Cup. It has shocked not only cricket lovers but West Indians generally. We won the first two World Cups in 1975 and 1979 and now see some of the cricketing minions getting ahead of us. We were defeated by Zimbabwe and the Netherlands. We still had a chance to qualify but lost to Scotland by 7 wickets. We are now blaming all and sundry, but the writing had been on the wall for a long time. We accepted our fortunes then on the ground that we were rebuilding. Now we are at a point where the realities have hit home. I doubt that we can get any lower.
What more can I say about West Indian Cricket!? Now is no longer the time for continuing to blame. We must get back to the drawing board. Do we know what has happened to the reports that the WICB had solicited over the years? Have those reports provided any guidance? Could they be used as a starting point? Cricket has meant a lot to West Indians. Whenever West Indian cricket had been doing well there was usually a spring in the steps of West Indians. I am suggesting as a starting point holding wide consultations in the different cricket playing nations formed from an agenda that was carefully put together using the reports that the Board had funded. Some persons have been even suggesting Government intervention, but CARICOM which is celebrating its 50th anniversary is not the best example to follow although I certainly will not go as far as Orin Gordon in the July, 3 edition of the Daily Express where he argues that the "West Indian team mirrors Caricom." CARICOM'S role should be to fund the consultations. The final report should have timelines to monitor the recommendations coming out of the final report.
It is no point at this stage continuing to change administrators. Let us give them something to work with and to use as a basis for assessing them. Surely something must be done. Things cannot remain as they are. Cricket has meant so much to us in the past. We had dominated the Cricketing World. Are we saying it cannot happen again? That is left up to us as West Indians! We have talked so much but not walked the talk!
Dr Adrian Fraser is a social commentator and historian