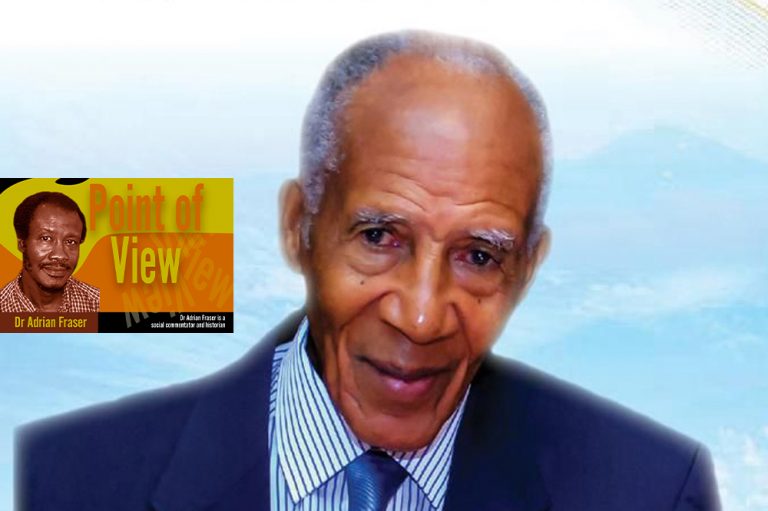 Dr. Fraser- Point of View
March 31, 2023
For real this time – actually in from the cold
In the early hours of last Friday I received news of the death of Dr Cecil Cyrus while still in Canada. On October 28, 2022, I reflected on two presentations he made, in 1971 and in 1981. The first, a Medley of Thoughts delivered to a Youth Seminar and in 1981, an address to his alma mater the Boys Grammar School at its annual Speech Evening and Prize Giving Ceremony. I felt that they touched on the soul of the nation and needed to reach the youth of today at a time when the nation has lost its moral compass. I last saw Dr Cyrus about two months ago, I believe.
I knew then that he was in the departure lounge. He was as usual, soft spoken but still lucid and that photographic memory seemed to remain. To me he was more than a medical doctor. He was in a sense a "Renaissance Man." Having written reviews on most of his books and spoken to him on many occasions I felt I knew what made him tick and developed an understanding of the person he was. I will in future articles reflect on the man as I knew him. But at the moment my condolences to his wife Kathrine and the rest of his family, including his nephew Alston Becket Cyrus.
Last week and in fact, in past months I had been expressing a strange obsession with the Canadian weather. Strange indeed for one who had endured that weather for about 10 years. It is different living there and having to move at short notice from a warm climate at a time when the weather hadn't decided whether it was Spring or the last stage of Winter. Actually, the people in Toronto were glorying in the weather, temperatures during my stay running between -1 and 11 Celsius. My problem was deciding on the layers of clothing required during any day. I left Toronto on Tuesday last but was actually able to walk around the block in Ajax where I stayed with my relatives for about an hour on Monday. I had also done it a few days before but only for about 20 minutes. On Monday the sun was out but the breeze took a 'toll' on my neck while trying to erase the effect of the sun.
Toronto is one of my favourite places and is excellent for a summer vacation. Although the occasion that took me there this time was a sad one, I found time to meet with a few friends, Geoff Edwards my school mate at the Grammar School; we passed through the portals in the same year as recipients of Government scholarships. We represented the Grammar School at cricket and remained good friends regularly in contact through WhatsApp. Raymond England was a school friend of my elder brother Rodway, but I taught at the Grammar School with him as an undergraduate teacher. He married one of my sisters, Dawn. Then there was Gideon Exeter from Layou. We were involved in the organization of Football in Central Leeward and played a part in lifting the teams from Barrouallie and Layou and exposing talented players who represented the country.
I was able to re-establish contact with Desmond Dodds whom I knew when I first returned from Canada and stayed at the house of his adopted mother 'Kipsie' Cruickshank/Shearman who provided rooms and meals. I had lost touch with him after he left SVG but then realized that he was also a friend of my sister whose death took me to Toronto. My brother Bert and I spent an enjoyable afternoon with him, going, at least for me, for the first time to an Ethiopian restaurant and savouring its coffee and meals. We talked about old times and really reconnected. Then an afternoon at my brother Peter's home meeting with his family and with sisters Sharon and Donna.
The rest of my time was spent with my Quow relatives, Aunt Doreatha and her daughter Raquel and her husband Craig and son Jaiden known to me as the 'Bagga Boy', and of course Thandi, my departed sister's daughter. Bert, my brother, the last of my mother's three children, had moved from Arlington, Texas and spent about a month being with our ill sister and assisting in her burial arrangements. His wife Rebertha joined later to attend the funeral. My daughter Tanya who is based in Vancouver journeyed across where she was able to reconnect with one of her school friends, Jeanine Branch. Despite the solemn occasion that brought us together, the time was valuable, and the bonds strengthened.
One always hopes that the occasions that bring relatives and friends together would not be as solemn as this one, especially where I had not seen my sister for two years although in regular contact with her. I did not have the courage to look at her body, preferring to remember her as I always knew her.
The time spent in Toronto was short and did not allow me to reconnect with friends I knew from the Western Ontario University in London and also Annette Alves-Gibbs who entered the University at the same time.
This column was written on Wednesday evening last. Earlier in the day I was sent a photo of a snow fall in Toronto. The snow which had disappeared while I was there reappeared on the ground, but Wednesday afternoon seemed to have been a pleasant one, with the snow beginning to melt. It, however, paid me the courtesy of not performing on my parade.
Dr Adrian Fraser is a social commentator and historian