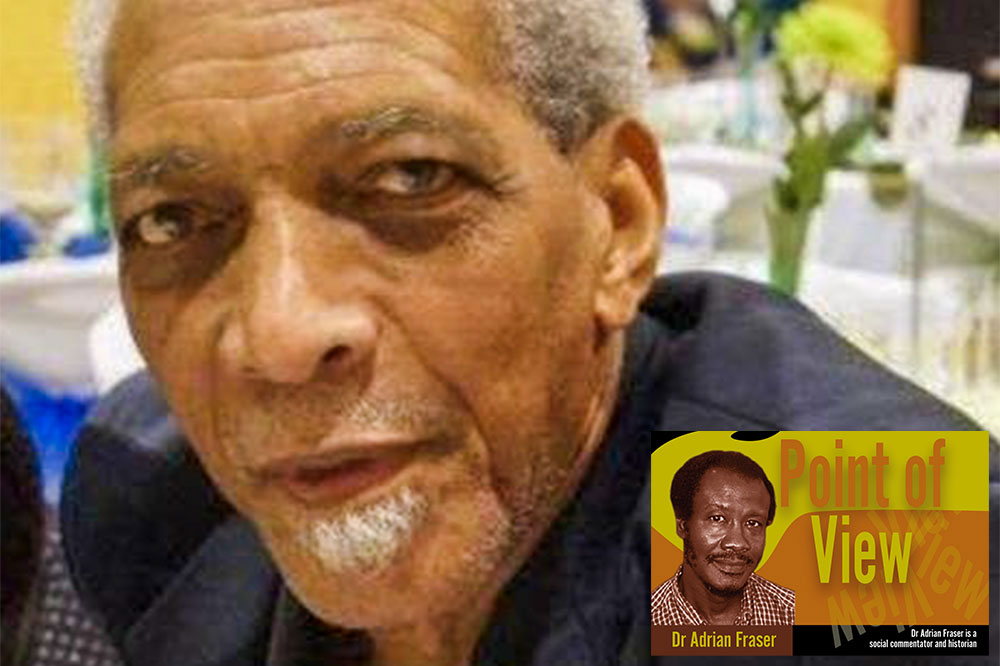 Dr. Fraser- Point of View
September 30, 2022
A National Football Treasure Has Passed on: Rudy Boucher and his Era
Last week I listened to an interview with the President of the Jamaica Netball Association and part of the discussion involved the state of netball in the Eastern Caribbean. The 'Sportsmax' commentator who had worked in Barbados in the 1960s, it appeared, reminded her of the dominance of St. Vincent at that time. He said that Barbados and Trinidad could never assume that they would beat St. Vincent. I recalled an earlier time when as a primary school student the names of Urel Campbell, Peggy Hull and others who made St. Vincent a force in regional netball stood out. But our sporting legacy also involved football. Our cricketers contributed to the West Indies team. Rudy Boucher had died a few days before and I reflected on his time as a top footballer in this country. Many persons who had played with Rudy or watched him play recognised him as a national treasure.
Rudy died in New York on Tuesday, September 13, 2022. The large turnout at his funeral reflects the regard with which he was held by the Community for his contribution to football in SVG and in New York where he also became involved in other areas. When Rudy is singled out as a football treasure one has to take into account that he played with and against many outstanding Vincentian footballers so to single him out in this way speaks volumes. He joined Notre Dames in the mid-1960s and contributed to a team that was perhaps the most outstanding to grace our football fields. Notre Dames I always considered a team that was ahead of its time. He joined the likes of Norbert Hall, Jeff Bailey, Dougie Cambridge, Dougie Doyle, Vincent Cupid and others. It was a joy to look at that team play. Not a joyous occasion, however, to play against them. When they were well ahead of their opponents they would frequently 'freeze' the ball leaving them totally mesmerised. There were occasions when almost the entire national team was made up of players from Notre Dames. From very early I described Rudy as a mid-field general as he seemed from mid-field to be directing the state of play in the way he organised his passes. His ability to trap the ball with any part of his body was something to behold.
In the 1973 Windward Islands Popham Cup Tournament, with Leslie Ollivierre as captain, St. Vincent defeated Grenada four goals to one, two of the goals were scored by Pete Morris, one by Guy Lowe and the other by Rudy Boucher that was described by St.A Seymour as a "honey of a shot." Their match against Dominica ended in a two-all draw. Dominica was leading two goals to zero just before close of play, but ten minutes before the scheduled end Guy Lowe scored and five minutes later Rudy Boucher came to the rescue as he "converted a direct free kick from just outside the penalty area" to provide the equaliser. St. Vincent's return game against Dominica ended in a goalless draw but Dominica had concluded all their games and stood with 7 points, St. Vincent with 8 points had one match to go. They emerged as winner of that year's competition. The Dominica match ended with angry spectators turning against the Vincentian players who had to run from the field to their hotel. They had to be guarded overnight by a police squad. The Dominicans claimed that they had received a rough time when they played in St. Vincent.
Rudy also made a contribution at another level as coach, served the national football team in that capacity from 1977 until he migrated to the US in 1980. It means that he was coach of the national team that shortly after Independence placed second in the Caribbean Nation Football Tournament. It was only the year before that St. Vincent became a member of the Caribbean Football Union. Their semi-finals home match against Guadeloupe attracted a lot of attention. Vincentian hopes were high. Would they present SVG with an independence gift? An advertisement for the match spoke to that:
"Mr Speaker!
The Question before this Honourable State is – Will St. Vincent defeat Guadeloupe in the CFU Football semi-finals this Sunday at the Arnos Vale Playing Field. And will this be the Football Association's Gift to the Nation. The Eyes Have it!"
That match ended in a draw but in the return match in Guadeloupe, goals by Raymond Ballantyne, Guy Lowe and Pete Morris ensured victory for St. Vincent. It was said that the spectators at the match gave the Vincentians a standing ovation. St. Vincent became one of four finalists for the finals in Suriname. Our boys beat Suriname 3-2 and Trinidad and Tobago 2-1. They were however defeated 3-1 by Haiti thus securing second place in their first time at the Tournament. Guy Lowe received the prize for the most outstanding player on the team.
On their return home the team received a Hero's welcome as hundreds of Vincentians greeted them at the E T Joshua airport. Even before this, Milton Cato in his Independence address stated that the Football team had given the country an Independence gift. Rudy Boucher left the country a year after but would have played a role in taking our footballers to a height never before reached. The fact that he had played with most of them before would have helped since they all respected him.
Dr Adrian Fraser is a social commentator and historian