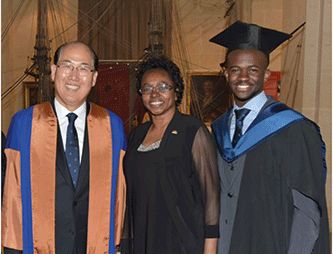 Congratulations
December 23, 2016
Charles graduates from IMLI with Distinction
On May 28th 2016, Mr Chevanev Charles graduated from the International Maritime law Institute (IMLI), Malta with a Masters (LLM) in International Maritime Law. Mr Charles gained a full scholarship from the International Maritime Organisation (IMO), a specialised agency of the United Nations. Mr Charles wishes to express his thanks firstly, to God Almighty who continues to answer his prayers. Mr Charles wishes to express gratitude to the office of the IMO Secretary General Mr Kitack Lim and UN donors for the provision of the scholarship fund. Mr Charles extends his warmest gratitude to the staff at IMLI who made his experience both enriching and enlightening.
Mr Charles thanks Prime Minister the Hon. Dr Ralph E. Gonsalves for his support and prioritising the blue economy and wider maritime issues in the Development Plan for SVG. Particular appreciation and gratitude is also expressed to the Deputy Prime Minister Louis Straker for his profound and unwavering support throughout the years to his family and his educational pursuits. Mr Charles could not have achieved this milestone without the assistance of Former Commander David Robin and the team at the Maritime Administration with special mention of Director Hyrone Johnson and Ms Amanda De Freitas.
Charles attributes his performance to his highly supportive parents Deputy High Commissioner to London Doris Charles and father, former Minister Maxwell Charles. His family would like to thank everyone involved in his achievement, especially his grandmother, Ruby Mattis, for her prayers and his elder brother, lawyer Mikhail Charles for his outstanding example. Charles wishes to say a special thank you his church family for the love and support they have shown him throughout his time overseas. Mr Charles is currently a legal officer at the St Vincent and the Grenadines Maritime Administration.