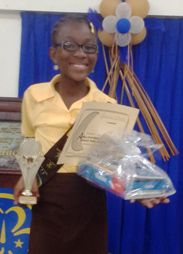 Congratulations
March 13, 2015
Congratulations!!
Fri, Mar 13, 2015
The principal, staff and students of the Barrouallie Government School congratulate Bernique Haynes, winner of the NIS/MOE Inter Primary Schools Public Speaking Competition 2014, for doing it again for her school.
When the 9th Althea Commissiong Brownies Public Speaking was held on Friday, 20th February 2015, Bernique was judged Best Prepared and Best Impromptu Speech.
Jaydel King won the competition in 2014 and Bernique decided to make it two in a row for her school.
Keep speaking on topics of concern, Bernique. CONGRATS!