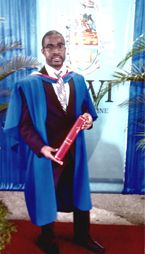 Congratulations
October 31, 2014
Congratulations to Jason Peters!!!
Fri, Oct 31, 2014
Jason Peters, a past student of the St Joseph Convent Marriaqua and Community College, Technical Division, graduated with First Class Honours from UWI Campus, St Augustine.
Peters is the son of James and Melena Peters, residents of Belmont. He obtained his Bachelor of Science Degree (Information Technology).
Peters received the award for year one, year two and year three. We give thanks to God for making it possible. Peters also expressed thanks to his parents, his sisters and brothers for all their love and the continuous support they have given him over the years.