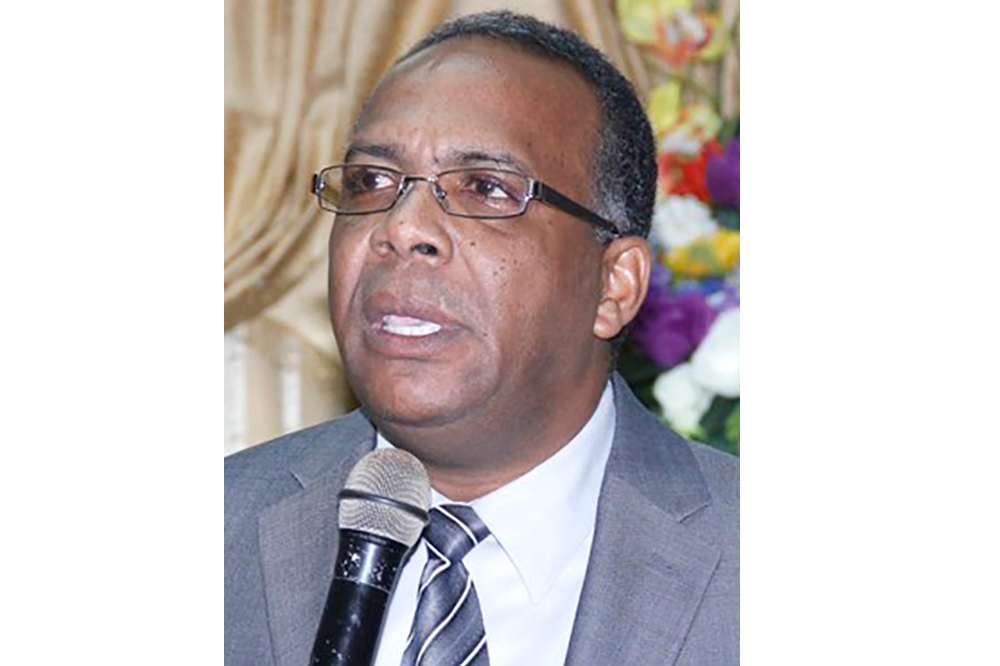 Christmas Messages
December 20, 2019
Santa or Christ?
by Reverend Bishop Stephen Ollivierre, Assistant District
Presiding Bishop of
Pentecostal Assemblies
of the West Indies
As a child, I was at my best behavior when it was Christmas. My mother would remind me that Santa is looking to see who is naughty or nice. If I was naughty, I will not receive any gifts, therefore I must be nice.
Santa became my focus, and I saw him as the gift-giver. As I grew older, I knew there was no Santa Claus bringing any gifts. However, the person referred to as Santa Claus was a man called St Nicholas, born in Patara, Turkey in the third century. His parents died when he was young and they left him an inheritance, which he used to help the poor. He was known for his kindness and generosity to the less fortunate. He was called Sinterklass, but when the Dutch migrated to America, the name changed because of the pronunciation, to Santa Claus. We are thankful for this man and the kind deeds he did for so many persons, mainly children.

Today, you cannot celebrate Christmas without him being the central point. Santa Claus is the advertisement for many business places, some would even dress like him and make sounds like Santa Claus. But we must ask the question, who is important? Whose birthday is the world celebrating?
The one, who is extremely kind and loving to mankind, who willingly gave His life for us, is Jesus Christ. The Bible tells us, John 15:3: "Greater love has no one than this: to lay down one's life for one's friends." Jesus came to this earth with a plan.
Our fore-parents sinned by eating the fruit that God had forbidden in the garden of Eden. From that day God promised a deliverer will come to deliver mankind, Genesis 3:15: "And I will put enmity between you and the woman, and between your offspring and hers; he will crush your head, and you will strike his heel." Throughout history, God has always provided a substitute for mankind, a lamb to let man know blood must be shed to save us. Additionally, it pointed to a redeemer.
The time came, and through the virgin birth, a child was born, in a manger. That was a glorious day. The Bible says: Luke 2:11 "Today in the town of David a Saviour has been born to you; he is the Messiah, the Lord. 12 This will be a sign to you: You will find a baby wrapped in cloths and lying in a manger. 13 Suddenly a great company of the heavenly host appeared with the angel, praising God and saying,14 Glory to God in the highest heaven, and on earth peace to those on whom his favor rests."
Consider what Jesus did: Philippians 2:7-8: – But made himself of no reputation, and took upon him the form of a servant, and was made in the likeness of men: 8And being found in fashion as a man, he humbled himself, and became obedient unto death, even the death of the cross.
The pronouncement was made by the Angel: Matthew 1:21 "And she shall bring forth a son, and thou shalt call his name JESUS: for he shall save his people from their sins.
22Now all this was done, that it might be fulfilled which was spoken of the Lord by the prophet, saying, 23Behold, a virgin shall be with child, and shall bring forth a son, and they shall call his name Emmanuel, which being interpreted is, God with us. 24Then Joseph being raised from sleep did as the angel of the Lord had bidden him, and took unto him his wife:
25And knew her not till she had brought forth her firstborn son: and he called his name JESUS".
Santa Claus was a good man, but the season is all about Jesus Christ. Let us worship Him, let him be Lord of our lives.
Why not make this season one of reflection, and commitment to Him?
He has done so much for us, even though we were guilty of turning away from Him.
Santa or Christ, let it be Jesus Christ.