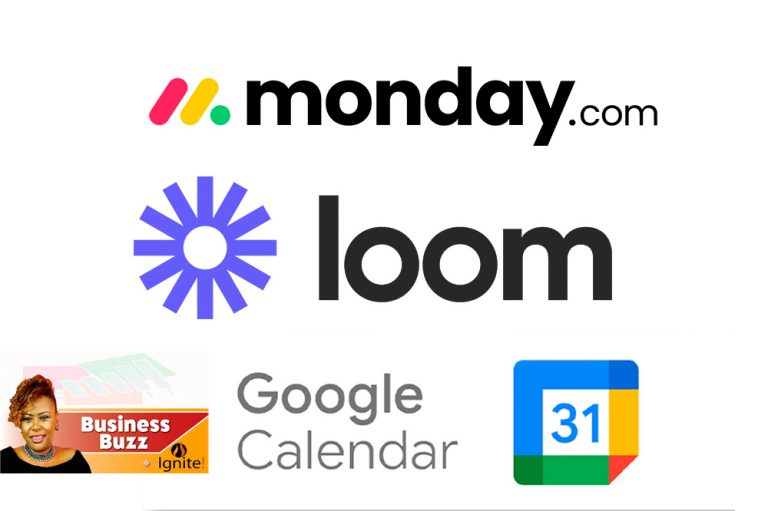 Business Buzz
May 12, 2023
You need these three productivity tools
Do you have an online business? Thinking of pivoting online? If you answered yes then at the top of your list should be productivity tools. This is super important because even though we are said to be past the COVID-19 pandemic, more and more people are embracing the gig economy as well as working anywhere, anytime.
With the right tools, you can be productive even if you are not in an office setting or working a 8-4 or 9-5. Here are a few tools to help with productivity:
Monday.com – I saw this tool being advertised a few times before I started using it. This is an excellent tool to keep your business running smoothly; from assigning and tracking tasks to planning projects. Once you start using it, you will wonder why you didn't try it before. If you are a bigger business, you can also use it to manage HR, Marketing, IT and sales.
Loom – This was actually suggested to me by a friend. If you tend to send lots of typed messages, Loom can help you get your message across visually. You can record video as well as do a video and screenshare which allows you to explain a difficult concept in a visual way. If you just need to record and share quick videos, the basic account is free while the Business plan is US$12.50 (it includes advance videos and analytics).
Google Calendar – With this tool, you can integrate your personal calendar with a corporate one to quickly check your colleague's availability. Meeting invitations are just a breeze. I have to admit I have been using this tool a lot lately to interact with a client and the integration is definitely helpful. Whether you use a laptop, tablet or phone, you can access and edit your calendar and you can sync across all your devices. Upon research I realize that Google Calendar can also be integrated with most CRMs, thus, allowing seamless scheduling and managing of client meetings.
Candice Sealey is the Founder &; Principal Consultant at Ignite! a Full-service Marketing & PR Consultancy that helps businesses/brands to stand out and communicate the right message to the right people at the right time through Strategy, Marketing, Media services and Design solutions. She is also a freelance content writer, advertising copywriter, voice over talent, media personality. Follow us on FB & IG @igniteresults Phone:784-432-2223. Email: igniteresults@gmail.com