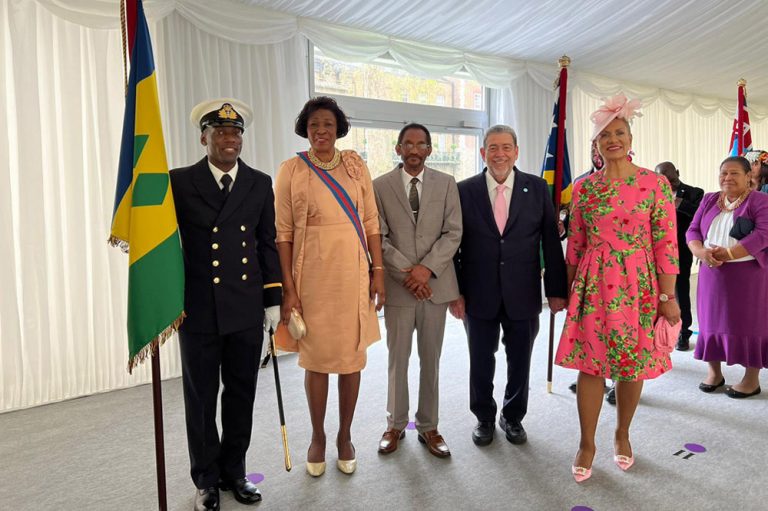 Breaking News
May 6, 2023
Delegation from SVG attend Coronation of King Charles III at Westminster Abbey
King Charles III was crowned this morning in Westminster Abbey, and among the thousands present at the church was a delegation from St Vincent and the Grenadines, one of the 14 overseas sovereign states for which King Charles is still monarch.
As this country's Govenor General Dame Susan Dougan and Prime Minister Ralph Gonsalves and their spouses entered Westminster Abbey, the party was led by flag bearer Sub-Lieutenant Adaiah Providence-Culzac, a Vincentian serving in the Royal Navy.
The delegation also included St Vincent and the Grenadines's High Commissioner to the United Kingdom Cenio Lewis, security officer Sgt Kendal Horne and  Vincentians based in the United Kingdom.
On Friday, May 5, Prime Minister Dr Ralph Gonsalves was among Leaders of the Commonwealth member states who met with King Charles III  at Marlborough House, the Headquarters of the Commonwealth Secretariat.
After their meeting with the King, the leaders from the Commonwealth's 56 member states met privately to discuss issues of mutual interest, including initiatives to support the empowerment of young people, as this year has been designated the Commonwealth Year of Youth.
Also on Friday, King Charles was joined by the Prince and Princess of Wales and other working Royals at a special lunch at Buckingham Palace for prime ministers and governors general of the 14 sovereign state for which Charles III is monarch and head of state.
Saturday's coronation was officiated by the Archbishop of Canterbury Justin Welby.
Westminster Abbey has been the setting for every coronation since 1066. Charles, 74 was crowned eight months after he ascended to the throne, following the death of his mother, Queen Elizabeth II, last September.
He was crowned with a solid gold crown made in 1661. His wife Camilla was also crowned Queen at the ceremony.