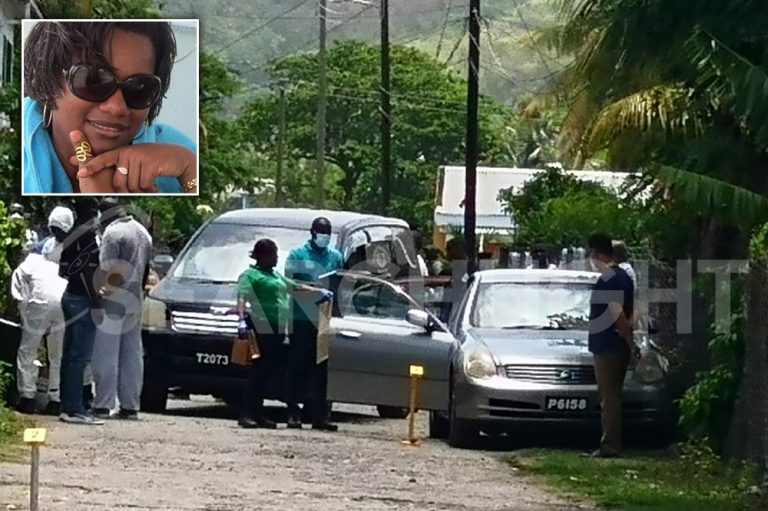 Breaking News
May 1, 2022
Family Court Counsellor found dead in vehicle (+Video)
The body of Family Court counsellor Luann Roberts was discovered by the police inside a vehicle at Buccament sometime after 8 on Sunday morning with what appear to be wounds.
It has been confirmed that Ronald Roberts, with whom the deceased resided at Belvedere Hill, Harmony Hall, was taken into custody this morning and is assisting the police with investigations.
For the entirety of the morning of May 1 scores of police officers from different units including the Major Crime Unit(MCU) were observed on the scene processing it by taking measurements and collecting items from P6158. The car in question was parked along the same road as the compound of the Buccament Bay Secondary School and a walking distance away from the Buccament Polyclinic.
At noon the hearse of a funeral home carried Luann's body away from the area.
A group of residents that had gathered just beyond the police tape expressed their shock and horror at the occurrence.
"Most of the time we don't really have nothing down here. To me like any thing happen down here like murder or anything, is when somebody come in the village and do it," Buccament resident Yvonne Reid expressed, adding "so I feel real bad."
The morbid event has already triggered speculation about what happened.
Karaoke man and Buccament resident Samuel Joseph was moved to create a song. "A long long time we nah see them kinda stupidness in my likkle village called Buccament… Lord," he sang.