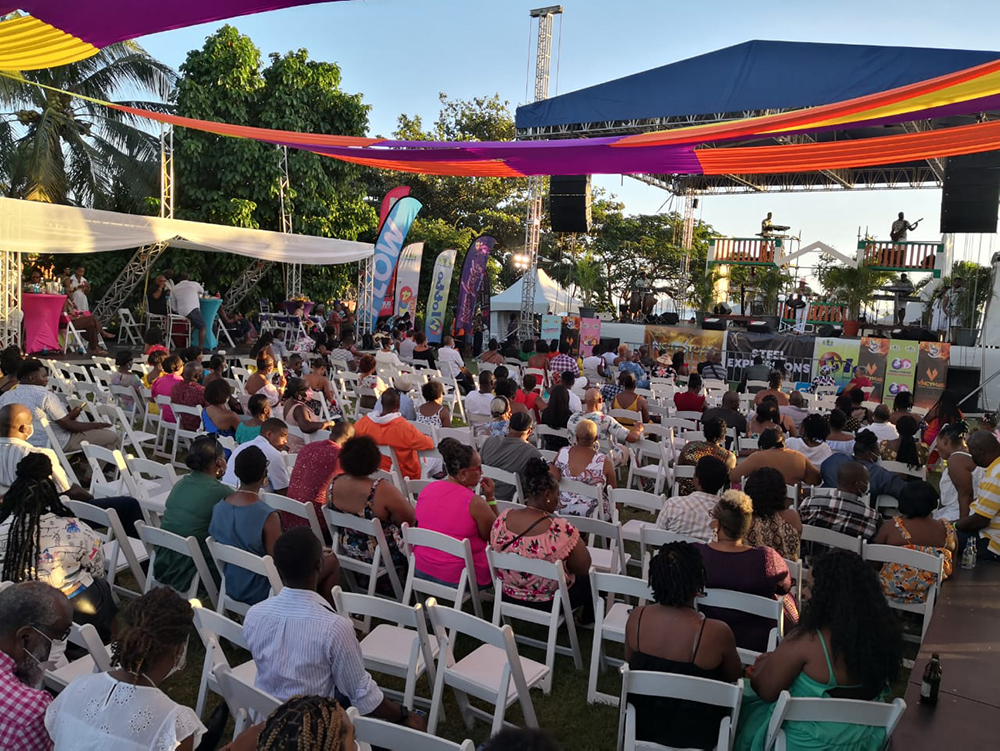 Breaking News
December 26, 2021
Vaccinated only events being carefully monitored – MOH
Vincentians will be donning their best outfits in the coming days to attend small gatherings with family and friends or the few vaccinated events scheduled for this festive season.
But persons are being reminded to be mindful with their merrymaking, so as to avoid contracting COVID19.
"Given the natural cycle of the virus, we are actually due for a spike," Shanika John, health promotions officer in the Ministry of Health told SEARCHLIGHT in a recent interview. "We've said it before; that the…three to four months from the last one, it's gonna take us another week or two before we start seeing an increase in cases and if we pay attention to what's happening to us around the world, regionally and internationally, we would see that the pattern has started to happen."
In recent weeks, there have been seemingly unsanctioned and large gatherings throughout St Vincent; videos of which have graced the timelines of several social media platforms.
Given the spike in COVID19 cases last December, and more recently in August, persons have expressed concern that these gatherings, where persons are seen without masks, have the potential to contribute to yet another incidence of increased cases locally.
Others believe that the fully vaccinated events taking place over this holiday weekend and in coming weeks may also play a role in the spreading of the virus.
"People are automatically going to put a blame to some of these events, which are just a very small percentage because one; a hundred per cent of these people are fully vaccinated in one particular setting in one particular time frame, and two; the data has also suggested that there is significantly no or reduced transmission of the virus if they are supposed to have any sort of spread in this event," John said.
According to established protocols, fully vaccinated events are allowed approximately three quarters of the capacity of the venue.
Applications by the promoter are reviewed by a small committee, who will make the necessary checks. On the day of the event, there are also certain stipulations in place.
John told SEARCHLIGHT that no testing is done upon arrival at the vaccinated events.
Additionally, persons are encouraged to apply for their vaccine certificates as no vaccination cards are accepted at the entrance.
"…This allows us to also eliminate those persons who may try to manipulate the existing system for vaccination cards or testing…" she explained.
In outlining the protocols of these sanctioned events, the health promotions officer added that verification officers, who are officials from the Ministry of Health, are stationed at the entrance of each of these vaccinated parties.
And there are two options when it comes to verification upon arrival.
In the first instance, "promoters will get what is called an event verification sheet and they will have to fill in that information for all their vendors and patrons who are attending the activity. So…it's like a 'get listed' event".
"Once you're listed, your name is listed on the list and so upon entrance into the event, the verification officers will go onto their devices and go through the list for your names…and you automatically go into the party," John said.
In this case, there is no need to scan the barcode attached to one's vaccine certificate.
The second option is for events where patrons are allowed to enter at the gate and in this instance, all persons must have their vaccine certificate.
This will be scanned and checked by the verification officers.
John also assured that a system is in place to ensure that the venue never exceeds its capacity.
"Once you've reached that quota, the event verification upon entrance will then notify the other persons, if it's one or two persons working that we've reached the quota. Police officers assigned to these events as well who work together, hand in hand with the verification officers from the ministry," she said.
At this point, no one will be allowed to enter, only exit.
The health promotions officer opined that people need to be more concerned about what's happening "directly in front of them".
"We want people to be mindful. The precautionary measures for COVID19 still stand. Wear your face mask. Keep your distance. Wash your hands or sanitize your hands frequently and get vaccinated. In this particular time, detection of the coronavirus is extremely important. I do not want people to drop the ball. In cases where you are sick and experiencing flu like symptoms, do not dismiss your symptoms because we're in the season because it can still get detrimental, because it could still get fatal, it could still get to a severe so it doesn't pause because we're in the season and we're trying to have a good time with family and friends," she said.
On December 26, the Ministry of Health issued a list of authorized fully vaccinated gatherings for the period December 25 – 27, 2021.
"The Ministry of a Health, Wellness and the Environment wishes to inform the public that the following fully vaccinated (two weeks prior) events were recommended by the Chair/Deputy Chair of the Health Services Subcommittee of NEMO, having met the requirements to exceed the number of persons allowed at gatherings according the the current SR&O on mass gatherings, to the Commissioner of Police for approval:
1. Flirt – December 25th
2. Mojito- December 26th
3. Steel Expression- December 26th
4. Secret Garden- December 26th
5. Artistry – December 26th
6. Back in time – December 26th
7. Vale – December 27th
Any other public gatherings ( events or activities) exceeding the allowed (10 indoors/20 outdoors) number of participants currently being advertised at this time (December 25th – December 27th) have not been recommended and are to considered unauthorized," the release said.
SEARCHLIGHT attempted to contact Commissioner of Police Colin John to ascertain the Police's response to large, unsanctioned gatherings but he was unavailable for comment.
[[Updated on December 27, 2021 to include the list of authorized events.]]