Posted on
Centre of Hurricane Elsa moving across north of St Vincent; hurricane shelters open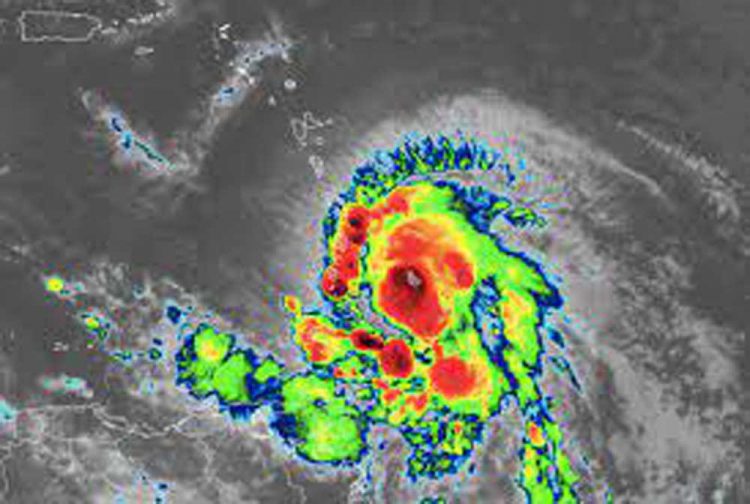 The centre of what was formerly tropical storm Elsa and is now Hurricane Elsa, was moving over the north of St Vincent at approximately 10:30 this morning, July 2, as a hurricane warning remains in effect.
The system is displaying maximum sustained winds of over 75 miles per hour, with higher gusts, hence the reason for the increase in classification to a Hurricane.
"That level of sustained winds can blow down a lot of buildings, and cause a lot of damage and it is targeted at the moment, the centre is likely, if it stays on course, to hit mainland St Vincent," the Prime Minister informed on the NBC radio this morning, while informing that as at 8 am there was a hurricane warning in effect.
"The whole of St Vincent and the Grenadines, and particularly the Northern Grenadines and mainland St Vincent, we have to be extraordinarily careful," he stated.
He reiterated that the Hurricane is dangerous, advising "Those who are not in houses which are safe, either the structure of the houses or the location of the houses, please go to your nearest Hurricane shelter."
"I'm asking everyone to treat this Hurricane seriously. Those who are in the Northern part of St Vincent, in addition to the problems, challenges of the rainfall and therefore landslides, because we are in the aftermath of the volcano, lahars would threaten."
"…Mudflows, particularly at the rivers valleys, would come down with real speed, and they are dangerous, there's a lot of volcanic material."
The advice for fisherfolk to stay off the seas was repeated.
"The waves are rising and the waves are going to be raging, that is the prediction, that is where the trajectory is. Let us be careful and save lives, limbs and property," the Prime Minister informed.
Team lead currently on island monitoring La Soufrière, Lloyd Lynch, has reminded persons to stay away from the river valleys in the area of the volcano.
"As we speak there is a lahar in progress, I think in the Richmond area, so I'd just like to echo the warnings given by the honourable Prime Minister. Because of the abundance of volcanic debris on the mountain slopes and the heavy precipitation expected during this Hurricane season and in fact during Elsa, we expect several lahars," Lynch noted.
"…With these lahars, the river valleys would be filled with material and water coming down at tremendous speeds, lots of debris, very erosive, and so people should keep out of these valleys, stay put, stay home, don't attempt to cross these river valleys," he asked.   In North Central Windward the shelters are: the Georgetown Secondary School, the Georgetown Primary School, Dickson Methodist Church, Pamelus Burke Government School – Byera, Covenant SDA Church – South Rivers, South River Methodist School, Emmanuel Baptist Church – South Rivers, South Rivers Learning Resource Centre, Park Hill Evangelical Church and the George Stephens Sr. Secondary School – Colonarie.
In South Central Windward: Greggs Government School, Christopher Bernard Pre-school – Mt. Grenan, Streams of Power Church – San Souci and theSouth Central Windward Learning Resource Centre.
For South Windward: New Prospect Primary (Simon), New Creation Baptist Church –Peruvian Vale, Biabou Methodist Church, Yambou Seventh Day Adventist Church, Calder Seventh Day Adventist Church and the Stubbs Seventh Day Adventist Church.
In East St George: Apostolic Assemblies – Diamond, Mt. Moriah S.D.A. Church & Development Centre – Belvedere, Calliaqua Town Hall (Upstairs), St. Paul Parish Hall – Calliaqua and the Glen Seventh Day Adventist Church.
In West St George: Dauphine Community Centre, Glad Tidings Tabernacle Pre School – Gomea, Gomea Methodist Church and Pre School, St. Theresa's Roman Catholic Church – Gomea and the Dorsetshire Hill Government School.
In Marriaqua: Kingdom Life Tabernacle – Mesopotamia, Gospel Hall Assembly – Mesopotamia, Streams of Power Church – Carrierre, International Pentecostal Assembly -Richland Park, Mountain View Adventist Academy – Richland Park, Richland Park SDA Church, St. John's Evangelist Roman Catholic Church – Cane End and the Evesham SDA Church.
In Kingstown: The Church of the Ascension (Sion Hill Anglican Church), New Testament Church of God – Wilson Hill, Faith Temple Church – New Montrose, Redemption Sharpes Community Centre – Redemption Sharpes, Church of God Worldwide Mission Pentecostal – Redemption Sharpes and the Fundamental Bible Church – Gibson Corner.
South Leeward: Apostolic Faith Mission Church – Campden Park, Campden Park Community Centre, Campden Park Community Baptist Church, Wesleyan Holiness Church – Campden Park, Bethel Secondary School – Campden Park, Apostolic Faith Mission Church – Questelles, Clare Valley Community Centre and the Seventh Day Adventist Church – Clare Valley.
Central Leeward: Buccament Government School – Dubois, Barrouallie Anglican School, Barrouallie Evangelical Church, Barrouallie Learning Resource Centre, Barrouallie Technical Institute, Grace and Truth Church – Barrouallie and the Kingdom Life Ministries – Keartons, Barrouallie.
North leeward: Petit Bordel Secondary School, Rose Hall New Testament Church of God, Rose Bank Community Centre, Rose Hall Community Centre, Rose Hall Government School, Troumaca Government School, Troumaca Ontario Secondary School, Westwood Methodist Church -Coulls Hill, Spring Village Worldwide Mission Church & Preschool and Spring Village Methodist Church.
The Northern Grenadines: Bequia Anglican Primary School – Port Elizabeth, Bequia, Evangelical Church – Port Elizabeth, Bequia, Port Elizabeth SDA Church, Pentecostal Church – Union Vale, Bequia, Kingdom Hall of Jehovah's Witnesses – Friendship Bay, Bequia, Apostolic Faith Mission – Paget Farm, Bequia, Paget Farm Community Centre – Paget Farm, Bequia, Paget Farm SDA Church – Bequia, Paget Farm Evangelical Church – Bequia and the St. Michael's Catholic Church and Pre-School – Hamilton, Bequia.
Southern Grenadines: Canouan Anglican Church, Canouan Roman Catholic Church, Canouan SDA Church, Canouan Society Lodge, Canouan Kindergarten – Grand Bay, Wells of Living Water Church – Canouan, Mayreau Government School, Mayreau Recreational Centre (Roman Catholic Church), Ashton Gospel Hall Church – Union Island, St Matthias Anglican Church – Ashton, Union Island, Rocky Hill Seventh Day Adventist Church – Ashton, Union Island, Union Island Baptist Church, Ashton, Ashton Learning Resource Centre, Clifton Pre School, St. Joseph's Roman Catholic Church – Clifton, Union Island and the Union Island Secondary School.