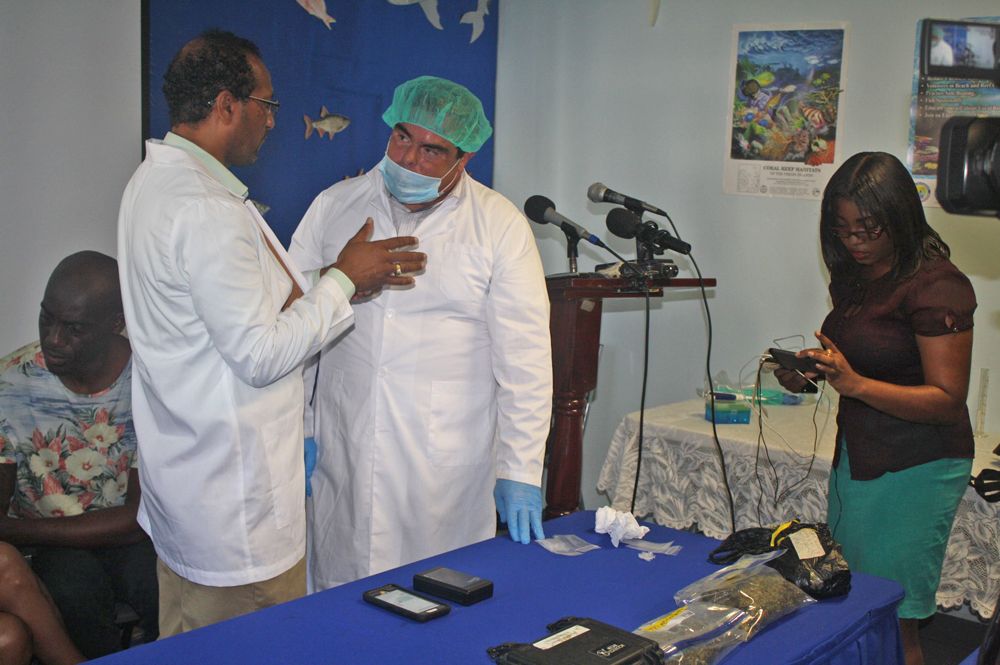 Breaking News
February 10, 2018
Tests show St Vincent marijuana suitable for medicinal purposes
Initial tests carried out on locally grown marijuana have revealed that the still illegal herb is high in tetrahydrocannabinol (THC) and possesses ideal quantities of Cannabidiol (CBD).
These results mean that the herb is well suited for use in the medicinal marijuana industry.
The results of tests run on the eight samples of the locally grown marijuana were revealed to SEARCHLIGHT on Friday.
The samples were tested last Thursday by Frederick Nesbitt lll, an internationally renowned chef who infuses marijuana into his cooking.
Tests were done for THC and CBD, in addition to a full terpene profile, at the conference room of the Fisheries Department on Bay Street.
Nesbitt was brought to St Vincent and the Grenadines (SVG) by someone interested in investing in the proposed local medicinal marijuana industry.
Minister of Agriculture and Industry Saboto Caesar explained that Nesbitt was sent here because that proposed investor is interested in using the locally grown cannabis for culinary purposes.
Caesar said each investor will send his or her own testers to determine if the local marijuana, which some are now referring to as "green gold", is suitable for the medicinal purposes they propose.
The samples tested on Thursday showed an average of 20.7 per cent of THC content. According to Nesbitt, anything over 20 per cent THC is ideal for medicinal marijuana purposes.
The test conducted on a sample of the marijuana from the Larakai mountains came back with over 25 per cent THC and according to Nesbitt, this is extraordinary as the highest THC content he has ever seen is 35 per cent and that was grown in a highly controlled environment.
"That is probably some of the best cannabis in the Caribbean right now, anything over 18 per cent is very good," said Nesbitt who has tested marijuana in Jamaica and the USA among other places.
"It's grown different (marijuana in the USA), but [the weed tested here] on the THC and the CBD and terpene content, it is just as good, if not better. The great thing is that you get two harvests per year here and you get double the opportunity than you do anywhere else in the world because of that.
"So that means you just don't have one crop, you have two crops per year to make that more lucrative to people who are working all year round instead of just in the summer months," explained Nesbitt.
Cannabis is rated according to three profiles — low, medium and high — and all the samples tested fit the high profile.
"This commodity, if done correctly, could be a life changing commodity such as gold, diamonds and oil," said Nesbitt who used a thin layer chromatography method to test the herb.
He said this method of testing gives a baseline figure that can be validated by other tests at a later date.
"The opportunity to be able to start an industry with medical marijuana outside of California where I live or the United States where I work, is a tremendous breakthrough for myself and this community," Nesbitt said.
Nesbitt is a graduate of the Santiago State University and is also certified by the University of Vermont Department of Pharmacology in cannabis science and medicine (the first and only post PhD medical program in cannabis in the USA). Nesbitt was accepted into the post PHD program because of his 27 years of experience in medical cannabis.
He has been involved in the treatment of HIV, Cancer and physical ailments with cannabis use and has a culinary arts degree from the California Culinary Academy. Nesbit incorporates his knowledge of Cannabis into cooking for high profile athletes and actors.
The testing was attended by Minister of Agriculture and Industry Saboto Caesar, Minister of Finance and Economic Planning Camillo Gonsalves, Commissioner of Police Colin John, Executive Director of Invest SVG Annette Mark and Director of the SVG Bureau of Standards Ezra Ledger, among others.