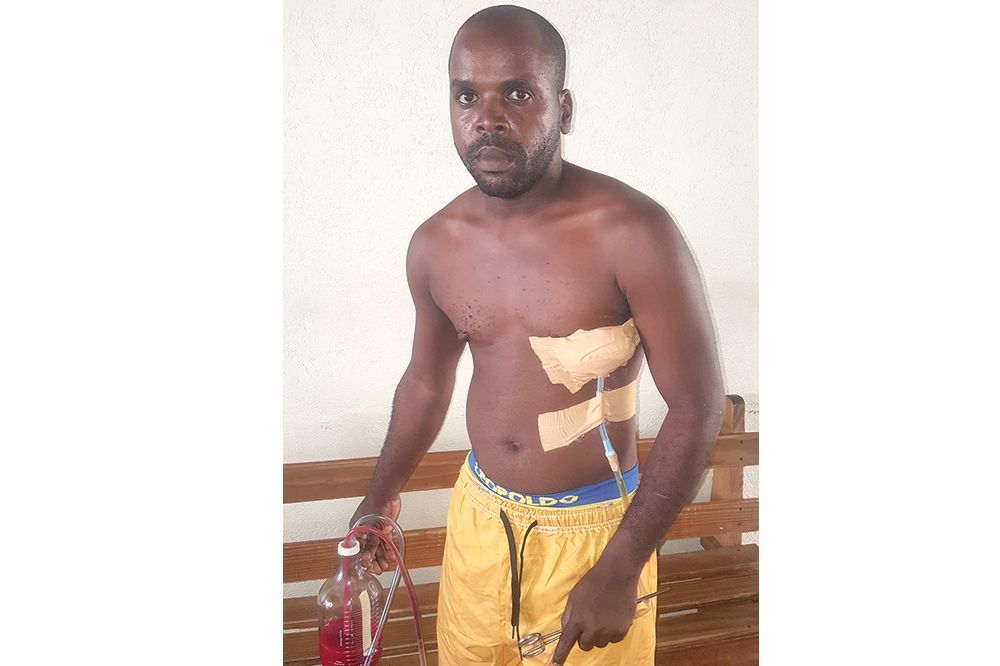 Breaking News
September 22, 2017
Robber begs victim to spare his life during attempted robbery
A robbery attempt didn't go quite as planned last Friday, when a robber had to plead with his victim to spare his life.
Kingstown Park resident Brasbert Henry was making his way home from a night out with his sisters, when he was stabbed three times in the back.
Originally from Golden Vale, but now residing at Kingstown Park, Henry said he was attacked just before two on Saturday morning while walking near the office of SEARCHLIGHT newspaper.
Currently warded at the Milton Cato Memorial Hospital (MCMH), Henry said he had spent the evening with his sisters and friends at Heritage Square and when the disc jockey announced he was about to play the last song, he decided to go home.
Henry, a chef and store operator, said that he was walking in the Lower Kingstown Park area when he saw a youngster ahead of him. Thinking that the youngster was one of his nephews, he tried to catch up with the youth, but the young man disappeared.
He said he removed his shirt, because he was hot and when he arrived in the area of an abandoned property, his hat blew off and when he bent to pick it up, he felt three stabs in his back.
Henry said he received two stabs on his upper left shoulder and one to the lower right side of his body after which he spun around and held on to his attacker.
"I get him on the ground and get way the scissors, but when I was going to stab him he said 'Oh gard, sir, don't kill me please, don't kill me please' and then I felt my lungs start to flood with liquid," recalled Henry, who let go the youngster.
"I let him go, because if I did start fight with him, would have been the both of us died there, so I let him go and he ran and I drop the scissors, tie up my shoulder myself and walked to the hospital," said Henry.
He said when the youngster pleaded with him not to stab him, he asked why he had been attacked and his attacker, who looked to be around 18 years old, responded, "Oh gard, sorry; all I wanted was your phone."
Henry was carrying a Samsung S5 smartphone and thinks that the robber was watching him while he was in Heritage Square.
"They watch who spend and look to kill them to get their little earnings and that is bad, because when business owners start to retaliate, right now that will not be good. We need to take action by finding things for them to do", said the 34-year-old, who has practised his trade in England, Panama, Jamaica, Trinidad and Saba and decided earlier this year to come home and start a business.
"I was young once and I did not take my hand to go and rob. I went in the kitchen and learn. You cannot blame the Government for this. I don't vote; you have to blame the youths," stressed Henry.
He added, "your mind is like a parachute; if it don't open, it don't function; you just can't sit down and smoke in a ghetto because nothing won't come out."
He said when he arrived at the MCMH, the staff there dealt with him quickly, but last Sunday, a strange feeling overcame him and when he told one of the doctors, that doctor looked over his x-rays and he was rushed into surgery.
He said the stab to his upper left back had caused so much damage that his lungs almost collapsed and that caused air and fluid to build up around his lungs.
"I would just like that the youths them come out and get work; robbery is not something that our country accustom to. They can get odd jobs instead of sitting down and wanting to rob persons for their belongings", commented Henry.