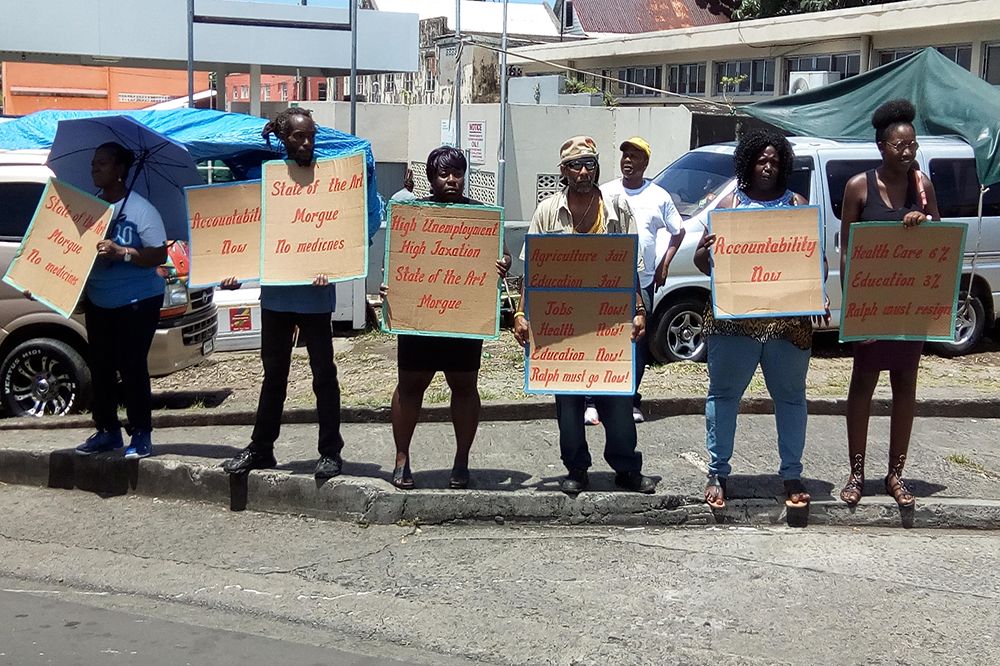 Breaking News
August 14, 2017
Front Line protests death of activist in front of hospital
About one dozen persons, primarily from the group known as the 'Front Line', are today staging a picket outside the Milton Cato Memorial Hospital (MCMH) in Kingstown.
The group's leader Luzette King told SEARCHLIGHT the demonstration was inspired by the death of social activist Oscar Allen, who she alleges died because of negligence.
Allen, 75, died on July 28 at the MCMH, one week after undergoing surgery on his large intestine at the country's main health facility.
The surgery was put off twice because two of the three anaesthesiologists at the MCMH fell ill, leaving surgeons at the country's main medical facility only able to conduct emergency operations.
Two weeks before Allen died, he wrote to hospital administrator Grace Walters about the postponement of his surgery on two occasions. He said in the letter, which was copied to other Ministry of Health officials, that while a section of our population does not trust the services offered at the MCMH, he does.
Allen, however, called the deficiency of having only one anaesthesiologist "unacceptable" and said inattention to that problem "could have fatal consequences."
Prime Minister Dr. Ralph Gonsalves has however said the delay in Allen's surgery had nothing to do with his death and it is a cruel thing to say it did.
"It is cruel to the family to say that [the delay in surgery caused his death] and it is a nasty aspersion on all the medical personnel who participated in the attendance of Oscar while he was at the hospital," Gonsalves stated at a press conference last week.
The Front Line group was established in the wake of the 2015 general elections and has been staging almost daily protests outside the office of the Supervisor of Elections alleging irregularities in the poll that returned the Unity Labour Party to office for the fourth consecutive term.