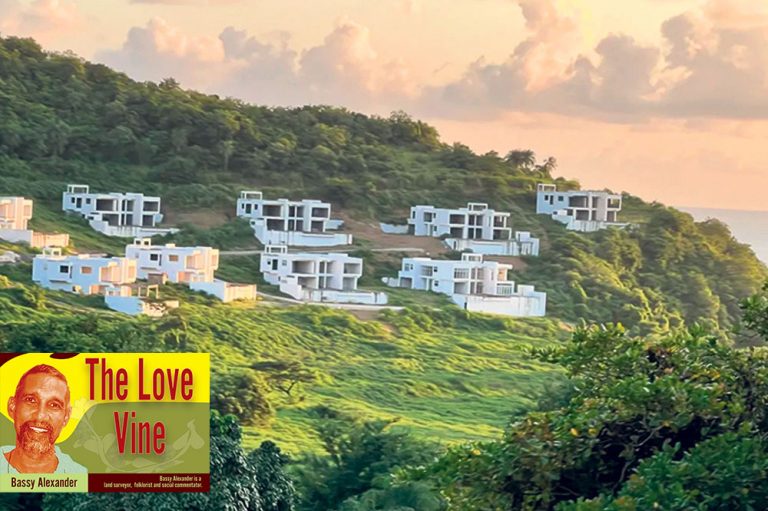 Bassy - Love Vine
September 15, 2023
One destiny
Back in 2017 ah gentleman representing PACE, ah Canadian Real Estate Co, was interviewed live by Bing Joseph on Boom FM Radio. De gentleman made some firm disclosure; dat Black Sands Resorts, de firm he represented was about to develop ah Hotel at Mount Wynne, dat his company has cash, dat dey have ALL de money EC$60 million, and de project would be finished in 2 to 2½ years dey. So dey should have been finished before or during COVID-19 Pan-dem-ache in 2020.
De Investors got ah good deal in de land purchase, 36 acres wid ah portion of Black Sand Beach front, valued at EC$36 million = EC$23. 00 per sq. ft. But dey paid EC$7 million; EC$4. 50 per sq. ft which is EC$30 million less dan de amount for which it was valued.
I subsequently read in "IWitness News" dat at de ground breaking ceremony in 2017, de Investors said dat dey only had half ah de EC$60 million which was EC$30 million, exactly what dey saved on de purchase of de land. If de Maths is correct dey got de lands foh Free.
Lie-Za bawling say it would be ah SIN if any NIS funds in dat project. So ah told her doh worry Frank Da Silva has ah recording of de Tour-is-him Minister's voice in Par-liar-mint last week, stating dat the construction of the facility / project is totally funded by the Canada-based investor. There is absolutely no cash outlays from the government and the people of St. Vincent and the Grenadines.
Ah have ah soft spot foh Canadians, in fact Canadian Tax Payers paid foh my two years Eddy-Care-Shun in Canada. One of my classmates is in de Real Estate Business, and he spoke highly of PACE Developers Black Sand People. But we have had some very bad experiences wid Far-Rain Infestors. People who arrive in SVG posing as Infestors wid ah clean Bill of Hell't.
Some real "White" Con-Men whose "Aim" we "Nah-No" except "Owen Bank" and de one dat mek "Ah-Darm-Arse" ah all ah we! De Mighty Sheller in his Calypso said: "Sin-Vin-Sin is Far-rainers Paradise!" But Lie-Za say all dem Con-Men who rip off Vincy have One something in Common, de same destiny dey end-up Serving Time Behind Bars. And wid dat is gone ah gone again.
One Love Bassy
Bassy Alexander is a land surveyor, folklorist and social commentator.