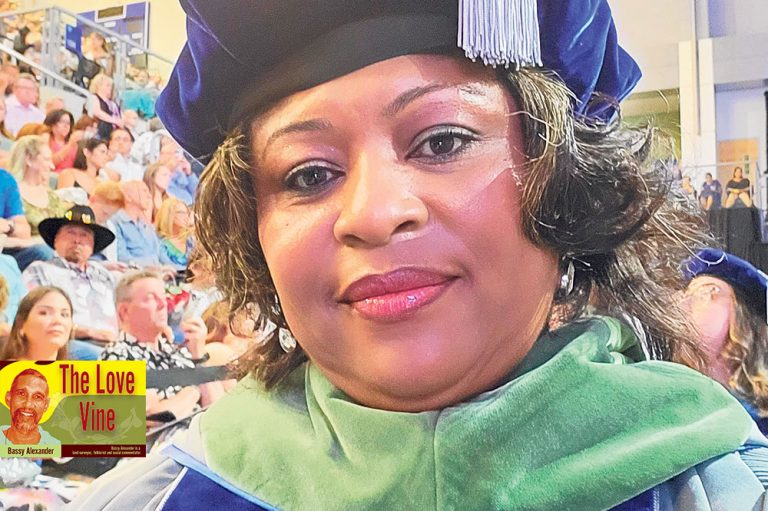 Bassy - Love Vine
September 8, 2023
Dr Primus did promise to surprise
ABOUT TWO WEEKS ago I was reading a very interesting article in Searchlight entitled "Newly Minted Doctor of Health Science aims to share Knowledge." Dey was ah photograph of ah beautiful young lady, looking familiar, but had me struggling placing ah name to de person.
Den it all came to me: " Desserine Primus!" What ah joyful moment, Des foh Stanley Primus and Pearlie Haynes, how well ah remembered our lickle "Salvation Army Junior Soldier." She was troublesome, lively and vocal, love to talk back but not rude. She uses to say : "One of these days, this same Desserine will surprise all of you."
Her Grandmother Sister Drucilla Primus, ah staunch Salvationist and centenarian still going at 101, took Des and all dem kids on Pauls Lot Block to Sunday School. Back den every Sunday School Kid was required to learn at home a Bible Verse of his/her choice.
Apparently, one of de senior soldiers (in church) pulled Des over de coals dat rubbed her de wrong way, so next Sunday Morning, Dessarine still carrying feelings, hit back wid her Bible Verse: "For all have sinned and fall short of the glory of God." Dat was Dr Primus. As ah little girl she had de memory of ah Dolphin, ah budding Dramatist she starred ah lot in de Sunday School pageants, accurately memorizing verses and skits.
In 1990 ah promoter of de Miss SVG show messaged me dat one of de Miss SVG contestants was insisting dat she wanted me to write ah poem for her talent. Ah couldn't refuse de contestant was Dessrine, and I remembered how she narrowly missed being selected de year before as SVG's Miss World Contestant. Talk about stress Des nearly drove us mad. Just would not get de lines together. She kept saying I know my talent, and I will surprise all of ah you at de Show.
"Promising to surprise again" was now ah threat!
Queen Show Sunday Night ah was in de pavilion more nervous dan Des and Nicole. Hers was ah dramatization of an Eruption of La Soufrere. She was dynamite on stage! Won Best Talent and was First Runner Up! She was like people's choice.
But our lickle Sunday School girl is now Dr Primus. She remains very humble, passionate about education and stands ready to transition here at home. She is especially proud to be an Alumni of Miss Forde Pre-school, Petersville Primary and GHS. She migrated to de USA in 1991 as ah teacher and worked hard on her studies.
The last time I saw her she was here house hunting and full of confidence as ever; she was den into her Masters Program, and I reminded her what she had said about surprising us one day. "You just wait and see" she said. Thanks foh keeping your Surprise Doc.
We own home grown doctor
Murray Village now has its own Home Grown Medical Doctor in Makiba "Kiba" Joyette. Of course dey's Dr Murray, our Home Made by Name and Status Dey might tek his family lands from de Murray and doh pay dem, but dey cant tek Dr Murray from we, de villages.
So Kiba, daughter of Maureen Joyette and Leroy Rock is my immediate near-bah who spent de last seven years in Cuba, successfully completing her studies as ah Medical Doctor. She is like daughter and ah sister to my kids her peers. When she was about five years ole, ah invited her to Salvation Army Church wid us. Sunday morning very early she was early all dressed in white, looking like ah junior Salvationist. One day she came to let me know she was going to Cuba to study Medicine. She was only 19 and it was painful watching her leave.
Every school break, she would set ah date and time when we could meet to report and ole-talk. One year in particular ah had to apologize foh de bushy state of my property. She rebuked me and told bush was good. Dat year she had studied Herbal Medicine and was able to identify ah lot ah useful medicinal plants in my garden. Den she said "You have ah Herbal pharmacy on your property."
She experienced one ah de worst moments foh any foreign student when her Mom passed away suddenly. Dat's when ah realize how tuff she had become in ah few years.
She is not home as yet and ah read dat she heading towards Dermatology. She is thinking wid so many unhappy Thin Skin, Dark Skin and Crazy Bawl Head people around, she will be ah success. May God Bless your Practice Kiba. And wid dat is gone ah gone again.
One Love Bassy
Bassy Alexander is a land surveyor, folklorist and social commentator.