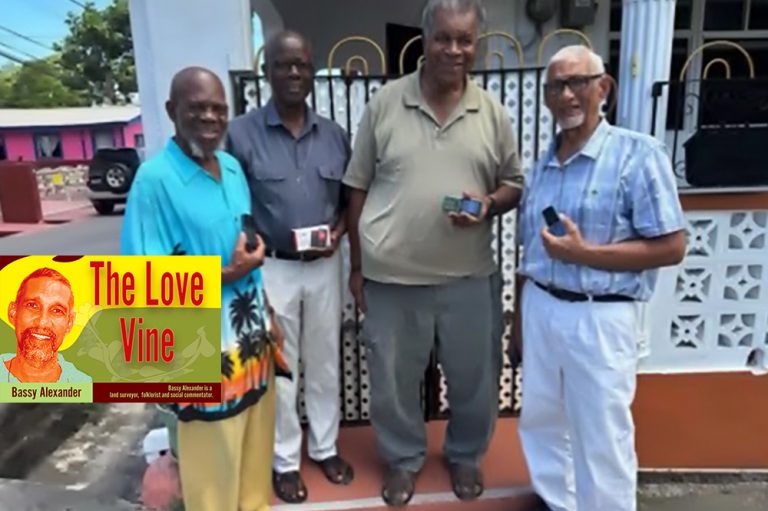 Bassy - Love Vine
May 5, 2023
De Best School Of All
"We'll honour yet the school we knew, The best school of all. We'll honour yet the rule we knew, Till the last bell call. For working days or holidays, and glad or melancholy days … They were great days and jolly days… At (Boys Grammar school) the best school of all."
Hold on! Hold on! All-yo doh crui-se-fy me; those lines were taken from de poem "The Best School of All" written by Sir Henry Newbolt in 1899, except dat de name "Boys Grammar School" is not in de poem, ah inserted it foh mischief, mek dem GHS and Convent School Girls, and all past students of other schools eat
dey heart out.
Yes, everyone ah we feel de same way bout Our Alma Matter. Mighty Sparrow sang bout "School Days are Happy Days;" former Kaisonian now SDA Bishop, Cladius Morgan (sobriquet Samaritan Singer), sang "Long Time School Days." Is de same Bishop Morgan who baptised Sparrow last year.
Yes, school is de foundation. Back in 2005 de late Dr E.G. King was retired and spent time getting ah group of us BGS past students to celebrate de 50th anniversary foh our Class of 1954 and 1955. De week of activities was ah success, so we planned to meet foh ah 60th. Dat never happened, but in two years time it will be our 70th anniversary, foh those who survive in 2025.
Somewhere on this page is ah photo of four classmates- Octogenarians except one who is 79, but our combined ages is 320 years. Dis year we are celebrating 68 years since we proudly made our first walk up dem Grammar School steps. Thankfully de Good Lord has allowed us beyond the three score and ten years allotted to man. We can proudly say we were born during de second World War (1939-1945) when times were very hard. But our creative parents took Breadfruit and Banana and mek Flour. extracted Farine and Starch from Cassava and Arrowroot. Sin-Vin-Sin always had fish. Dat was progress.
However ah few days ago ah walked into one ah my classmates Mc Kinley Lawrence aka Bully (ah character in Shakespeare), aka "Eloman." He came home from de US to bury his kid brother Knolly Lawrence. We did an impromptu, invited ah few other classmates who were available to ah photo session.
Wid short notice we stormed de home of Fr. Ulric Jones in Calliaqua, incidentally two of our classmates- Ulric Jones and Sylvanus Regisford are Anglican Priests. Even among de very Bad Boys there are not one, but two good Saints. We know we were going down memory lane, wid our not so "prom-prom brains," so we had to find F.I. Jack, Mr Hyperthymesia, de man who remembers every name, place, time, an Educator, former BGS headmaster.
While in conversation my cheap $90. 00 " Ole school cell phone" rang. Ah was ah bit embarrassed not having ah Smart Phone to show off. Alas! De others happily pulled out dey $90. 00 " ole school cell phone" as well. "Great minds" one ah dem said.
A single photograph dat was supposed to be ah one minute stop turned out to be ah four hour belly full ah laughs, jokes, anecdotes, and great hospitality from Lady Marylyn, Fr Jones' One-dah-full wife.
Like her husband, she is ah born Calli-aquarian, ah former Maths teacher who helped her husband to no avail wid his Maths in school. Dis is not an Ad, but she makes ah Darn good Black Cake.
Unfortunately ah couple guys didn't reach de venue, we however visited ah sick brother and former classmate Fred Stephens. And by de way, those smiles in de photo were prompted by my photographer-wife who asked us to pose wid our " ole-school phones!
And wid dat is gone ah gone again.
One Love Bassy
Bassy Alexander is a land surveyor, folklorist and social commentator.