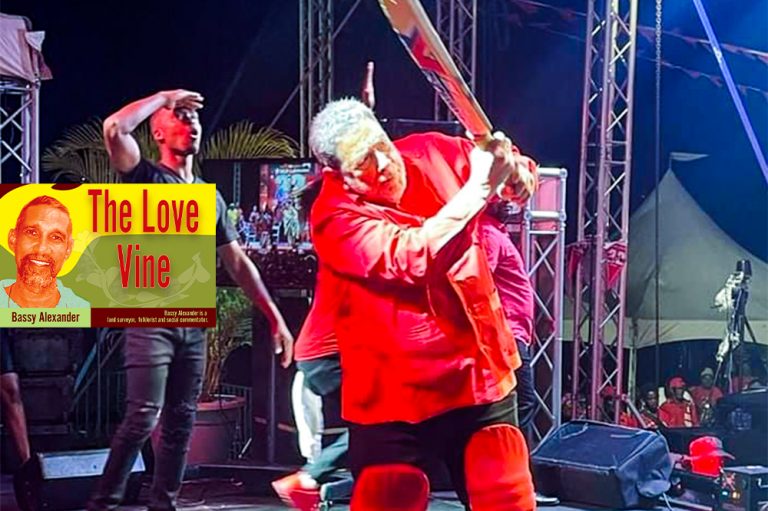 Bassy - Love Vine
April 6, 2023
Mighty Gabby's "Hit It" says it all
Dey's ah photo on page 3 of de Searchlight dated March 31, dat shows de PM on stage at de ULP Rally. Fired-up in his usual high spirits and appropriately garbed for ah ODI cricket match: Reds vs Yellow. Dey he is: red shirt, red pants, red pads, Bear-head again, no hell-met. His broad Bat (not ah Coconut bat) raised over-head, suggesting he had completed ah maximum over de boundary. Searchlight's caption reads: " Batsman" Dr Ralph Gonsalves hitting for 6 during Mighty Gabby's popular calypso of "Hit It"!
Ah think dey's ah warm UWI student/Lecturer connection between dem, so Gabby must have been one ah de Guest Artiste invited to do his Pop-yuh-Law song "Hit It." But Lie-Za asked, "Why would Ralph bring Gabby hey to sing pon him?" According to Lie-Za, dat song "Hit It" has its sexual connotation.
It's about ah STAR-Batsman who is badly out ah form, failing to deliver, and literally or figuratively, de chorus is not complimentary to any 5 STAR General's Ego. De chorus is as follows: "Hit It! why yuh missing so? Hit It! yuh use to brag before, Hit It! If yuh could handle me, Hit It! Ley me see, Hit It! Hit It! Hit It!"
Lie-Za say she feeling happy foh Bajans when she heard de news, dat Prime Minister Mia Amor Mottley of Barbados, will be honouring its commitment to about 89 former LIAT workers, paying almost US $10 million severance in cash and bonds. Each worker would get $75,000 cash in severance. Ah asked her if she think dat Mighty Gabby could ever sing his "Hit It" on Mia Mottley's stage. She say SVG is de only country way dat song has relevance foh de leader.
She heard also dat St Lucia Government announced dey have agreed to pay dey displaced LIAT wukers $6 million. Right about now Grenada Government, less dan ah year in office, is negotiating a $2 million severance with LIAT displaced wukers. And Antigua dat owns 32 % shares in LIAT is prepared to pay 32 % severance to its wukers.
So ah asked her is way happen to LIAT Wukers of SVG. Since 2020, three years ago, 34 of de 40 LIAT employees were severed widout any severance pay. No committent. No Positive Vibes. No word of Hope No Meeting wid de SVG Shareholders of LIAT. Nobody knows How-hard de leader and members of dat LIAT crew, most wid families surviving for three years, not three months wid no salary. Living thru Covid 19, ah Volcanic eruption and ah Hurry-cane. Mortgage or rent, student loans, medicals, utilities e.g. water, lights, telephone and food bills. When nothing seems forthcoming, not even dialogue, people are not left wid many choices. Blessed are dey who have no voice or clout, but courage to seek kelp thru lawful channels, de Papers, Radio, Social Media. An dat is as far as LIAT wukers can reach. Victim-I-say-shun.
Thank God de signs and writing are on de wall. Elections are ah few months away. Mighty Gabby song "Hit It you have been missing in act-shun" will flood de streets and rallies. Den voters will decide whether dey need ah new batsman who can "Hit It and doh Miss It" foh real. And wid dat is gone ah gone again.
One Love Bassy
Bassy Alexander is a land surveyor, folklorist and social commentator.