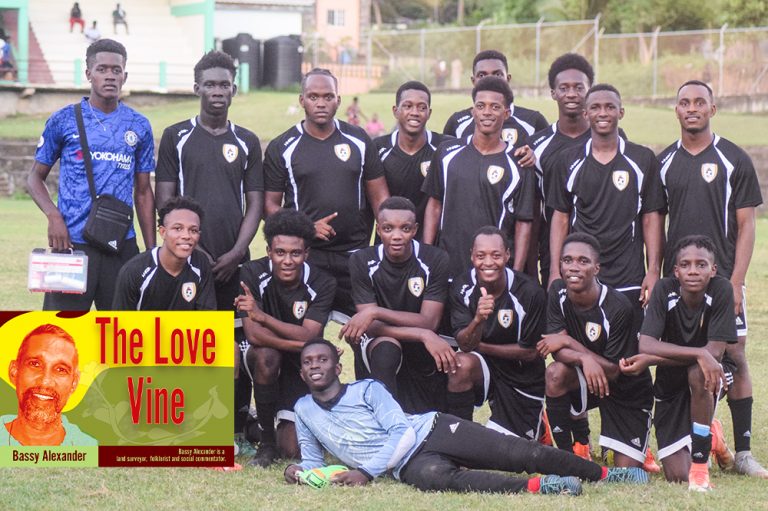 Bassy - Love Vine
March 10, 2023
Using Ah Sledge Hammer to kill ah Ant
De Volcano Football Club was dealt de full wrath of de Disciplinary Committee of de local Football Federation last month. In early February ah match between Volocano FC and SV United was brought to a pre-mature end after one of de Volcano FC players (allegedly) attack de assistant referee.
De whole thing turned
Ole Mas and de Refree blew off de match before regulation time. As ah result suspension bans totalling 25 years were handed down on four players ranging from 10 years to 3 years; de Manager of de Club was also banned fo two years and must attend Sessions. Two other players not fined must each participate in a Conflict Resolution session; three of de players suspended must have double sessions. De Club is also banned foh two years, will pay a fine of $3,000. 00 to be paid by May 23, 2023, and ordered to participate in a Conflict Resolution session. All sessions must be approved by the SVGFF.
As if dat is not enough, no member of the team registered to the 2022/2023 National Club Championships can be transferred to any other club during the two- year period. Just reading de sentence is tiring and heavy handed.
My source tells me dat Volcano FC is one of two Clubs in Greiggs ah rural community. De Club is comprised of ah senior team, an under 17 and ah female team. De majority of de players is young people, most ah dem unemployed. Football foh dem is an outlet, sometimes de only avenue to express dey positive skills. So dat when yuh ban an entire Club for two years, what are yuh doing to these young players, some of whom were not even present at de Football Frock-Ass dat afternoon, Right now I am drawn to ah photo of de Volcano FC under 17 team, and I ask what has de Local FF done lately for de young Footballers in Greiggs for example. Has dey been any programme in place dat addresses Rules and Regulations of de game, conduct of players, Disciplinary penalties, de authority of de Referee and so on.
Volcano FC sounds like ah team widout ah sponsor. De faces in dat photo show life, hope and spirit, but ah believe dey's an element of ignorance of de serious implications and consequences of violating de Rules of de game.
So ah want to suggest to de local FF to focus on ah Development programme dat involves training dat will empower de hundreds of young unemployed footballers thru-out SVG. Equip dem with employment skills foh individuals, small groups and even Clubs so dat at de next FIFA meeting de SVGFF can present ah Development Plan dat will bring prosperity to young footballers thru-out SVG. Rules and Order must be upheld but de local FF should revisit de harsh penalties on dat Disciplinary Committee Report. It is like using ah sledge hammer to kill an Ant.
And wid dat is gone ah gone again.
One Love Bassy
Bassy Alexander is a land surveyor, folklorist and social commentator.