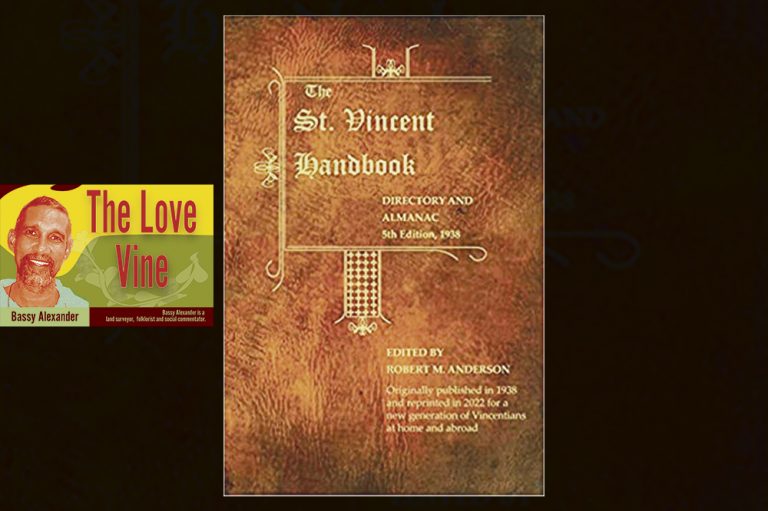 Bassy - Love Vine
February 10, 2023
Bedtime Stories
Every Christmas ah would buy ah gift and address it: " to Bassy from One Love Bassy." However last year Santa's Claws was late in passing, so on Choose Dey dis week ah went by Gaymes Book Store and bought me-self ah $80 treasure, a copy of "The St Vincent Handbook" de 5th Edition, 1938, by R.M. Anderson, ah born Vincilonian, if ah may use de ole time kaiso name foh Vincentian.
RM Anderson deserves ah posthumous Knighted foh his work.
Ah compilation of Historical notes of SVG from 1627, it actually starts out wid an understandable error stating dat in 1498 Christopher Columbus discovered Saint Vincent. That of course is ah LIE. Other dan dat Anderson's book is ah Must Read foh all Vincilonian. Ley me tease readers appetite wid just two of de several hundred Notes in ah Book wid 470 pages, he writes: "New Year's Day 1897, under de patronage of Administrator Thompson, athletic sports were held at Victoria Park, there was excellent weather and every event was attractively amusing especially the donkey race with 'egg and spoon'."
Dat sound like lyrics foh one ah Mighty Spoiler's Kaiso, must have bin ah race to see!!
Still in 1897: "On February 15th, dey was ah cricket match wid Lord Hawke's English touring cricket team dat played ah match in SVG and defeated de local representatives. Lord Hawke was one ah England's greatest cricketer who strode the cricketing world like ah colossus for half a century. But in SVG, his Lordship was clean-bowled foh a 'duck' in the first innings by Richard Ollivierre's 2nd ball to him." (Richard was one of de three Ollivierre brothers, Charles and Helon all of whom went on to represent the West Indies in first-class cricket. Charles was also the first Vincelonian to play for West Indies, as well as de first Black West Indian to play English County Cricket. Lovely Hysterical info, ah promise ah go discipline me-self and read dis Book every night as my Bedtime stories.
Someting Rotten In de State of Denmark
In Grammar School, Literature was not exactly my fear-foh-it subject, but we studied Shakespear's book Hamlet wid Form Teacher C.G.O King and had real fun drama-tie-sing de quotation: "Something is rotten in the state of Denmark."
Basically dat quote is used to describe corruption or a situation in which something is wrong. In SVG is like Everything going wrong. Eight Home-aside (killings) foh de year already: 2 in Ottley Hall, 1 each in Evesham/Collins; Bequia, Cedars, Sion Hill, Kingstown, 2 shootings involving de Police, Dat is "Something Rotten in de State of Denmark!".
If yuh not bothered just tek ah glance at ah few ah de headlines in our Weekend Newspapers, de list is unending:
i) Police find high-power guns, ammo in Bower Mountain; ii) Nurse jailed for 2 years 10 months for 60gs Cocaine. iii)Fisherman gets 14 years for spear gun murder. iv) Media workers write Police Chief after journalists accosted within the court precinct. V)
Teen who drove BMW to school jailed for gun, ammo.vi) SVG opposition party urges Gov't to work with them on tackling crime. Rotten eh!
One would be happy to learn dat efforts are being made to refurbish school buildings, something dat de ULP Go-venom-mint did in dey first term 20 years ago. Two years ago GHS, Tommy Saunders Secondary and Grammar School were relocated to temporary (plywood) buildins in Arnos Vale to effect repairs. Now parents are expecting work to be completed. One Newspaper broke de News headlines last week: "More Money! School repairs need additional Millions." Repairs to most of de schools have doubled some tripled. GHS EC$6 million more needed!
Tommy Saunders Sec.. EC$3 million, Bequia Community High more than doubled, and will exceed EC$6 million. Sandy Bay Secondary School, a wooden structure to be replaced would cost EC$12 million.
Shakespeare would have said if dis is not corruption den definitely " Something is Rotten wid de State of our school buildings." And wid dat is gone ah gone again.
Bassy Alexander is a land surveyor, folklorist and social commentator.