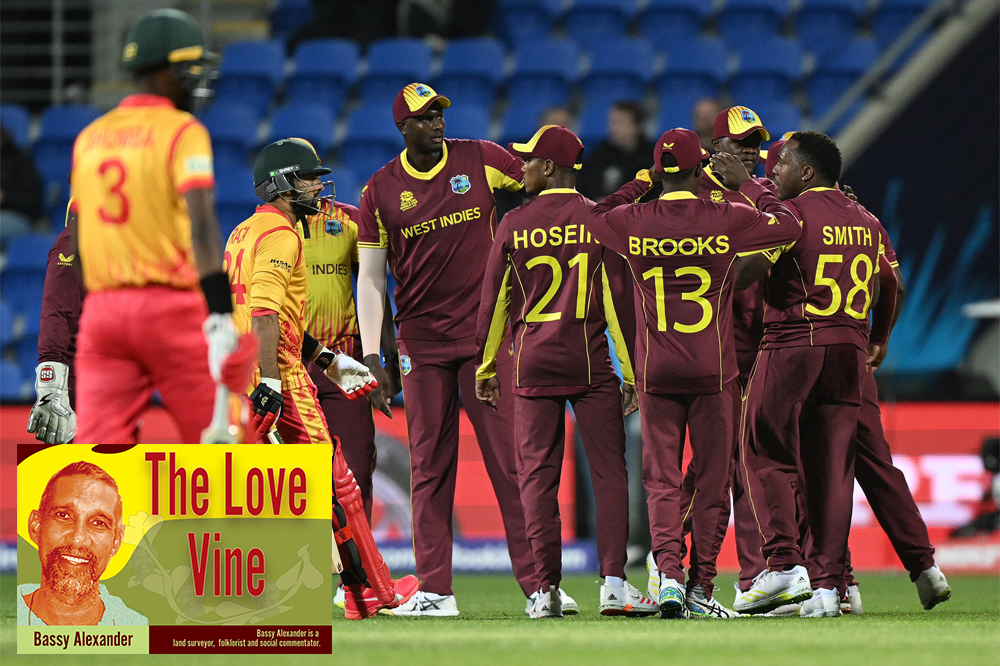 Bassy - Love Vine
October 21, 2022
Doh worry bout ah ting
Win or Lose, West Indies Cricket (Test, ODI or T/20) brings out de best of "de Child in Us," we find de Darnedest adjectives to express our E-more-shuns. Right now, T/20 World Cup Cricket Hot, WI struggling in Eastralia to qualify for ah place in de top 12 Teams.
And as is expected W.I. supporters suddenly tun Fair-Weather Fans.
Ah want to watch de Cricket but doh want to lose me night rest, so ah want ah Smart Phone like Lennox Bowman's, who boasts how his phone so Smart, de alarm automatically mal- functions when yuh see WI losing. Lie-Za say doh mind Lennox, when night come, his Smart Phone switches to ah different Time Zone, all night he watching TTV (Tie-One Television).
But ah still want ah Smart Phone to wake me up, and extra phones foh me Fair-whether W.I. Fans like Greiggs-man Alston Lewis, Doc Fraser, Geoff Edwards, Monty Howard who all time swearing he will not lose sleep watching WI play. Never mind when ah game wid WI is on, dem can't sleep, dey lie pon de floor wid dey back turn to dey TV, but listening every ball bowl.
Poor Lie-Za, very knowledgeable about Sports, but she stressed out fee years following WI Cricket. De officials tun-she-off! "Dey Meking Sport" she says. Look what dey doing to de WI captain on ah Poor-run spree, bats fairly well, good wicket-keeper, but too young to be burdened wid de captain-see. Is she who telling me de manager Phil Simmons never played T/20 cricket. He too, she says is burdened managing all three formats ah de game. How 'bout former Capt. Darren Sammy with two consecutive T/20 World Cup Titles on his CV?
Actually Lie-Za has ah point when she says West Indies players got Shots but Poor Shots Select-shun. And de hell-met dey using is to protect both de external (face and skull) and more importantly de inside, de brain way de real game is played. Foh heaven's sake dey must use dey heads.
Choose-dey morning ah got up at 4:00 a.m. to watch WI batting like de good Days of Yore, at "90 runs foh 2 wickets," and ten overs to go. Ah tell me-self dis is ah good time to wake up de Fair Weather Fans, Happily ah went back to bed, hoping foh at least, ah 180 total. Ah say to me-self ley me call dem Fair Weather Fans to tell dem to trust my judgement, get up and watch WI at its best. Luckily ah did not touch dat die-all, ah doze off to hear de commentator say " Dat's ah maximum, 6 all de way! Zimbabwe off to ah good start, after two overs, 29 runs widout loss, in reply to W.I's 153 foh 7 wickets!"
All dis time de Zimbabwean women in de stand singing what sounded like an motivating African Folk Song. Ah say to me-self if only one ah dem W.I. spectators could just start singing Dave Rudder's: " Rally round de West Indies!" Guess what? Our spectators had just de right lyrics dat de Psychologist ordered for our lads, courtesy his Majesty, Brother Bob: " Doh Worry, bout ah thing, every lickle thing, will be all right!" By de time our players heard dem lines, dey felt de Vibes: "Holder struck! Azari Joseph struck twice! and our own Vincy, Obed Mc Coy follow suite." Zimbabwe after such ah demolishing start wid de first two overs, crumbled to 122 all out!
Ah still want ah Smart Phone.
And wid dat is gone ah gone again.
One Love Bassy
Bassy Alexander is a land surveyor, folklorist and social commentator.