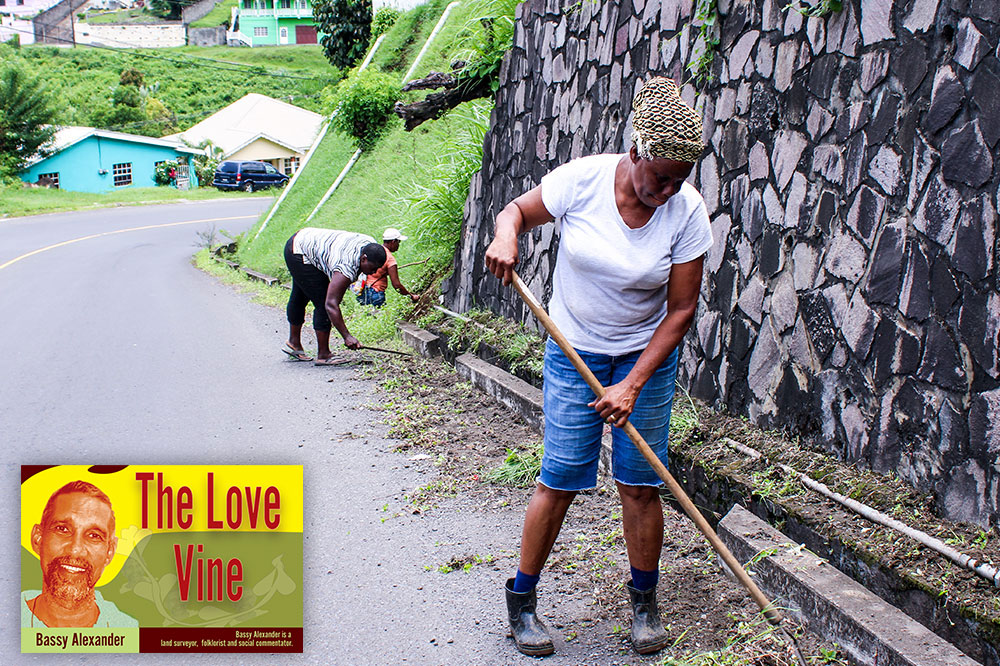 Bassy - Love Vine
August 19, 2022
De Garbage in de head need cleaning too
It was in 1990, de Environment was ah hot topic on de Nay-shun's Agenda. As an incentive to promote de Environmental Calm-pain dat year, de Nah-shun-all In-de-pen-dance Committee organized ah Calypso competition inviting Calypsonians to sing two songs, one of which must be on de Environment.
Well nobody could ah fault dem Kaisonians foh doing dey research on de topic. Dey however focused mainly on de immediate surroundings, cut de grass on de side walk, clean de drains etc.
Vibrating Scakes, de 1979 reigning Independence Calypso monarch won de competition again, but Calypsonian Jessekiah's composition still ringing in me head, and I quote Jessie's chorus: " Dey cutting Grass, dey cleaning Drain; to mek de place look nice again, but de real cleaning dey would not do, de Garbage in we head need Cleaning too!"
It all came back to earlier dis week going up country, when ah come-plain to de driver about de difficulty navigating thru de piles ah cut grass, debris and garbage from de drains heaped along de road-side, waiting on de trucks to be removed.
Mischievously ah asked him: " What can us do?" Oh, he said, It's August and schools reopen next month, no money dey foh poor people but uniforms and books must be bought. So right now us are traversing thru ah ULP annual "Back-to-school" million dollar Road Cleaning Project in progress.
He den informed me dat Acting Prime Minister, Mt Dumry Daniel had announced dat cleaners (workers who clean drains and cut grass along de road, dey get two jobs per annum), according to PM Daniel, some 491 gangs (approximate 4,000 workers) truckers and small contractors are now on de road working.
Dey will be employed for ah period of Eight Days, (not eight weeks), and will be paid $50. 00 ah day, and dis road-works project will be done at ah total cost of EC $3.1 million; interestingly in future, road-workers will be paid via Bank Cards. Dat he add-myth is ah One-dah-full I-dare!
De driver further informed me dat come December dey'll be ah similar ULP annual "Here Comes Santa's Claws" million dollar road cleaning project. Dat is to mek sure party supporters celebrate Christmas. Ah think ah overs why Jessekiah's Calypso could not get pass de judges. "De Garbage in we head need cleaning too"
IF AND ONLY IF
Lie-Za say dat "If and only if " she was ah Teacher, and she did not tek de Man-doh-tarry COVID 19 Aunty Virus Vax-ah-nay- shun, and when she turned up to school to teach, she was given ah letter from Public Service Commission stating dat " she was deemed to have abandoned her job." She would ah say plain and straight No Way to de Prime Minister announcing dat Teachers could reapply foh dey Job. No Way!
De onus is now on de Public Service Commission (PSC) to write an apology to she and de Teachers whom de PSC unlawfully fired, invite dem to meet and discuss de conditions under which Teachers will be willing to return to de class-room.
As de days go by, it is becoming transparent dat de ULP has accumulated ah lot Garbage by Infestors like Aimes and others to be announced, Inside story leaking thru cracks, supporters not happy at all dey whispering dat "de Garbage at de head needs cleaning too." And wid dat is gone ah gone again.
One Love Bassy
Bassy Alexander is a land surveyor, folklorist and social commentator.