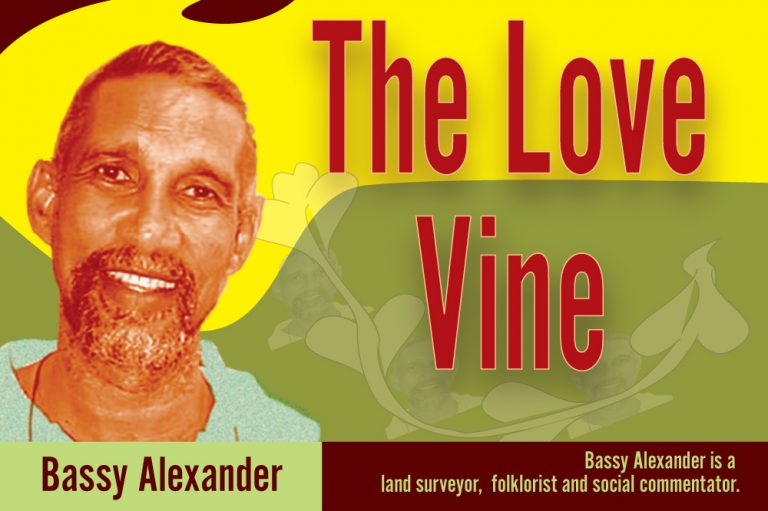 Bassy - Love Vine
February 25, 2022
Met-Dis Church Die-Us-Poorah in Arnos Vale
When las' yuh bin ah church…. period? When las' yuh bin church and de Service so nice, yuh promise de hosts and de Rev, Mini-star-ess dat yuh 'coming back' to hear she preach. Yeh! Las' Sun-dey ah took up ah late invitation to join Tie-ron n' Day-Tri to ah Thanks-giving 60th Birth-dey Service at Arnos Vale Met-dis church; still vibrant as ever! Way back when, was like everybody from Arnos Vale was Met-dis, members uses to journey on foot to Kingstown or Qua-la-Qua foh as many as three nights ah week, and twice pon ah Sun-dey foh Services. So back in de 1960's dey took de bold step and "Gathered at de River " near de former ETJ Airport in Arnos Vale, and built dey own Mini Cathedral. Was ah full house when de Church opened, but Kingstown was left half M.T. Arnos Vale was like ah lickle Met-dis Die-us-Poorah!
Was so good to see Tanty Carmen Jack, de matriarch and one ah de originals still on dis side ah de River Bank praising God.
Better still was to behold de second and third generation of foundation members like de Scotts, Jacks, Brownes, Cropper provided ah lot ah Blocks, Josephs, Phills, plus migrants from Troumaca and Mespo, fully represented and actively participating. Rev Millette, de Mini-star-ess, very petite and Spicey, delivered beautifully on Joseph de dreamer: his early challenges, his Success, Humility and Forgiveness. She spoke in Young People's Language using Dance Hall vernacular, even de older folks loved it more. Thanks Arnos Vale, "ah feel ah Blessing!"
Do We Grade Outside Developers?
Still hot on the burner is de Hurry-Hurry, Quarry and Crusher Project in Richmond, North Leeward. Two weeks ago ah wrote on de subject under de caption "Quarry and Crusher Yes! Outsider No!" On reflection those were strong words dat could ah bin better worded or not worded at all. Dem Labels is foh Developers like de infamous Aims, former Hotel Developer of Buccama Resorts who had de local farmers, (far-reign-as Scape Goats), ejected from occupied lands dat were acquired by de NDP Go-venom-mint and leased to de Farmers. Aims scammed and conned just about everyone; de very people who bought shares foh Cabanas on de Project. Den he slipped out de country untouched, owing workers salary and compensation! Owing Go-venom-mint Taxes and NIS! Ah Grade "F" Outsider.
Must I be Pull-it-tek-all correct wid Nice Word when our local farmers are shafted from bottom to top. Wha bout our own local Developer, Bigger Biggs, de lickle Black Boy, who purchased lands in Rabbacca, obtained planning permission, invested millions ah dollars in ah Sand Mining and Block Making Plant. After three years, he was shut down for EIA (Environmental Infractions). Interestingly, an EIA Study by Stewart Engineering rubbished those charges, yet Bigger Biggs Crushing Plant was left Outside to rust in de dust in Rabbaca! An Honorary Grade "A" Entrepreneur. .
So is like "Déjà Vu" when de Sin-Lou-Shun Investor was granted permission to operate ah Quarry and Crushing Plant on lands in Richmond, dat have been leased and occupied by 25 Local Farmers, some dey foh as long as 30 years. No prior consultation or discussion between farmers and relevant parties. Some serious concerns wid dat Project is de level of secrecy surrounding de Environmental Impact Assessment (EIA) Report being used. . According to Opposition Parliamentarian Daniel Cummings, who is first an Engineer of impeccable integrity. Dat EIA Study was done several years ago by Doctor Murray, prominent Environmentalist, and was done foh mining sand from de river (ah Project similar to Bigger Biggs') and NOT for Blasting and Quarrying. Ah can't believe our proposed Developer will sit comfortably on a project dat displaces 25 humble local farmers of dey living. And wid dat is gone ah gone again.
One Love Bassy
Bassy Alexander is a land surveyor, folklorist and social commentator.