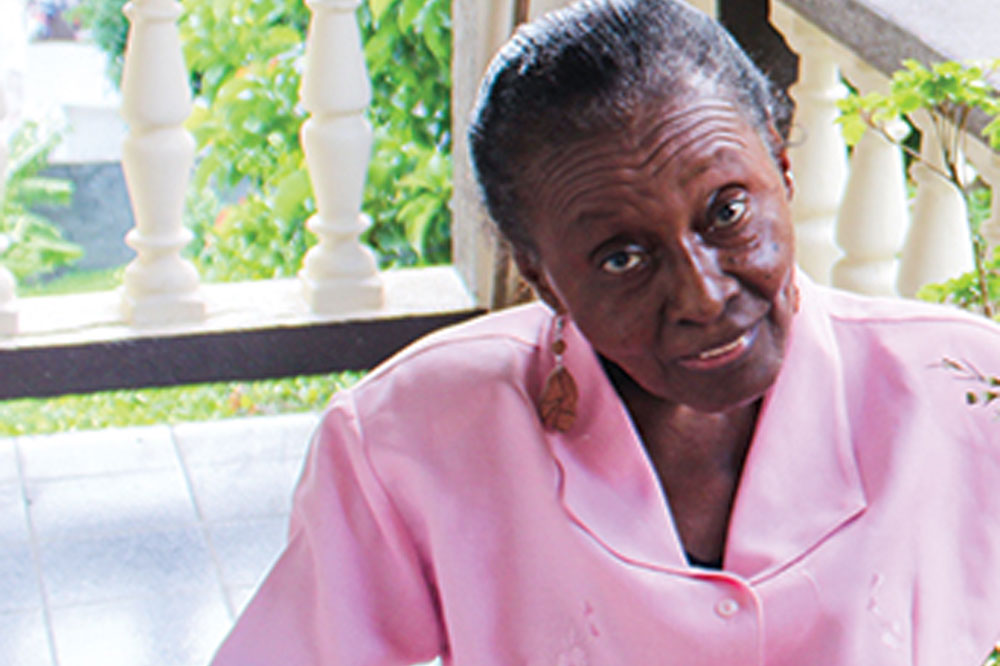 Bassy - Love Vine
August 6, 2021
Louise Toney ah shining star
It was one ah dem sad-glad moments reading the SEARCHLIGHT's back page story "The Learning Page Curator Puts Down Her Pen", a very fitting tribute to a humble lady who served SEARCHLIGHT and SVG with great courage, dedication and commitment. Louise Dick-Toney fondly known as "Miss Toney" was a couple classes ahead of me at Richmond Hill Government School (RHGS), now the Thomas Saunders Secondary School (TSSS).
Ah remember her in school, way back in the 1950's, she was very stately and Prim'n'Proper, and good looking. If one were brilliant as she was, one would have completed primary school reaching Grade Six as young as thirteen. Yes, yuh finish school but too young to work; so the options were either High School or Grammar School, dat's if your parents could have afforded school fees, books and uniform; or yuh learn a trade: carpentry, masonry or mechanic for boys, and teaching for girls; some even became domestic.
Miss Toney however, took de option of becoming a teacher, so at 13 years of age, she spent the next three years in Grade Six as an Student/Apprentice Teacher without salary, preparing for the Supernumerary Teacher's Exams. She passed of course, and started to teach foh real at $ 26.00 ah month, less than a dollar ah day. Just imagine in dem days, Teachers had to be properly dressed, some of my supernumerary teachers were dressed as smart as bank clerks. She was sent to Dorsetshire Hill Primary School to teach. Wow just thinking of having to climb on foot from Frenches up to Dorsetshire Hill at mornings and back down in the afternoon makes me feel tired. So for de next 35 to 40 years Miss Toney's next climb was up de ladder of success, moving between a couple schools, and finally back to her Alma Mater as Head-teacher of RHGS.
The remarkable caring and selfless Louise Toney planned ah lot of her extra-curricular activities aroun de development of young people: Brownie, Girl Guides, Red Cross, Sunday School, teaching private lessons and last but not least, over the last 25 years she was, as SEARCHLIGHT stated, a curator, one who selects and compiles content for presentation, (Common Entrance) as on a website. Her name was synonymous wid SEARCHLIGHT's Weekly Learning Page, preparing Common Entrance (now CPEA) questions and answers in Maths, English and Social Studies for hundreds of students throughout SVG, those struggling in Common Entrance Class getting ready for secondary school; ironically, she never had de privilege of attending secondary school.
Louise is pre-deceased by her husband Arthur, who was a safe and reliable driver, tutor and cook; actually we worked together for many years at Land and Surveys Department. Ah remember Arthur as being de only driver whom Chief Surveyor Karl John, trusted on de rough rural terrain. Wid all his driving and tutoring as driving Instructor, we never saw Louise behind ah steering wheel. Maybe she was too overwhelmed caring for, and nurturing hundreds, maybe thousands of our young boys and girls, and never had any of her own. In this regard, we thank de great Physician for His unquestionable wisdom. Miss Toney and her pastor, Errol Daniel would not forgive me if ah did not men-shun her life-long membership as ah Faithful member and born again believer at the Streams of Power Church. Lie-Za says her Good Samaritan act-shuns alone speak volumes: "Stars doh shine because dey want to be seen, dey shine because dey are Stars." Louise Toney is a shining Star. And wid dat is gone ah gone ah-gain
One Love Bassy
Bassy Alexander is a land surveyor, folklorist and social commentator.