Posted on
Who is Professor Richie Robertson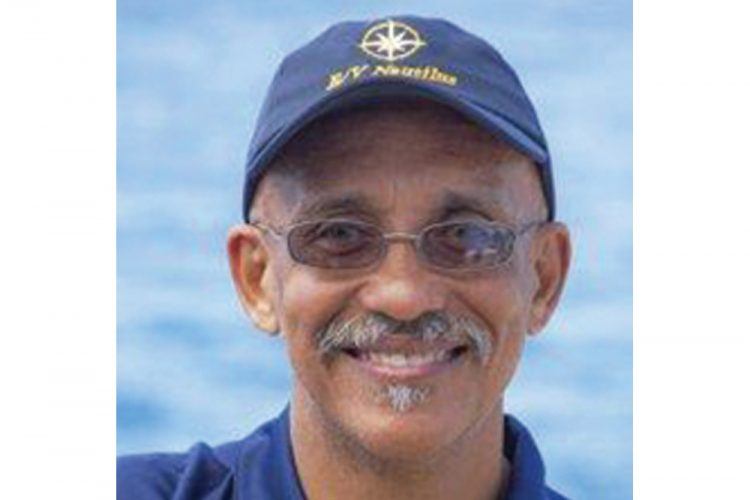 Professor Richard "Richie" Robertson lead Scientist in SVG's Volcanic Erupt-shun was named after his uncle Richard Joachim, whom we terror-eyes during de ULP Witch-hunting Public Enquiry.
However de lickle ah know bout Richie is dat he is de son of Grace (deceased) and Ormond "Bully" Robertson. Leeward people from Bagga and Rose Hall respectively. Bully ah former Electoral Officer, was my Math Teacher at Grammar School.
We couldn't help loving him. He uses to tell us if we could cover de week's work by Thursday, Friday class would be free foh "Nansi Story Time. One "Pattah" Samuel from Questelles knew every Nansi Story.
Ah found out dat Richie is de great-grand-son of one ah de Richard brothers, freed home-slaves from Antigua who migrated to SVG. Dat means our Richie is ah distant cousin of Antigua and World cricket star, Sir Vivian Richards. His paternal (Rose Hall) grand-parents were proud Villagers. Everybody adored Mother Reica Richards, and Pappy Albert Robertson ah Farmer and father of 13 children. His boasting son, Bully never stop talking about his Basket Ball team, five sons including Richie. Of course, Debbie (Robertson) Dalrymple being de only, big sister is de "blessed art thou amongst brothers." On his mother side, Richie comes from de Edmund Joachim/Daniel family. Edmund was ah Pull-it-tek-ill candidate back in de 1950 days. Miserable Stephen Joachim is Richie's first cousin. Talking bout cousins, Richie hails from ah family ah scholars: Professor Albert Lockhart of Marry-Warner Eye drops fame, and his brother Professor Ben who works foh Bill Gates in Africa and South America. Birds of ah flock feather to-get-her.
Seems like Richie and his siblings had ah healthy childhood, moving between Rose Hall mountain and Bagga Beach. His peers in Bagga remember him, de lickle youth-man swimming, playing on de Beach eating Black Fish Crips, while in Rose Hall he was Mother Reica spoil-boy. She was one ah de better cooks in de village and Richie had ah matching appetite. In Kingstown he has always been de quiet unassuming youth-man, Grammar School Cadet who played Pan at ah time, when not many middle-class children played in Steel Bands, but he and Maestro Ashley Kirby were among de back-bone players in Fantasia Steel Orchestra. Ah remember him making ah guest appearance playing ah beautiful Tenor Solo at ah Kingstown Chorale Concert. Vin-sin-shun people just pouring out de Love and Affect-shun to dis young Hero, so much so Lie-Za say to men-shun dat de last Volcanologist to wuk in SVG in 1979 was Dr Keith Rowley, who later became de Prime Minister of T'n'T.
And she say it would be in fine style when de Queen says Rise : Sir Richard "Richie" Robertson!
WE COUDAH AND WE SHOUDAH
Dey was or is no Dress-rehearsal or practice sessions for NEMO's Emergency Volunteers dealing wid Disasters like Hurry-cane and Volcanic Erupt-shun. So almost everybody involved wid Storms and Hurry-canes, are complete strangers when come to ah Volcanic Erupt-shun; is ah new something dat. Never-the-less Hats Off to de bold efforts of everybody involved; Ash-fall is not Rain-fall, de delivery of water depends on yuh storage capacity, CWSA, not without its imperfections, delivering. De Coast Guard handled ah rescue mission well at Owia, thanks foh blow by blow coverage of de Erupt-shun by Hero Lennox Lampkin from his home in Rose Hall in de Orange Zone.
Yes, we will always have de stubborn people who behaving like dey were never warned, refuse to leave de Danger Zones. Over ah month ago, de Scientist told de PM dat he may have gotten around COVID 19 but he can't get around La-Sew Fray. Dat was clear warning dat de Volcanic situation was imminent. Things could ah bin less chaotic if some ah de folks in de Red Zone had been evacuated at least ah week earlier.
NEMO did what it could. Nuff said. People in de Orange and Red Zones were told to have enough food for three to four days, yet people still turn up at Shelters wid children MT Handed. Nah forget dis is ah country of Freeness, Free galvanize, cement and lumber. We own de Party we own de Country, so lots ah people were caught wid de pants off.
MISSED OPPORTUNITIES TO UNITE
Lie-Za say after de PM done pose eating out ah Red Bowl by de Shelter and Doc Friday Playing Table Tennis wid de youth-man in another shelter; why didn't both leaders drive around in One Jeep wid one driver, visiting shelters delivering messages of Hope and Unity.
And why are de Journalists not attending or not invited on de 8:00 a.m. R vs R Press Conferences in which Professor Robertson updates de Nay-shun of de Eruption, and de Pry-minister in his new role of CJ as in Chief Journalist asking all de questions. What ah man! And wid dat is gone ah gone again.
One Love Bassy
Bassy Alexander is a land surveyor, folklorist and social commentator.