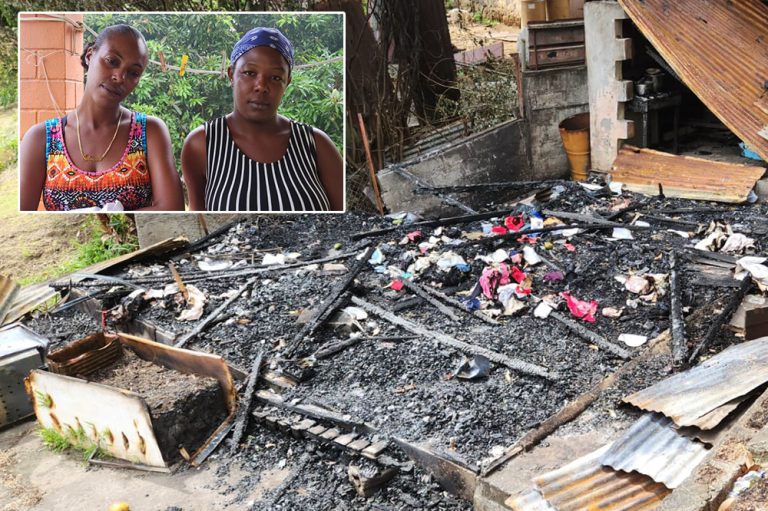 Front Page
January 27, 2023
Three homeless following New Montrose fire (+video)
by Christina Smith
January 21 and 27 were expected to be two special days for a family in New Montrose, filled with merriment, laughter and celebration to mark another year of life.
However, the 40th and sixth birthday celebrations for Slyven Richard and Joshua Billingy were marred by an afternoon fire which razed the two bedroom structure to the ground.
On Friday January 20, the residents of the New Montrose home went about their day, with Slyven working in her kitchen garden and running errands while Joshua and his mother, Altava Billingy prepared for school. While they went about their day, unbeknown to them, their possessions and memories were going up in flames.
"I got a phone call about 3:21 [pm] stating that the house is on fire, by the time I reach up here it was already on the ground," a still shaken Slyven told SEARCHLIGHT during an interview at the site of what remained of her home of four years.
Family friend, Altava, who resided at the home since October last year said she received a call from Slyven informing her of the fire, adding when she arrived at the residence and saw her and her son's possessions gone, she broke down.
"It still wasn't really believable, everything I had in my hand I drop it on the ground and stoop down."
The residents estimated the fire lasted close to 30 minutes, and they were unable to save anything from inside.
Now exactly one week after the fire, they are trying to overcome the shock of watching the place they called home destroyed.
"I can't get back to normal anytime soon. [I] trying to hide the feeling but normal is nowhere close," Altava told the SEARCHLIGHT team.
She said she is grateful that someone donated a cake to Joshua so he could enjoy his birthday, in addition to other donations coming from strangers.
The family issued a plea to the public for help in putting their lives back together.
"As much assistance as I can get [and] somewhere to actually rest my head. Where we are at, the MP [Member of Parliament] put us there for now. What they can give, we are grateful, food, clothing, it can be work. Work will be very good," Slyven noted, adding that she is experienced in housekeeping.
To assist her son with schooling, Altava has requested Grade One textbooks, notebooks and stationery as well as school uniforms.
Persons who wish to donate to the family can contact Slyven Richards at 1-784-526-4485.