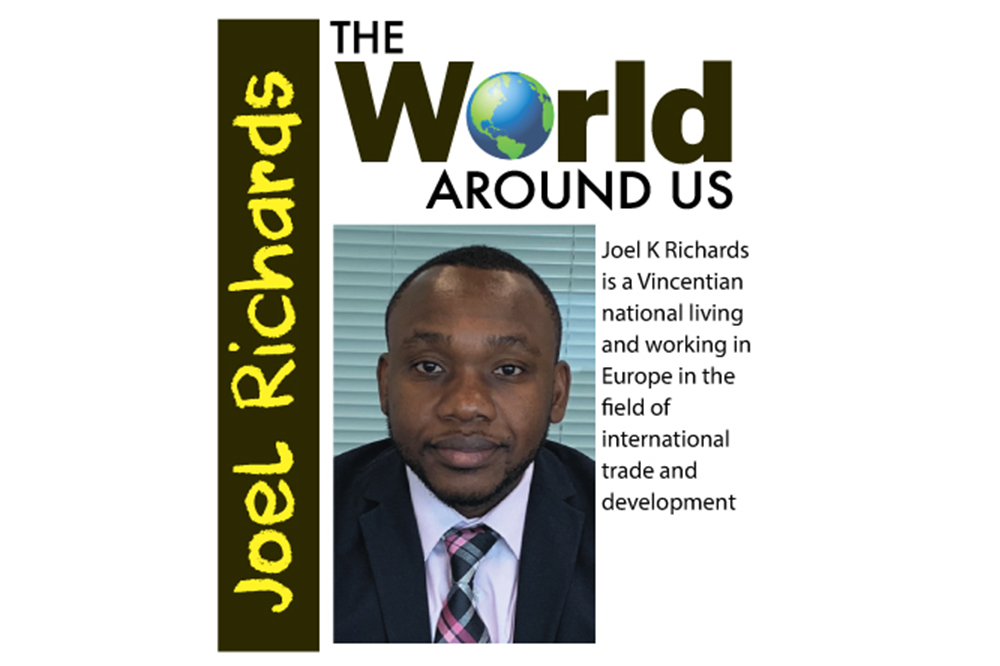 The World Around Us
January 19, 2021
From crisis to opportunity
GOOD NEWS SEEMS scarce now as the world continues to reel from the novel coronavirus (COVID-19) pandemic.
Vaccine candidates which were given emergency use authorisation by several countries, brought renewed optimism.
However, this optimism was quickly dampened by several new strains of the virus, slower than expected vaccine rollout in some countries and uncertainty among many others as to when they will be able to start inoculating their populations. Nonetheless, amid the understandable fears and anxieties brought on by the pandemic, countries should not lose sight of the lessons on offer to build back more robust economies, better businesses, better healthcare and improved societies.
The World Bank Group recently released its Flagship Report titled "Global Economic Prospects". Economists at the World Bank expect the global economy to expand 4 percent in 2021, on the assumption that the COVID-19 vaccine rollout becomes widespread throughout the year and assuming that policy-makers will move decisively to tame the pandemic and introduce investment-enhancing reforms.
In his Foreword to the Report, World Bank Group President David Malpass writes that "Making the right investments now is vital both to support the recovery when it is urgently needed and foster resilience. Our response to the pandemic crisis today will shape our common future for years to come. We should seize the opportunity to lay the foundations for a durable, equitable, and sustainable global economy."
According to the World Bank Report, in emerging market and developing economies, policies to improve health and education services, digital infrastructure, climate resilience, and business and governance practices will help lessen the economic damage caused by the pandemic, reduce poverty and promote shared prosperity. In practice, what would some of these policies look like?
Regarding healthcare, the Organisation for Economic Cooperation and Development (OECD) has called for countries to find solutions to better address gaps in pandemic preparedness. COVID-19 will not be the last global pandemic and as such, the groundwork should begin now to prepare health systems for future pandemics. The focus for most developing countries should also naturally be on improving the overall healthcare system. This would include reducing wait times for patients; investing in state-of-the-art medical equipment; improving access to specialist care; integrating digital solutions, including for record management; and expanding and improving the range of treatment options available in satellite facilities to reduce stress on the central system.
On digital infrastructure, the pandemic also shed light on the digital gaps in many countries. Poor connectivity, low broadband penetration and the high cost of mobile and broadband internet came to the fore. However, given the social and economic importance of connectivity in a 21st century world, governments in many developing countries may need to put more regulations and incentives in place to ensure that internet service providers improve the quality of their services, offer more competitive prices and improve access. It will be near impossible to sustain participation in the global economy without reliable digital connectivity.
In terms of climate resilience, the World Bank calls for countries to make investments in green infrastructure projects and to offer incentives for environmentally sustainable technologies to buttress long-term growth, lower carbon output, create jobs, and help adapt to the effects of climate change. The future is green and investments in green infrastructure today will undoubtedly reap dividends.
Where business and governance practices are concerned, the World Bank advocates for a major push to improve business environments, increase labour and product market flexibility, and strengthen transparency and governance. One suspects that going forward, a priority for many governments will be streamlining and improving access to the delivery of government services, including online.
Meanwhile, many businesses are likely to place a higher value on remote and flexible work arrangements; electronic commerce solutions; and better integrating technology into their daily operations. Finally, as with most crises, it is easy to get bogged down by the weight of the moment and the current pandemic is no different.
However, it is also important to look towards the future because with every crisis, there are also opportunities to rethink and reform.