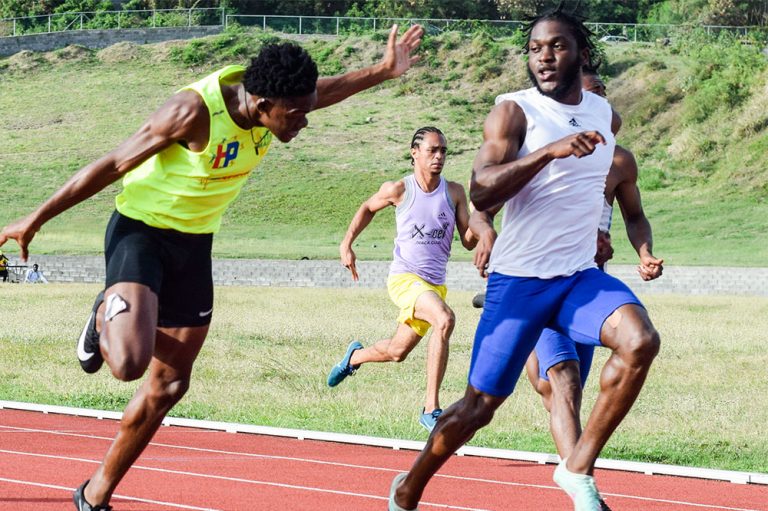 Kyle Lawrence sets two championship records
Kyle Lawrence of the Chatoyer Club, won both the men's 100 metres and 200 metres at last weekend's staging of the Wendell Hercules National Open Championships at the Diamond Track.
On Saturday, May 6, Lawrence took the 100 metres title in a record breaking time of 10.53 seconds, erasing the meet mark of 10.58 seconds he established in 2022.
Going through the round, Lawrence timed 10.89 seconds in the preliminaries and 10.67 seconds in the semifinals.
He returned on Sunday, May 7, to take the 200 metres event in 21.28 seconds, bettering the championship's previous best of 21.40 seconds achieved last year by Devonric Mack.
Like the 100 metres the previous day, Lawrence paced himself to the final, clocking 23.44 seconds in the heats and 21.69 seconds in the semifinals.
Joining Lawrence in the male category in setting new championships records were Verrol Sam, Cadique Stephens and Trinidadian Hezekiel Romeo.
Sam, of X- Cel Track Club, improved the High Jump mark, setting a championship record of 2.06 metres, erasing the 1.95 metres set by Calroy Hadaway last year.
Also going by the wayside was the Javelin mark, as Cadique Stephens of High Performance, threw 54.85 metres, eclipsing the 48.76 metres done by Kirk Hamlett at the 2022 edition.
Meanwhile, in the Shot Putt, Romeo threw 18.41 metres to dwarf Kirk Hamlett's 12.98 metres accomplished in 2022.
In other male titles decided, Akani Slater of Biomechanics won the 400 metres, with a 48.97 clocking, Mitran John of IT DAT Academy took the 800 metres in a time of 2:01.52, while J'avair Cato of X- Ceed Sports Club won the Long Jump with a leap of 6.67 metres.
Taking the Discus title was X- Ceed Sports Club's Jimmauh Compton with a throw of 34.71 metres.
And, IT DAT Academy's Jeremy Martin timed 1:04.15 to win the 400 metres Hurdles.